Work management
KPI Reporting – 60+ Hacks and Tools for Succeeding
KPI reporting helps companies measure the results across multiple business departments. With a proper KPI measurement strategy set in place, you'll have more control over your company's results and growth.
KPI reporting has three main goals:
To give you a timely overview of your company's performance.
To inform you of potential problems and slowing growth.
To direct your decision-making with actionable data.
If you want your team to be informed and in control of their results, setting up a KPI reporting process is a good place to start.
This article will explore 62 tips, hacks, and best practices to help you get better business results with informative KPI reporting.
What is a KPI report?
Before we learn to use the KPI reports, it's important to understand what is a KPI.
A KPI / Key Performance Indicator is a numeric value that indicates whether your team/company is reaching its targets. KPIs are used by teams and leaders to evaluate the performance of business processes and individuals.
A KPI report combines many real-time KPIs into a single report, giving a comprehensive overview of a company's latest results. KPI reports can be either compiled with specific software or managed on spreadsheets (We'll explain both later in this article). Here's what a KPI report looks like:
One company can have multiple KPI reports for every business department or goal. For example, businesses have separate reports for their sales, marketing, and growth teams.
Read on: Best KPI Dashboard Software & Tools. Reviewed.
Types of KPI Reports
Depending on your business goals, you can set up various KPI reports. The most popular KPI report templates include:
Growth reports
Financial reports
Marketing reports
Sales reports
CEO / Management reports
IT reports
It's crucial that you understand the goal of your KPI reporting – why you need to track all those specific KPIs? The best practice is to monitor only the metrics that are easily measured, informative, and actionable (meaning that you can improve the numbers by taking a specific action).
The top benefits of KPI reports include:
Important metrics are accessible in a few clicks
Automated real-time updates on the performance
Tracking project & sales performance
Beautifully visualized data is easily understood
Actionable metrics help to make the right decisions
Everything about your business, one click away
KPI reporting best practices
We already mentioned that it's super important to only keep track of relevant KPIs. But there are more guidelines that will help you keep your KPI strategy organized and working.
1. Assign KPI owners
Whenever you start monitoring a new KPI, make sure that you have one person responsible for the number. This team member should keep track of that specific KPI and make sure that the results improve.
For example, you Head of Sales could be responsible for sales KPIs such as Monthly Sales Revenue, Monthly New Leads, Lead to Customer Conversion Rate, etc. The CEO should keep their eye on business metrics such as Year-over-year Growth, Net Profit, Gross Margin, etc.
2. Choose KPIs that support your goals
To evaluate whether you're getting closer to your business goals, you need to set feasible objectives and track them with measurable results. Here's an example:
Let's say your ultimate goal is to grow your business to $1 million in revenue in two years. When broken into smaller time periods, you can calculate the average month-over-month growth needed for the end goal. Monthly growth could be accelerated by more new leads, better sales demos, and higher website conversion rates.
This said, your Growth report should include both high-level and low-level KPIs.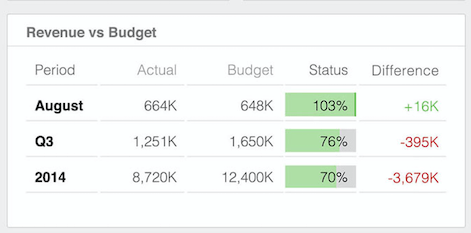 High-level KPIs demonstrate the company's overall performance. Examples of high-level KPIs include Annual Growth, Annual Recurring Revenue (ARR), and Relative Market Share.
Low-level KPIs indicate the performance of specific departments or individuals. Low-level business metrics are tied to people's day-to-day work and are more actionable.
3. You need to have the data
No matter how visually attractive and actionable metrics you come up with, they can't be added to your KPI tracking dashboard unless the program has access to the relevant data.
KPI reporting data could be collected with special tools or gathered from multiple business tools used by your team. If you don't have the time to collect the data manually, you can automate the reporting process with business automation.
Setting up your first KPI report
To create an informative and actionable KPI report, follow these 6 steps:
Define your ultimate business goal.
Divide the big goal into smaller actionable objectives.
Decide how you want to measure these objectives.
Choose up to 20 KPIs you'd like to measure.
Start gathering the data.
Set up an online dashboard to show your KPIs.
1. Define your ultimate business goal.
This one's easy, all you need to do is answer the question: Where do I want to see my business in 1 or 2 years?
If you don't know the answer to this question, you might have a bigger problem. But most companies are able to frame their business goal and follow the steps to achieve it.
2. Divide the big goal into smaller actionable objectives.
As it's difficult to measure all the projects and actions that contribute to the achievement of your Big Goal, you should divide it into smaller actionable steps.
3. Decide how you want to measure these objectives.
Each of your long-term objectives should be measurable and its results improvable by taking clear action. It's best if you can assign a numeric value to each objective that can be represented through multiple metrics on your KPI report.
4. Choose up to 20 KPIs you'd like to measure.
Don't let your KPI reporting get overwhelming with the data you don't need.
Only include the performance indicators that have a particular person assigned to them, and that can be improved over time. Avoid the vanity metrics that look nice in the report, but have no real effect on your work or results.
If you're interested in particular KPIs, you may like one of these guides on:
Sales KPIs
Marketing KPIs
Overall business KPIs
Financial KPIs
Project KPIs
5. Start gathering the data.
The best way to gather business data for your KPI report is to use KPI dashboard software. These KPI tools are created specifically for syndicating your data from multiple tools to your KPI report.
Excel spreadsheets are not a recommended way for collecting the business data as it's a time-consuming process and your data might get lost easily.
6. Set up an online dashboard to show your KPIs
If you haven't created a KPI reporting strategy before, no worries, we've got you covered. To see how a KPI dashboard setup looks like, read this article: How to Create a Perfect Business Dashboard, From Start to End

Don't forget to add benchmarks to your KPIs, so that you'll see whether you're behind or ahead of your planned schedule.

KPI reporting examples
If you're unsure where to start from, take a look at various KPI report examples to gather additional inspiration.
Sales and growth reports
For small businesses and startups, it's highly important to be aware of customer retention and growth. Tracked KPIs include:
Customer Lifetime Value
Monthly Recurring Revenue (MRR)
Account Retention
Net MRR
Account Expansion
Marketing reports
As marketing is an extremely data-driven job, digital marketers can benefit from tracking a wide array of metrics. Marketing KPIs include:
Website Traffic
Social Media Engagement
Campaign ROI
Time on Site
New Leads / Month
Financial reports
Financial KPI reports are usually monitored by the company's accounting team and the CEO. These reports are a good indicator of whether the business is performing better or worse compared to previous months. Financial KPIs include:
Net Profit Margin
Operating Cash Flow
Burn Rate
Working Capital
Monthly Net Revenue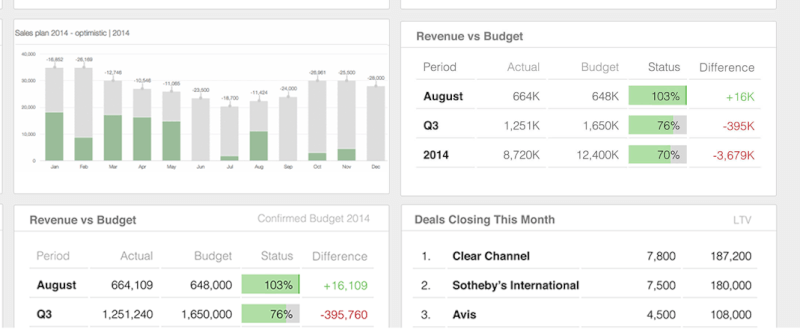 What's the best tool for KPI reporting?
Well, it's our blog, so naturally, we'd recommend that you check out Scoro. However, here's a list of other popular KPI monitoring tools:
Geckoboard
Klipfolio
Grow
SimpleKPI
Smartsheet
Each of these tools has KPI reporting templates that make the initial setup quick and easy.
As you get started, don't forget to ask for your team's opinion and feedback on the new reporting system. The more you engage your team in the setup phase, the more engaged they'll be in the next steps of tracking and improving the results.
Everything about your business, one click away