Life at Scoro
Internal Recruitment in Scoro: Why Businesses Should Hire Within?
Recruiting is an expensive and time-consuming process and the search for top talent is more difficult than ever. As such, it should be every company's priority to retain talent. One way for businesses to do this is by establishing an internal recruitment process.
95% of business leaders agree that it's challenging to find skilled professionals. On top of that, it takes a lot of time and money to find the right people. In fact, research shows that the cost of employee turnover is $49 million per year for an average-size company.
To combat these problems, businesses have slowly started to realize the potential of hiring internally. Last year alone saw a 20% increase in internal hiring, and a third of UK businesses want to provide current employees with opportunities to progress over the next 12 months.
But how to set up a successful internal recruitment strategy and ensure you only hire the best people for every role?
We've decided to share our own experience with internal hiring in Scoro. We will cover some of the pros and cons of internal hiring, and give examples of supporting your employees' career development. Lastly, we will provide some tips on switching within your company and share examples of our employees' stories.
What is internal recruitment?
Internal recruiting is the process of filling vacancies within a business from its existing workforce. The most common types of internal moves are:
Promotions. Process of progressing an employee from a lower position to a higher position.
Transfers. A transfer typically entails moving to the same job at a different location or a similar level job in another department.
Employee referrals. Often overlooked type of internal recruiting, employee referrals are a cost-effective way to get qualified candidates in front of hiring managers.
The benefits of internal recruitment
Saving time and money are not the only benefits of internal hiring. According to a recent LinkedIn study, 94% of respondents stated that internal recruitment improves the retention of their most valuable talent. In fact, employers with active internal career management programs enjoy 41% higher staff retention rates.
Other benefits of internal recruitment:
Cultural fit. Mis-hiring is a common and expensive problem, and many companies have higher turnover rates as a result. That's why it's important to not only hire for skills but also for attitude/behavior. In other words, hire people who share our values and be culturally the right fit. And this is one of the biggest benefits of hiring internally – you already know that the person is a fit.
Faster time to productivity. Existing team members already know your business. They have built relationships and adjusted to the company-specific practices and processes. This means it takes less time to train an internal hire when compared to an external one. Further, they might be able to leverage their previous experience in their new role.
Engaged and dedicated employees. By supporting people with finding new professional challenges and motivation, you can reduce employee turnover and build long-lasting employee relationships.
''Being able to change positions within Scoro was very important – it gave me new energy and pushed me to constantly challenge and educate myself.'' – Risto Marjapuu, Learning Manager
Disadvantages of internal recruitment
Just like with most everything in life – there are two sides to every coin. Yes, with all the benefits of internal hiring come drawbacks every recruitment team needs to consider.
Workforce gaps. When someone gets promoted or transferred to a new role, the previous position doesn't magically go away. You still have to find somebody to fill that role.
No fresh perspective. New people come with fresh ideas and perspectives that can quickly lead to new insights. Only recruiting within means you're missing out on these innovative perspectives.
Jealousy among colleagues. People who are losing out on a promotion that goes to another team member may cause disappointment and jealousy. To avoid this, it's crucial to be transparent and clear in your communication.
Everything about your business, one click away
Internal recruitment in Scoro
Employees are Scoro's biggest asset, and supporting them in their career development has always been a high priority.
Scoro's culture depends on the people we work with. If we don't hire the right way, the working culture can change for the worse. – Mai Kand, People Operations Specialist & Recruiter
And to set them up for success, it's also vital that they are working in roles that enable them to use all their strengths. This is one reason why the internal recruitment process has always been part of our overall recruitment strategy.
Read on: What Makes a Great Company Culture?
Establishing an internal recruitment process
Internal recruitment can be very beneficial, but doing it in the right situation is key. Yes, not every position should or could be filled with internal candidates, but using internal recruitment is an excellent option for filling roles best suited to having an insider's knowledge.
To ensure you get the most out of your internal recruitment, it's necessary to establish clear internal recruitment guidelines. Among other things, describe which positions could be filled with internal resources, whether an employee must work in a position for a minimum amount of time before applying for a new one in the company, and explain what internal applicants can expect during the selection process.
It's also vital to establish a clear team-changing process, so managers do not steal employees from other managers or hold someone back from advancing in their careers if they qualify for an available position.
"None of us get to 'own' an employee. If someone's hiring an employee from your team, that's not poaching. That's two managers collaborating for the win of the company." – Chuck Edward, Head of Recruiting at Microsoft
Naturally, some concerns can hold you back from adopting the internal recruitment process. For us, a few of the biggest concerns were:
Can we find someone equally good for their current roles? Ultimately, you cannot afford to be selfish and hold someone back. Otherwise, you're risking them leaving the company altogether.
Maybe they won't be successful in their new position? Internal candidates should still be assessed based on the same criteria as external candidates – interview them, test their skills, etc. It's beneficial for everyone because this is the only way you can ensure their success in their future roles.
How can we ensure every person in the organization is happy? Transparency and clear communication is the only way you can ensure everyone is happy and no one feels like they've been treated unfairly.
Read on: Scoro's Secret to Hiring the Best People
How to support internal career development?
Even if your company has adopted some kind of internal recruiting strategy, it's equally important to finding ways to support your employees' career development.
Job shadowing. It's an excellent opportunity to see what your colleague's day-to-day work looks like. And knowing what it takes to succeed in these roles makes it easier to decide whether it's something you want to commit to in the future. If yes, what kind of training and know-how is needed to move to that role.
Ambitious goals. There are two ways of setting goals – setting goals that are guaranteed or setting goals that might seem impossible… until you start working towards them. By supporting your employees in setting ambitious goals, you can actually make them push their limits and help them gain confidence to take on more responsibility.
Promote career mobility. Keep open communication about career development and be transparent about the possibilities within your organization.
Changing your role within an organization
If you have ever looked at some other position at your company, but struggled with making a move, then we've gathered some tips to help you out. We've also talked to some of our own people, who have changed positions in Scoro.
Do research. Career transition without in-depth research is a recipe for failure. Learn as much as possible about the potential role you're looking to move into. Speak to the people in that current role and ask questions.
Change positions for the right reasons. It may seem that "grass is always greener on the other side" but make sure you want to take a new direction and not just look for a way out from a difficult situation.
I started in Scoro as a Scrum Master. While it was a logical continuation of my IT studies, all my previous experience was in sales. And after three months in Scoro, I realized that a job in sales and consultancy is a much better fit. – Roomet Saadi, Senior Consultant
Educate yourself. You might know a lot about the company and already have a good relationship with your new potential team members, but without putting in the hours to prepare yourself you can easily fail. Therefore, if you want to switch teams, make sure to learn and work towards it by yourself as well. Read materials, take online courses and keep yourself up to date.
I was very excited to join a young startup, where I could work on various tasks and projects. This enabled me to figure out where I could offer the most value to the company. When Fred (our CEO) offered me the sales operations specialist position, I knew this was exactly what I wanted to do. – Kätlyn Nõmm, Senior Revenue Operations Specialist
Take initiative. There's a saying that "you miss 100% of the shots you don't take". This holds true in this case as well. So, if you really want to change positions within the company, make sure you let the right people know.
"People can't read your mind and everyone has a lot on their plate. So take the initiative and work for what you want, because no one else will do it for you." – Risto Marjapuu
Discuss with your team lead. Talk to your team lead about your career opportunities during your regular catch-ups. Show your initiative to work on projects that would give you the chance to develop and gain the experience necessary for the other role.
If you want to switch positions, show initiative – talk to your manager and prove you're ready for the new challenge. Don't just criticize the current situation, come up with new initiatives and see them through whenever possible. – Kristel Ojalill, Customer Success Operations Analyst
Talk to your people operations (HR) team. If you're looking for a change, it's really important to talk to the responsible for the hiring about the roles currently available. Even if they're currently not hiring for the positions you're interested in, they will know your preferences and can reach out when something changes.
"Our CEO has always been very hands-on and approachable. During one of our lunches, I told him about my plan and he supported me 100%. From there on the switch was very smooth and quick." – Roomet Saadi
Create boundaries. Switching positions within a company means change – not only for yourself but for the entire team. And if you've been a 'go-to' person for certain matters within the company then people will continue to turn to you out of the habit. It's your job to make sure you direct them to the right person because trying to do two jobs will eventually lead to failure.
"To avoid burnout, focus only on your new job. I've seen how team members reach out to you regarding your old responsibilities out of habit. Even if it would only take you a second, don't do it and direct them to the new person in charge instead." – Kätlyn Nõmm
Give yourself time. When you start at your new role it's very easy to start second-guessing yourself. Especially when you're not great right away. But instead of giving up, show up, and put in the hours needed to get back on track. And don't be afraid to ask for help.
Don't doubt yourself. Once you've made the move, don't look back and think 'what if…'. You've done your research, so you've made the right decision. Even if you end up going back to your old role in the future, this move and change was most certainly necessary for you.
---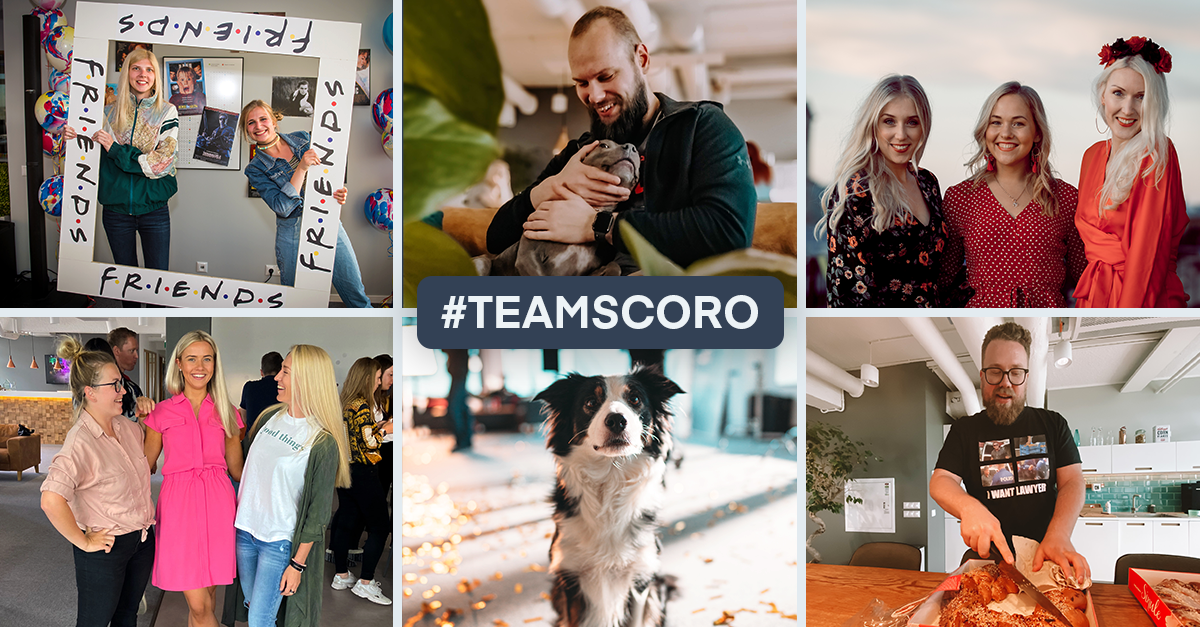 Got inspired? Check out Scoro's vacancies and join our team.