Customer stories, Life at Scoro
How Team Scoro Uses Scoro – The Unconventional Case Study
We have shared many case studies over the years focusing on how agencies and businesses have benefited from using Scoro. However, the following case study is a bit more unconventional as it welcomes you behind the scenes of Scoro itself. It is a testament to the fact that in Scoro, we truly stand by our product. Get an exciting insight into how we benefit daily from using Scoro to manage all aspects of our business.
---
Jump to a Section:
---
Scoro was founded on the simple idea – there's always a smarter way to get things done. The founder of the company, Fred Krieger, saw how much time is spent on shuffling between thousands of single-feature applications. Thus, he devised an end-to-end business management software, which is now known as Scoro.
The goal of Scoro is to transform and streamline your team's work by integrating processes, procedures and tools into one core system. This powerful business management software acts as a single source of truth for all your business information. It connects projects, teams and team members, clients and contacts, tasks, and finances to give you complete control and detailed analytics.
Read on: All The Business Tools You (Shouldn't) Have
ALL ABOUT STRUCTURE
Today, we are a team of 70+ innovation-minded people, who follow the same mantra of "working smarter, not harder". We preach structure and more importantly – we practice it. And having used our software from the very beginning has made it easier for us to relate to our customers' needs. It has also shown us that Scoro will bring value to every team, regardless of the size.
The greatest benefit of using Scoro is having more structure in our work, planning and tracking. Instead of shuffling between different tools, emails and spreadsheets – we can access all the critical information in one powerful solution. The urgency of structure and efficiency is also one of the core reasons why we stand by our product and have devoted ourselves to improving Scoro every day. Having customers in more than 60 countries around the world tells us that many people share our mindset.
Read on: What Makes a Great Company Culture?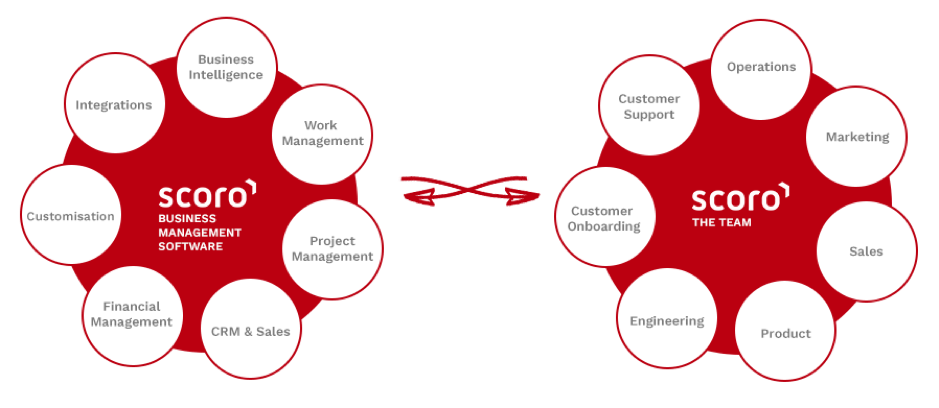 Although each team uses different modules and features, Scoro combines them all into one comprehensive solution.
OUR WORK & BUSINESS MANAGEMENT
The highlights
We have over 1000 different projects. Luckily, filters, tags, and configurable statuses make it easy to manage the whole project portfolio. On a company level – we use projects as containers to group processes and work in teams.
We use a shared calendar across the company to schedule meetings and events, book resources, and let others know when we are unavailable. It takes just one click from the calendar to get a complete overview of the linked customer and/or project.
Tasks, time entries and time tracker enable us to plan our daily work and analyze how we spend our time. Everyone can manage their own task lists by priorities, projects, statuses, and deadlines.
We love dashboards! Creating customized dashboards is the perfect way to have a real-time overview of your work and metrics. We have set key metrics for each team and project, we track our finances, growth, planned and actual time spent, and much more. Read more on how to create the perfect dashboard with Scoro.
If we need a more detailed overview of any metric or chart on the dashboard – thorough automatic reports are only a click away.
Last, but not least – customization. We have set our own personalized activity types, tags, statuses, and bookmarks.
Everything about your business, one click away
The benefits
Everyone is always up to date with the plans, budgets, expenses, recent activities, etc. It makes meetings shorter (or altogether eliminates them) and helps to avoid unnecessary miscommunication.
Optimized workload allocation. There is no guessing or separated worksheets. Our team values transparency. Having a full overview has made our work more stress-free and efficient.
Fewer emails. There is no need to schedule tasks via email – we can assign them directly in Scoro. There's also no need to ask for feedback on task progress because all the updates are visible in Scoro.
Everything is linked – tasks, projects, customers, events, meetings, etc. Not having to look up every single detail separately saves us valuable time.
A lot of tedious tasks are automated. Everyone's calendar events and completed tasks are automatically added to their work reports. Sending invoices, reminders and notifications is automatic. Plus, Scoro has many shortcuts which make using the platform easier, such as creating Dashboard metrics and widgets by using bookmarks.
There is only one source of truth – Scoro. No matter how many smaller applications we use or have integrated, we can always see the most relevant and correct data in Scoro.
Insanely thorough analysis opportunities. In addition to the general work, finance, sales, and project reports, our team has bookmarked hundreds of other specific reports. As everything is correctly planned, tracked, and logged – it enables us to pull out detailed reports for anything we need.
The constant optimization. Seeing exactly where we spend our time and other resources have enabled us to continuously analyze and improve our performance. We have cut down on meetings, automated recurring tasks, re-allocated our efforts to activities with higher ROI, and much more.
Marketing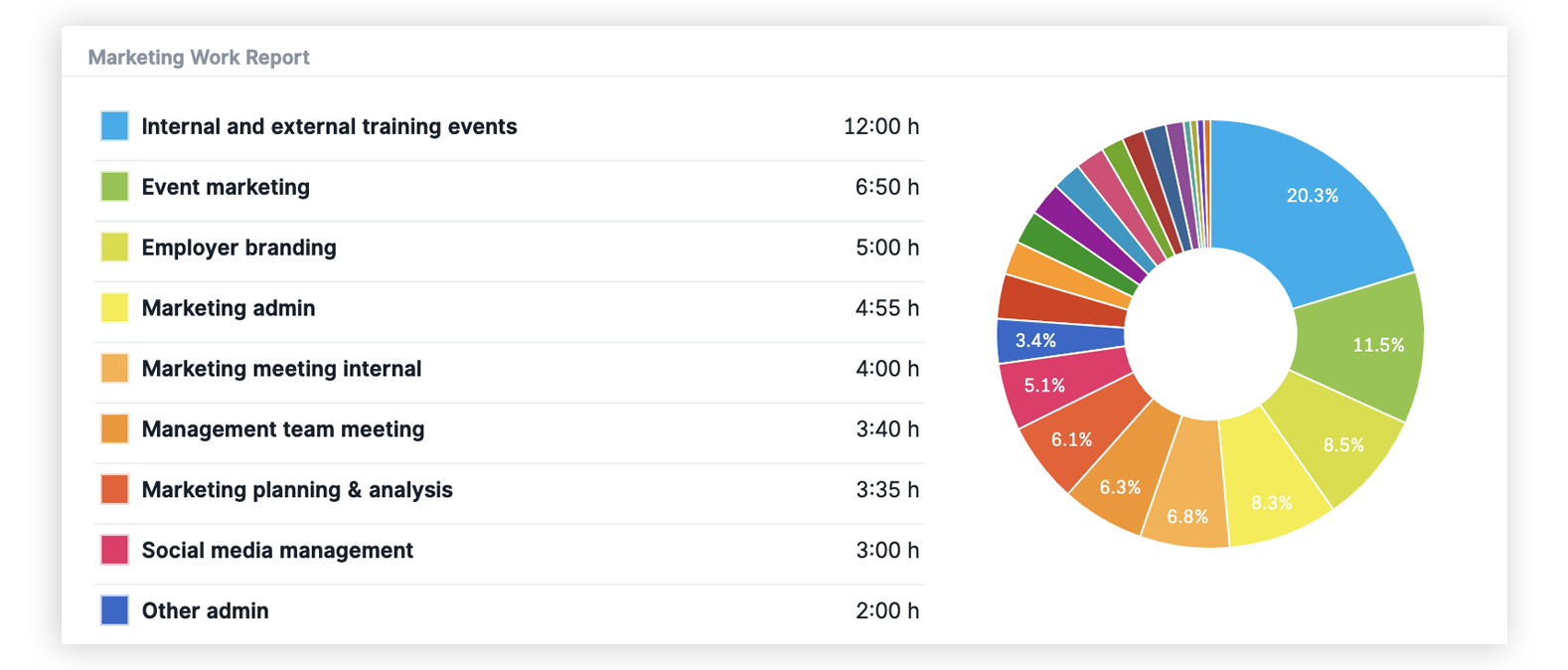 Marketing work report
Marketing team understands all the technical aspects of Scoro and knows how to best communicate it to the world – be it by making Scoro appear high in search engine rankings, getting our voice heard on social media, or maximizing the audience on our online ads.
The highlights
Marketing Dashboard is the most important tool for the whole team. All essential KPIs – the number of leads per source, conversion rates, time spent on various activities to name the few– are all gathered there for quick access.
Work planning is made easy by using tasks, time entries and a shared calendar.
Every task and time entry is organized with Custom Fields that help us tag our activity types (e.g., Blog, Google Ads, SEO). This gives the best overview of whether the time spent on each task is proportional to our results. Read more about Custom Fields and how to set them up.
Scoro has a strong focus on inbound marketing – providing useful content and information to attract potential customers. When someone registers their interest and becomes a lead – a Quote (Contact) in Scoro is automatically created, and we start tracking their progress.
Scoro is an essential tool for managing our work, leads, pipeline and analytics. However, we do use other tools to support our job (e.g., Intercom, Google Analytics, Buffer, Grammarly and Adobe Creative Cloud).
The benefits
Having a detailed overview of all our marketing channels on the dashboard. As Scoro collects information about the source of the leads, we are able to track a lead's status from lead to deal and don't have to look into all the channels separately.
Easy optimization of our time usage as we track our time spent on various channels and activities.
"The greatest benefit of Scoro for the Marketing team is getting a full picture of any lead, from the moment they created a trial to when they became a client. This includes data about where they came from, the communication between the lead and different teams (be it Marketing, Sales, or Customer Support), and also about what's their current status in the pipeline." – Merily Leis, Marketing Team Lead at Scoro
Sales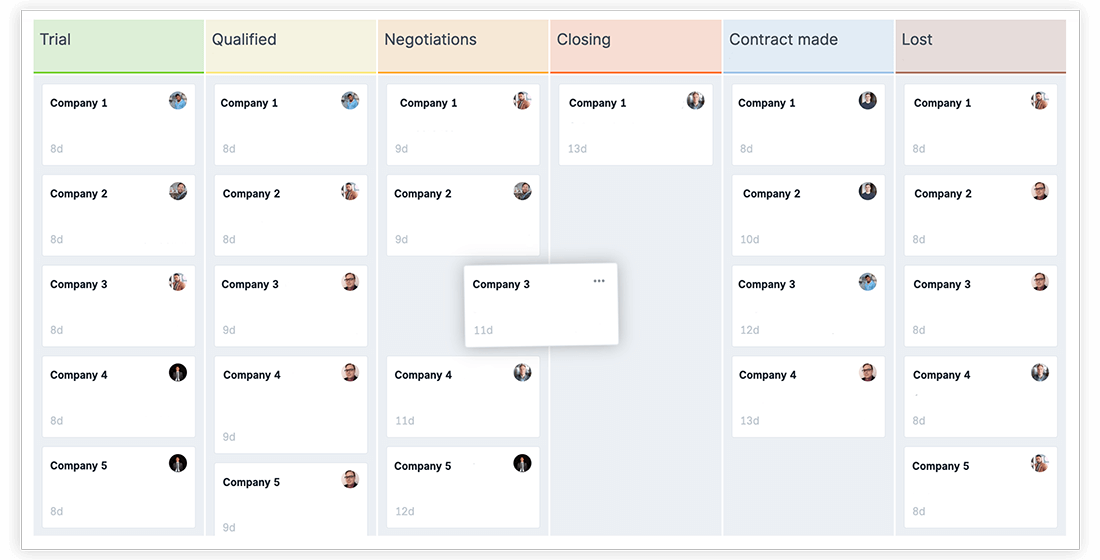 Real-time sales pipeline
Our sales team is the key touch point between new users and Scoro. Their goal is to find and meet with companies that have yet to discover Scoro. Moreover, they contribute to the product development process by presenting clients' ideas and requests to the product team.
The Highlights
A central tool for the sales team is Scoro's calendar, which allows to schedule and track both internal and customer meetings. A great advantage of Scoro's calendar is the possibility to send calendar invites straight from Scoro to the client, enabling them to choose from multiple time slots and confirm with a single click.
We couldn't imagine our work without contact cards that hold all the relevant client information. Our team aims to provide all 10,000+ Scoro users with the best care and support. This wouldn't be possible without an up-to-date database.
Scoro task-list functionality helps to improve performance and win more deals. In addition to Scoro reminding when to do follow-up calls to a lead or which leads are left without attention, tasks also help us to manage all other daily activities.
Sales dashboard is the best place to have an overview of all the sales goals. It gives an instant understanding of where time is spent, what could be improved to deliver better results, and reminds of all the critical weekly and monthly tasks, making it easier to prioritize the workload.
Sales team also uses billing and cost tracking daily. We can instantly bill the client with only a few clicks based on the quote/contract in the system.
Scoro also has extensive functionality to manage multi-currency businesses. When selling or buying services in multiple currencies, Scoro converts finance documents into the base currency and allows each team to track their results in their local currency. 
The Benefits
Being able to send calendar invites straight from Scoro has helped sales team close demos in a matter of seconds and increase lead-to-demo conversion.
The benefit of contact cards is having all client info visible in a single view, which ultimately means better customer communication. Being able to go over all the comments and communication history also enables us to evaluate the current situation, and quickly share the status update with the client.
Having team calendars in our CRM helps to plan team meetings, internal tasks and client meetings more efficiently and reduces the time spent on shuffling between different tools. Thanks to transparency and visibility into everyone's calendars, all meetings can be scheduled without endless back-and-forth emails.
Client view, which includes all files related to the client, enables our team to work much more efficiently. You don't have to worry about any data being lost or held by a single consultant, and all files are immediately ready in the CRM.
Having an overview of new business and revenue tracked in real time on Sales Dashboard makes our sales team much more proactive since we don't have to wait for finance to bill clients and report results back to the team at the beginning of every month.
"Scoro's CRM will benefit everyone in your company with direct or indirect client-facing roles. As everything from basic information to agreed technical details can be found from one place, it will save time for employees and improve the quality of client communication by making it more personal and thus effective." – Ulla Kattai-Aav, Business Consultant at Scoro
Read more about Scoro's CRM Software.
Product Development & Engineering

Development task list
The product development and engineering include product, analysts, engineers and QA teams. Working closely together, it's crucial to have a very good overview of the work pipeline. Although there are many aspects to their job – in fact too many to list here – ultimately the product team is responsible for defining the right product, and the engineering counterpart is responsible for building the product right.
The highlights
The most important tool is the Sprint Progress Board, which is equivalent to the Kanban board. It is the heart of product development that shows which new features are in the development and what is their status.
There are several supportive Task boards – Custom Development, Version Planning, Bug Fixes etc. Everyone, of course, has their own task lists as well. These lists gather all their tasks together into one place, which means they have a better overview and don't have to go through different boards.
We all know – time spent on actually developing the product should be as high as possible. Therefore, it is also essential to monitor the time spent on supportive tasks that take time but don't add value to the work. By having this overview gives us the chance to come up with a solution that would eliminate and automate some of these supportive tasks.
As important as contact cards for the Sales Team – is a task view for the Engineering. Activities, time entries, comments and questions, feature requests, attached files, deadlines and timeframes – all the history and necessary data can be seen in the task view.
The benefits
Sprint Progress Board gives everyone an instant overview of the version development progress as well as possible problems – allowing issues to be solved as quickly and effectively as possible. This way we can deliver new features to our clients as soon as possible. Besides, it also enables us to see every team's workload to better evaluate our future tasks.
The goal of tags and custom fields is to have no unspecified tasks – this means everything is tracked, logged and linked, therefore reports will entail more accurate information.
Our work is mainly about the number of features we can deliver to our clients every month and the quality of the new features. This is why one of the most important KPI's is development hours per day per developer. Dashboards are a great way to have it under control and make sure the developers do not spend too much time on supportive activities.
"Scoro provides all the features needed for overall work management, and the best part is – there is no need for integrating Trello, Jira or some other additional kanban tool for the development team. We can easily use Task boards for our specific work, and have everything integrated on a company level." – Annika Salak, Product Specialist at Scoro
Customer Onboarding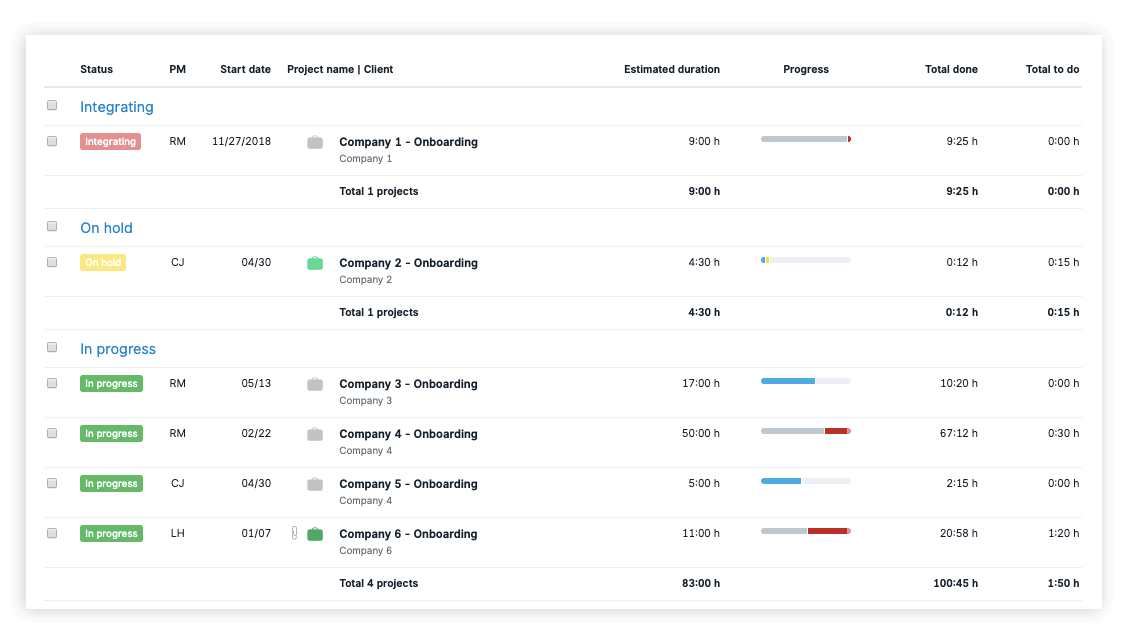 Customer onboarding progress list
Our onboarding team is working tirelessly to help new clients start using Scoro as soon as possible. They manage the entire onboarding project and ensure that everything is running smoothly for the client and is delivered on time.
The highlights
When a customer places an order, an Onboarding Project is automatically created. Our team uses projects to manage the entire onboarding process.
If we want to go more into detail, and we do, we can see all project information on one page – agreements, in-house handovers, milestones, planned and achieved activities, project type specific preset task bundles, people linked to the project both from Scoro and on the client side, etc. Projects have different levels of onboarding plans allocated, and we know what to expect.
Task bundles are an excellent opportunity to standardize processes. There are some repetitive activities with certain timeframes to be completed in each project. We just group them into bundles, add an estimated time, and link them to the project at hand.
The benefits
The benefits are not only noticeable to us, but also to our customers, as they go through a very smooth process from the consultation phase to onboarding. Communication is easier for them and easier for us thanks to the centralized source of information and integrated processes between the teams.
A complete overview of all projects – from detailed project views and reports to general lists and boards. There is no other project management software which provides such excellent support for projects of all sizes.
Customer Support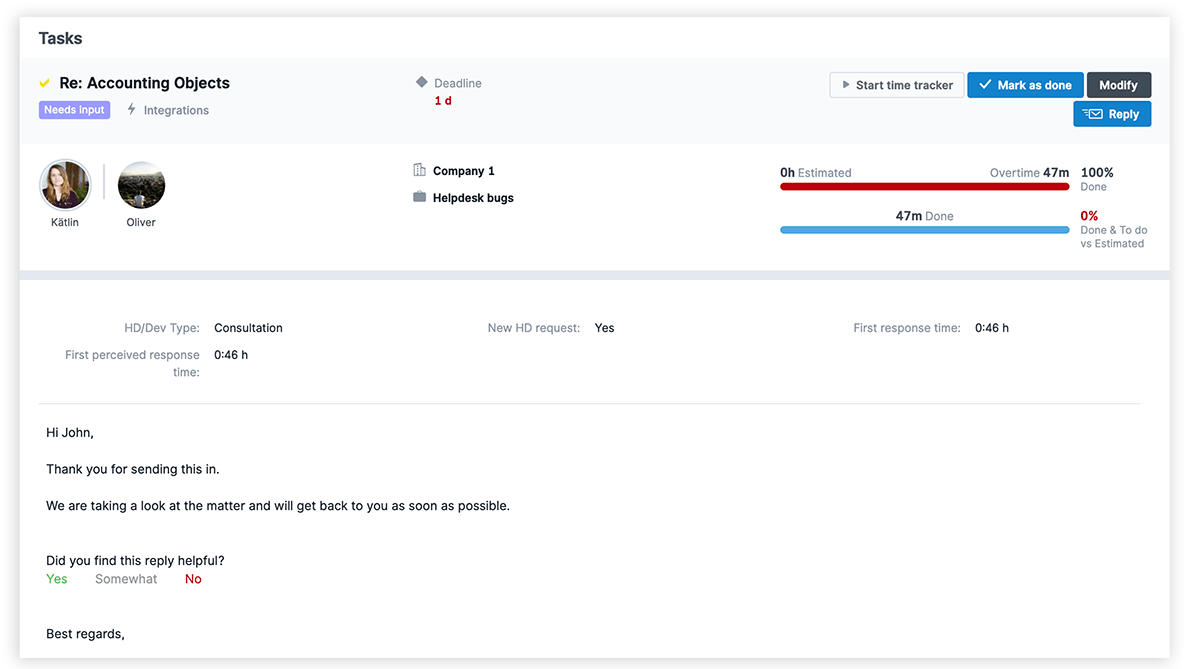 Customer support ticket task
Our customer support specialists are there for all our clients and team members. They have an answer to every question about Scoro. If they don't, no time is wasted – they continue to look until they have found the right answer.
The highlights
Majority of our Support team's work is coordinated by using the Task List. With the Smart Inbox feature, we can send tasks to Scoro from our mailboxes. That's how all help request emails are automatically converted into Tasks in Scoro. In turn, the Tasks are linked with contacts and previous activities, so our Customer Support specialists get a full overview of every customer.
The support team loves personal dashboards. As most work scheduling is done in the Tasks module, dashboards allow them to keep track of their work performance and productivity. The most important metric to keep an eye on is the number of Unassigned Tasks – the lower the number, the better.
To segment and analyze incoming help requests, the team uses projects and activity types as well as custom fields, such as Helpdesk Consultation, Helpdesk Bugs, Mobile App Bugs, etc.
The benefits
Scoro is not built for providing Customer Support – there are other more specialized tools. Nevertheless, having all the data in one solution helps our support team save a tremendous amount of time and provide faster, better support.
Also, using Scoro for their daily work allows the Support Team to fully understand the needs and concerns of our customers. Thus, they truly know what they are talking about, and they can forward constructive and vital feedback to our other teams.
Operations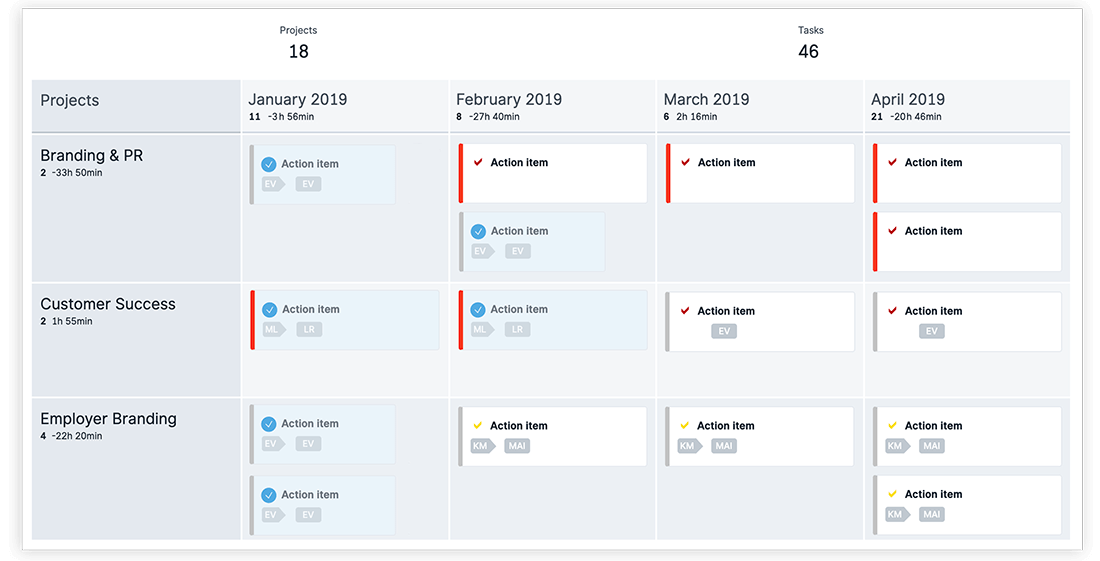 Company-wide task matrix
Our operations team is a unique combination of teams that take care of our People, Office, Finances and Legal. This team includes our people and sales operations, office management, finance and legal teams.
The highlights
We have a great overview of our financials thanks to Scoro's advanced reporting features. We can easily track billable time, set currencies, create invoices and compare budgets to expenses.
Scoro also helps both the managers and accountants be more efficient through integrations with accounting software, such as Quickbooks and Xero. Find out more about Scoro's Quickbooks integration.
Operations teams work smoothly together thanks to the Operations task board, which gives an instant overview of our team's everyday tasks.
Automating recurring tasks, such as sending quotes, invoices and reminders, saves us a lot of hassle. In addition, we create all PDFs directly in Scoro and modify them according to our needs.
The benefits
Thanks to Scoro's automatic invoicing system, we don't have to worry about sending monthly invoices out manually and forgetting something. Scoro also sends automatic reminders to our clients to pay on time.
Having all our reports only a few clicks away makes monthly reporting to the board easy and quick.
Read on: Top 20 Questions We Get Asked About Scoro
---
Everything about your business, one click away
There is an overwhelming number of business tools on the market. A lot of them are very good single-feature applications. The struggle? Combining them into one holistic yet an easy-to-use digital solution. Even bigger struggle? Constantly evaluating and developing your business operations and updating the software accordingly. Scoro is dedicated to developing the best solution to tackle this complex challenge. Using Scoro to handle our own team's daily work enables us to fully understand and relate to our customer's needs and challenges.
Team Scoro will continue to guide you in this rapidly changing digital era by developing the most structured management solution for your business and providing personal consultation. We hope this article provided you with quality insights on how Scoro will help to improve your business processes and results.
If you have any questions – feel free to reach out! You can also schedule a live demo and take a tour of the software with a 14-day free trial.
Please note: All the images used in this article are illustrative and edited for confidentiality reasons. These images may not be reproduced or used in any manner without express written permission.