Work management
How AI is Changing the Way We Work
Artificial intelligence (AI) is only beginning to penetrate the workplace, but it's causing leaders to thoroughly rethink how their businesses are run. More and more startups are using AI to increase efficiency and save time across their firms. Technology can provide virtual assistance, analyze unstructured data, and generate insights.
People need days to accomplish what AI technology can do in just a few seconds. What company wouldn't want to focus their employees' efforts on more important, challenging and creative tasks – and reduce overheads?
Read on: Artificial Intelligence: Everything You Want to Know
With the benefits AI is offering to businesses, specialists predict that around 62% of organizations will be using artificial intelligence business applications in some way by 2018. While many don't fully understand the concept of artificial intelligence, we do know that AI is infiltrating virtually every aspect of enterprise businesses today. Global funding for AI startups grew by approximately 60% between 2015 and 2016, but what's more prominent: many investors will no longer fund companies that don't include AI in some form in their business plans.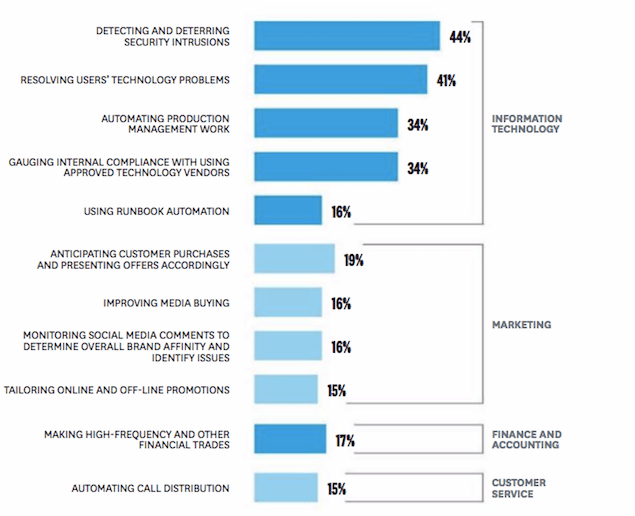 Oxford University study shows the proportion of companies surveyed that use AI for each activity (source)
AI could be a part of every aspect of a business, from operations and human resources to sales and marketing. This allows entrepreneurs to have a full focus on growing their business.
So how exactly will AI have a transformative impact on the way you work?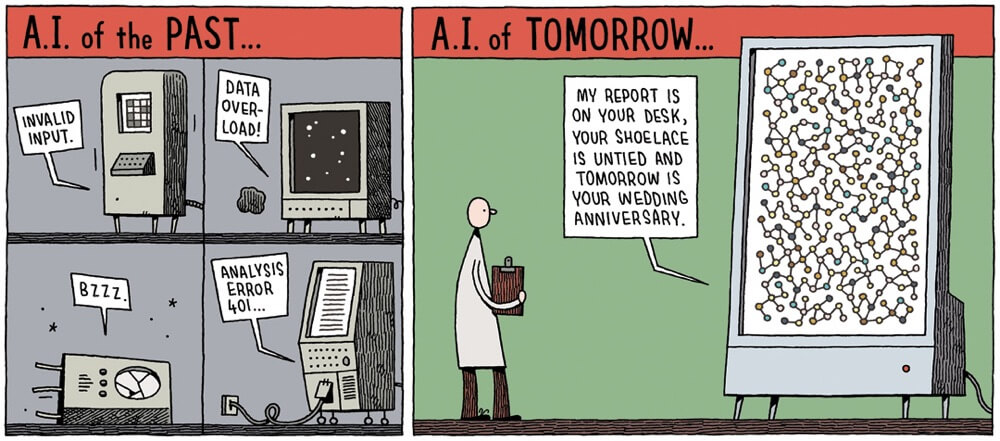 (source)
Leadership & AI
Leadership teams around the world are starting to reconsider some of their core structures.
Once an expensive solution acquired by large businesses only, predictive analytics is becoming more accessible to companies of all sizes. The founder of AI-based solutions start-up Grok, Tarun Gangwani, explains how the industry has been evolving over the last few years and how it will grow in the future:
"AI-based tools that think about the ecosystem they are utilized in will see the most adoption, especially if they can quickly collect and analyze data from platforms companies use today, like Salesforce or Amazon Web Services."
While most companies are still trying to understand market changes, the ability to anticipate customer behavior will give businesses the edge over their competitors. By making accurate predictions, your company can become more efficient and improve its market performance.
The integration of early artificial intelligence tools is also causing organizations to become more collaborative and team-oriented, as opposed to the traditional top-down hierarchical structures.
Everything about your business, one click away
In fact, Deloitte surveyed 10,000 HR and business leaders in 140 countries and revealed that 32% of respondents are redesigning their organizations to be more team-centric, optimizing them for adaptability and learning in preparation for technological disruption.
"To integrate AI, you have to have an internal team of expert product people and engineers that know its application and are working very closely with the frontline teams that are actually delivering services. When we are working AI into our frontline service, we don't go away to a dark room and come back after a year with our masterpiece. We work with our front-line bookkeepers day in, day out." – Ian Crosby, co-founder and CEO of Bench, a digital bookkeeping provider.
Finding a balanced team structure, however, doesn't happen overnight. In a big organization, it's better to start with a small team or department first – and let them scale up – instead of trying to onboard the whole company all at once.
Marketing, Sales & AI
AI technology is a hot topic in marketing. Marketers like to go along with exciting innovations and go on about AI for image and speech recognition, or predictive customer service. It's an ideal environment for AI to burst. But what to do with all that information – how is it supposed to advance sales and marketing efforts in practice?
Robert Allen, the Digital Content Manager at CITU, identified fifteen AI techniques that businesses of all sizes can implement. He plotted the techniques across the customer lifecycle so you can see how each AI tactic can help take your customers down the marketing funnel.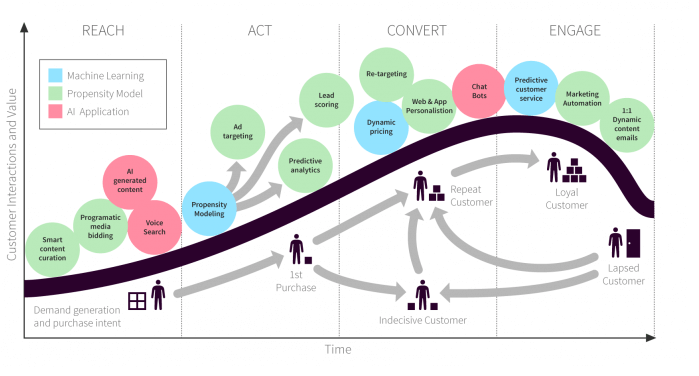 (source)
Each different application has significant implications for marketers, but the applications have different roles to play across the customer journey. Some are better for attracting customers, while others are useful for conversion or re-engaging past customers.
AI can assist marketing and sales in a variety of use cases, from the very beginning of the customer acquisition to the sales hand off – from building websites and creating content, to optimizing sales calls and qualifying leads. To prepare for the future of marketing, brands need to advance their understanding of AI and start testing solutions today.
Read on: Artificial Intelligence: Mind-Boggling Future Predictions in 2018
Human Resources & AI
The biggest fear that people have about artificial intelligence is that the robots will 'take over'. Elon Musk, the founder of SpaceX and Tesla, has even voiced concerns about the growth in this type of technology.
And there's no denying it: if not the worst case scenario, artificial intelligence will take over human jobs. A report from the House of Lords Digital Skills Committee claims up to 35% of UK jobs are at risk of being automated over the next two decades.
But artificial intelligence will also bring along new exciting opportunities. As former government technology adviser, Rohan Silva said:
"The technology revolution is not just destroying jobs – it's creating huge numbers of new ones too, especially in areas like IT and the creative industries. And the good news is that the new jobs being created pay an average of £10,000 a year more than the jobs being lost to automation."
It's important to remember, amid the fear and worry about artificial intelligence, that robots are built by humans.
"What we concluded is that what AI is definitely doing is not eliminating jobs, it is eliminating tasks of jobs, and creating new jobs, and the new jobs that are being created are more human jobs. Individuals that have very task-oriented jobs will have to be retrained, or they're going to have to move into new roles." – Josh Bersin, principal and founder of Bersin by Deloitte.
Bersin defines "more human jobs" as those that require traits robots haven't yet mastered – like empathy, communication, and interdisciplinary problem-solving.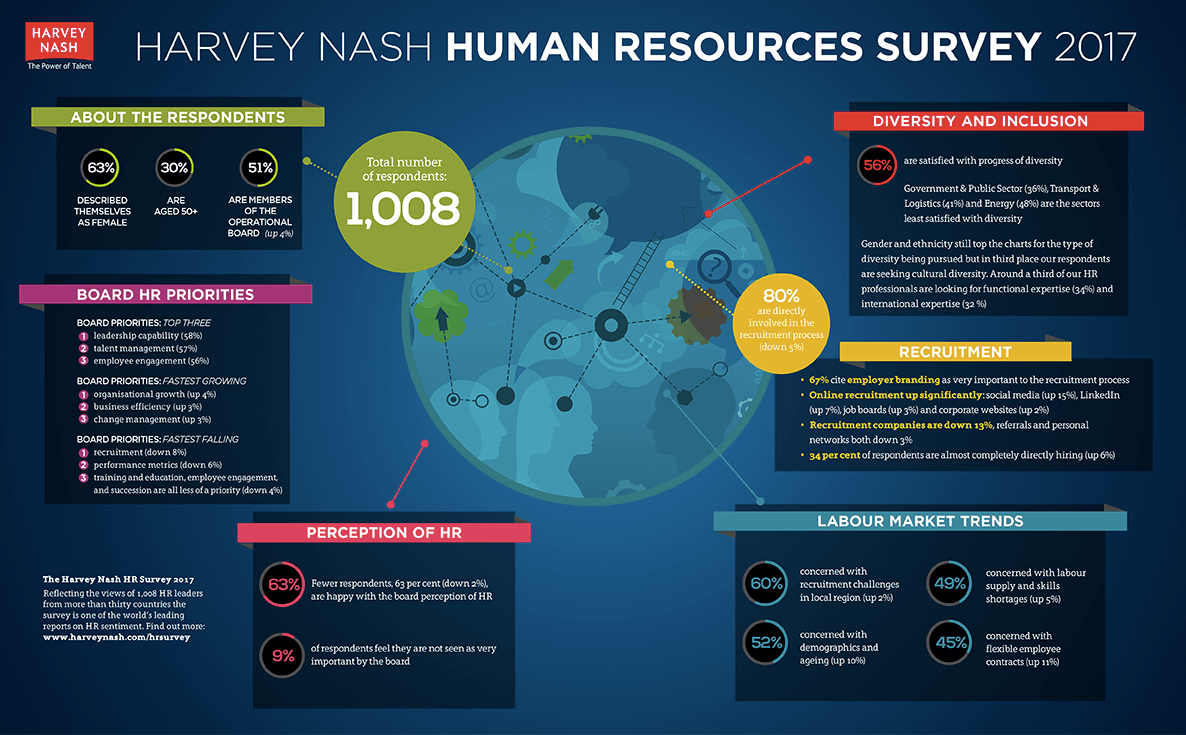 (source)
The survey found that 41% of respondents have made significant progress in adopting AI technologies in the workforce or fully implemented it. Yet only 15% of executives say they are prepared to manage a workforce with people and AI working side by side.
Companies using AI for personnel management may start implementing it before employees are even hired – to help them sort out the best candidates.
"Recruiters spend 60% of their time reading CVs," says Juergen Mueller, SAP's chief innovation officer. "Why should a person read 300 resumes if a machine can propose the top ten?"
Once managers have hired ideal candidates, artificial intelligence can help keep them productive by tracking how they handle various aspects of their jobs – like how they use their computers all day.
And it doesn't end there. AI is also helping managers peek into personal aspects of job performance that used to be left up to instincts and observations. For instance, attitudes toward the job. Veriato, an employee monitoring software analyzes employee emails and other messages, looking at words and phrases employees use. It then scores those expressions for positive or negative sentiment and then calculates a daily score for each employee.
Other AI tools aim to predict when employees may be winding down their career at the company – and advises how to keep them on board.
These systems raise a number of issues. Some, like privacy questions, are evident today, in the early stages of adoption, while others may take time to develop. What is clear is that HR as we know it is up for some big changes.
Read on: How AI Can Boost Your Company Results
Project Management & AI
Project management AI is a system that can manage and administer projects without requiring human input. Not only will it automate simple tasks but it will also develop an understanding of key project performance. Project management AI can then use this knowledge to perform more complex tasks, uncover insights, and make recommendations and decisions.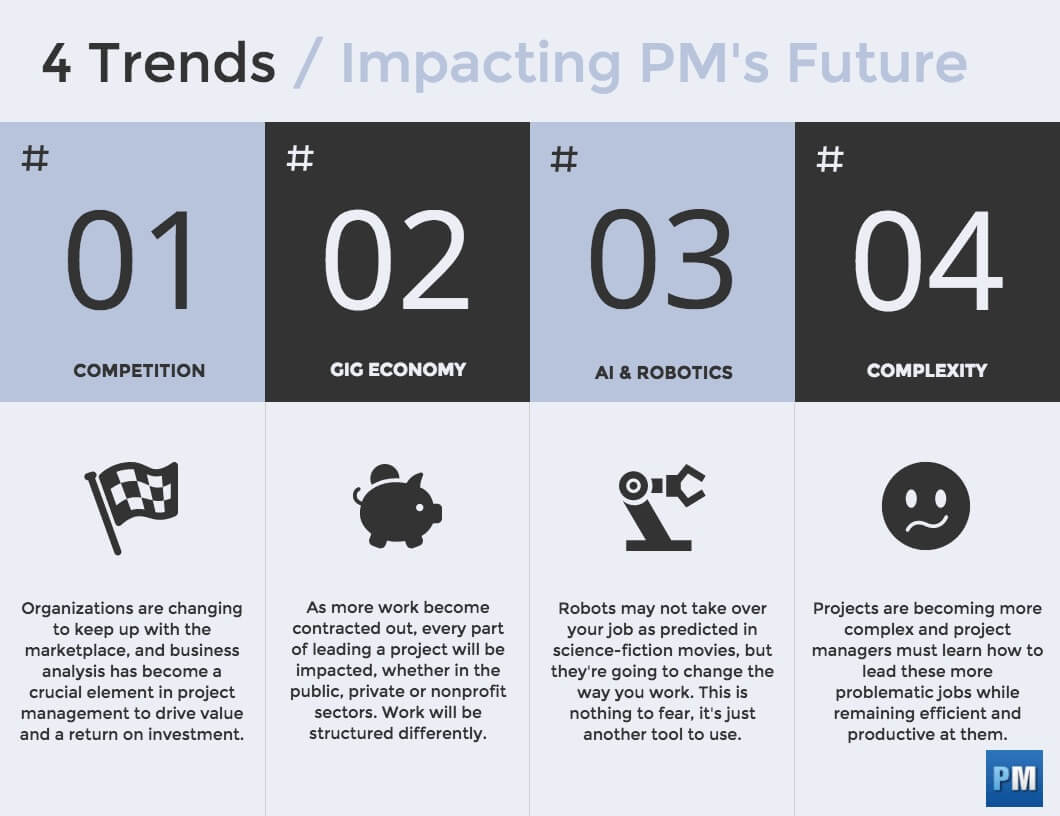 (source)
With more project data, predictions will become more reliable and easier to understand. Imagine an AI that will automatically re-assign the tasks in the next few sprints based on its knowledge of how good people are with different technology and different areas of the system. That is effective, powerful and meaningful.
Ultimately, an AI system will save you time while improving outcomes for your projects and team.
Read on: 29 Business Automation Hacks to Save 8+ Hours Every Week
Customer Care & AI
Companies get to know their customers on two occasions: when the customer buys or subscribes, and when there's a customer-support issue. Evidently, companies have a lot of blind spots when it comes to their customers.
However, already today there's a massive amount of online and company data available about your clients. New AI tools can learn about customers based on that and surface up these insights in a consumable format, giving companies a richer understanding of their customer identity and needs.
There will always be a need for a human's presence in customer service, but with the rise of AI comes the blatant reality that many things can be accomplished through the implementation of an AI-powered virtual assistant.
According to a Gartner report, it is believed that by the year 2020, 85% of customer relationships will be through AI-powered services.
Thanks to the conversational intelligence, it's finally possible for every brand to take the customer on a digital journey that builds a relationship instead of merely executing a transaction. The magic of those highly personalized relationships you expected from old-school brick-and-mortar businesses is now a digital reality.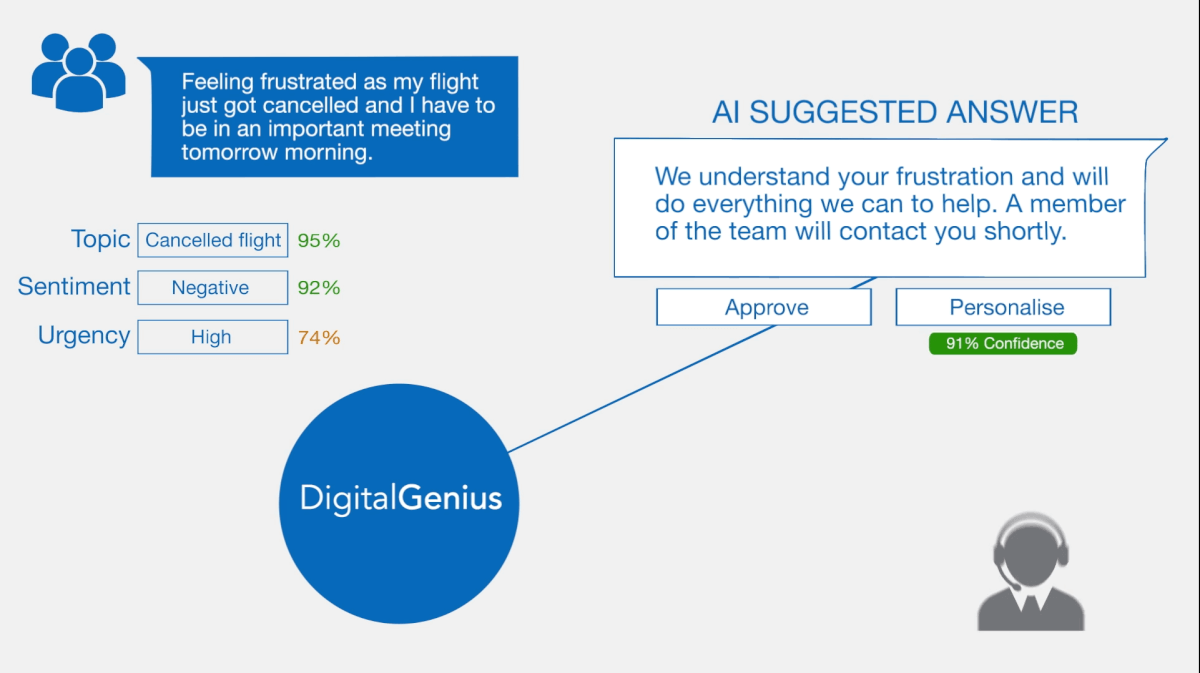 KLM Provides Faster Customer Service with AI Tool (source)
Michael Polanyi, the Polymath and philosopher from the 1960s, famously said:
"We all know more than we can tell but with machine learning we don't have to be able to tell or explain what to do. We just have to show examples."
This is opening up so many new opportunities for machines, allowing them to do a set of things that previously only humans could do.
Although fully implementing this technology will take time and a collective willingness – the best of artificial intelligence is yet to come. Babak Hodjat, Founder and Chief Scientist at Sentient Technology warned against assigning limitations on what kinds of problems AI has the potential to fix:
"You'd be surprised at what AI can do. A lot of problems that we think are impossible to solve – and are within the exclusive domain of human intelligence – can be solved."
Everything about your business, one click away