Work management
15 Cult Business Blogs Everyone Should Read in 2022
STARTING and running a business is hard. It takes decades to master the art, so any advice along the way is much appreciated.
Business blogs enable us to pick the brain of the most inspiring entrepreneurs, innovators, and high achievers. However, with thousands of business blogs out there, finding valuable content can easily get overwhelming.
We did the hard work for you and compiled a list of the top business blogs everyone should follow right now. From hilarious to educational, to plain controversial, whether you're in the early stages of your startup or looking for some inspiration to keep going – these blogs are all must-reads.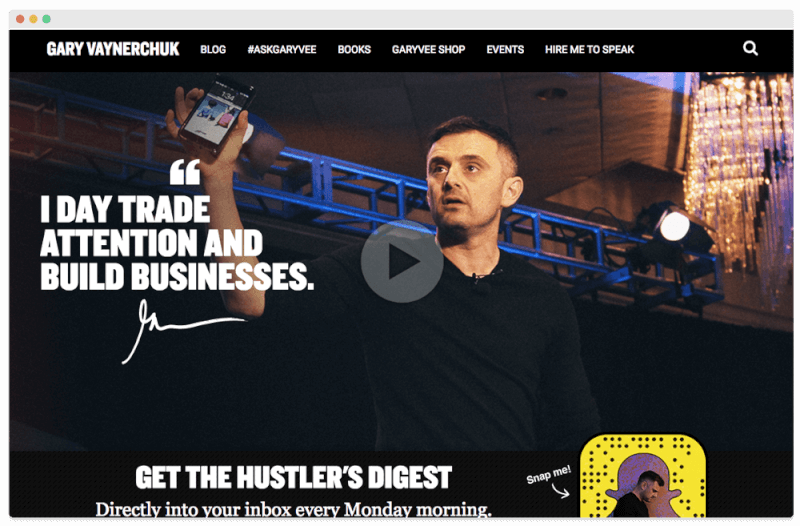 One of the world's leading marketing experts, serial entrepreneur, and four-time New York Times bestselling author, Gary Vaynerchuk has built his career by being exactly where consumer attention is going next.
"99% of what we deal every day in business doesn't matter. If you religiously follow the few core business philosophies that mean the most to you, everything else will naturally fall into place." – Guy Vaynerchuk
He is a regular keynote speaker at global entrepreneurship and technology conferences and runs the #AskGaryVee Show on YouTube. In the show, Vaynerchuk canvases questions on entrepreneurship, family, innovation, and business.
Must-reads: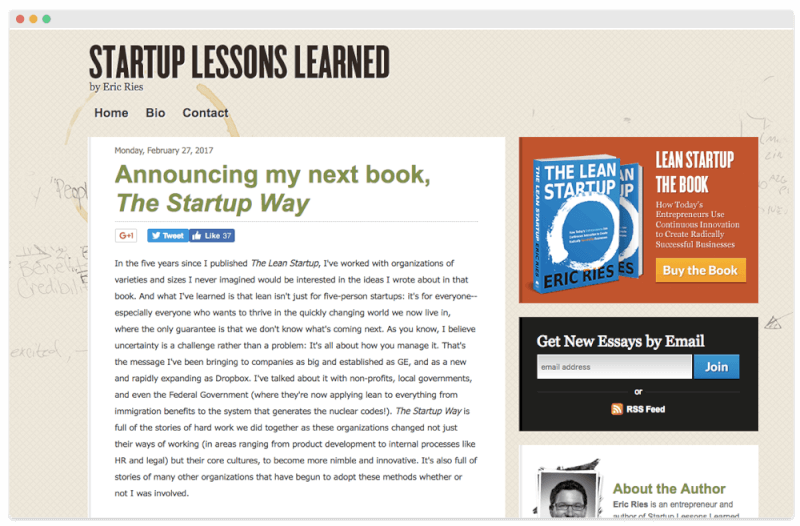 Eric Ries serves on the advisory board of a number of technology startups and is the creator of the Lean Startup methodology. His popular entrepreneurship blog Startup Lessons Learned is focused on transforming how new products are built and launched.
"The only way to win is to learn faster than anyone else."  – Eric Ries
Ries believes that every startup has a chance to change the world. By bringing not just a new product, but an entirely new institution into existence. That institution will touch many people in its life: customers, investors, employees, and everyone they touch as well.
Must-reads: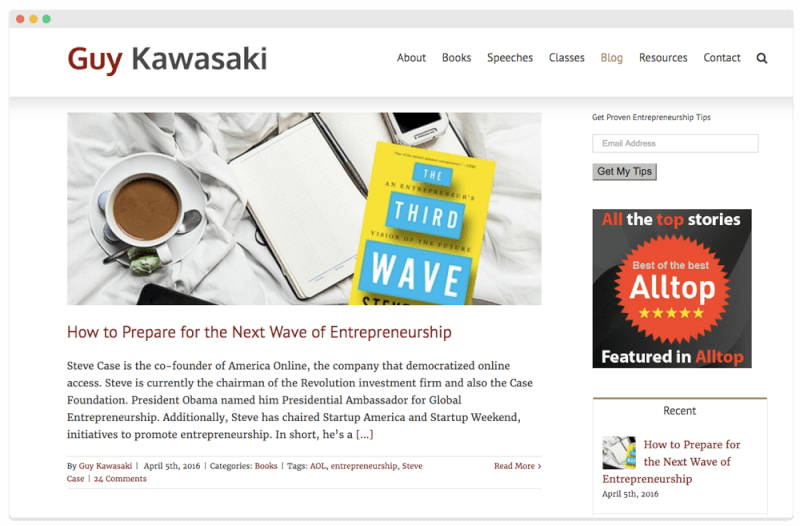 Guy Kawasaki is a Silicon-Valley based entrepreneur, speaker, evangelist and an author of 13 books. He describes his blog as the practical blog for impractical people.
"Great companies start because the founders want to change the world… not make a fast buck." – Guy Kawasaki
Many of us aspire to be financially independent in business. However, it's our mind that we can't sometimes control. Guy Kawasaki certainly knows how to do this, and we can all learn a thing or two from him.
Must-reads: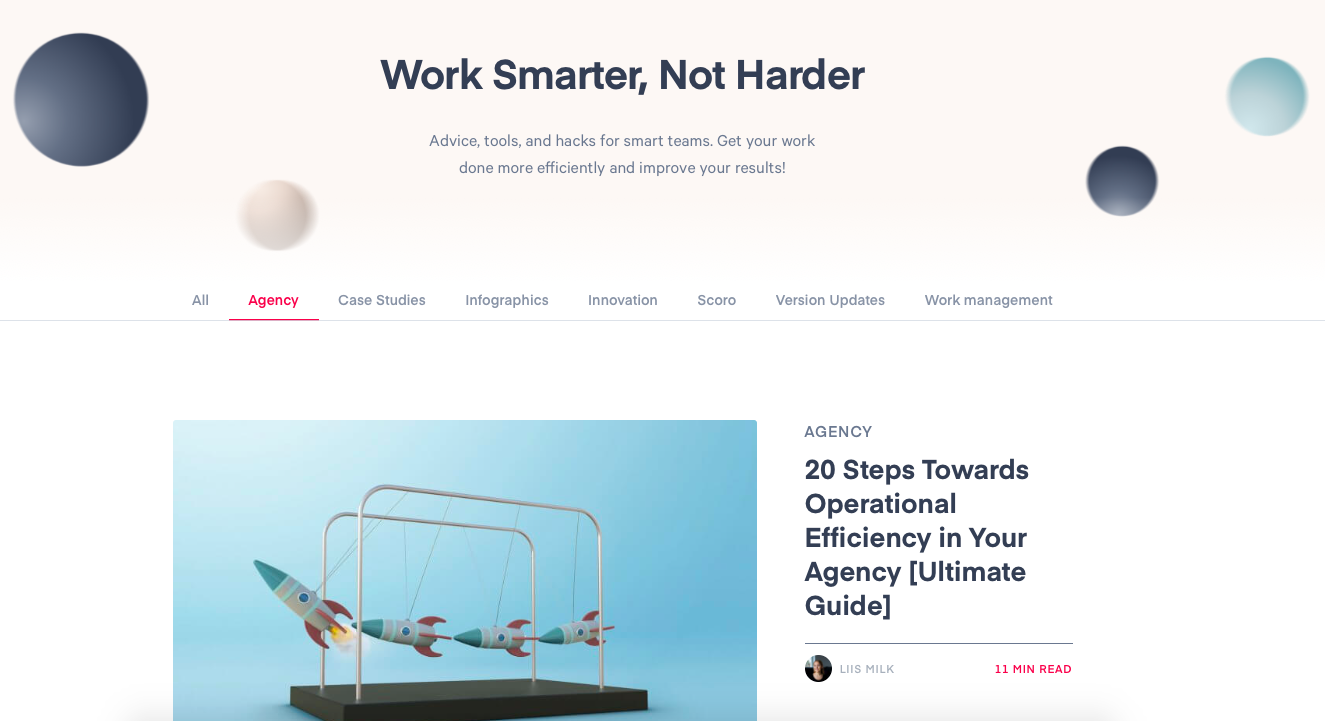 This blog has set the goal of helping people make the most out of their days at work. The blog represents a perfect mix of personal productivity hacks and advice on improving work. If you're managing a team or looking to advance your productivity skills, make it a weekly habit to check out this blog.
Must-reads:
Read on: Our Top 10 Articles of 2018 to Kickstart Your Year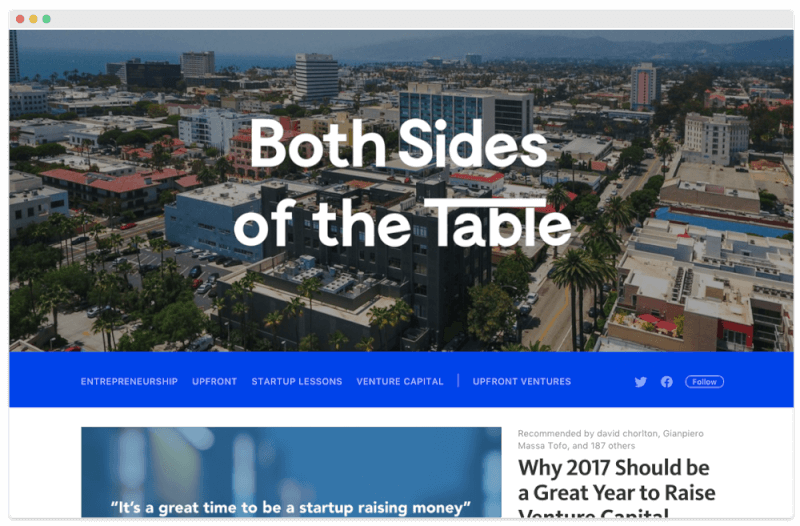 Both Sides of The Table presents the perspectives of Mark Suster, 2x entrepreneur turned VC at Upfront Ventures – the largest and most active early-stage fund in Southern California.
"I usually tell people that everything I learned about being an entrepreneur I learned by f'ing up at my first company." – Mark Suster
Suster is a prominent blogger in the startup venture capital world and a mentor at TechStars. He writes about entrepreneurship, startup lessons, and venture capital.
Must-reads: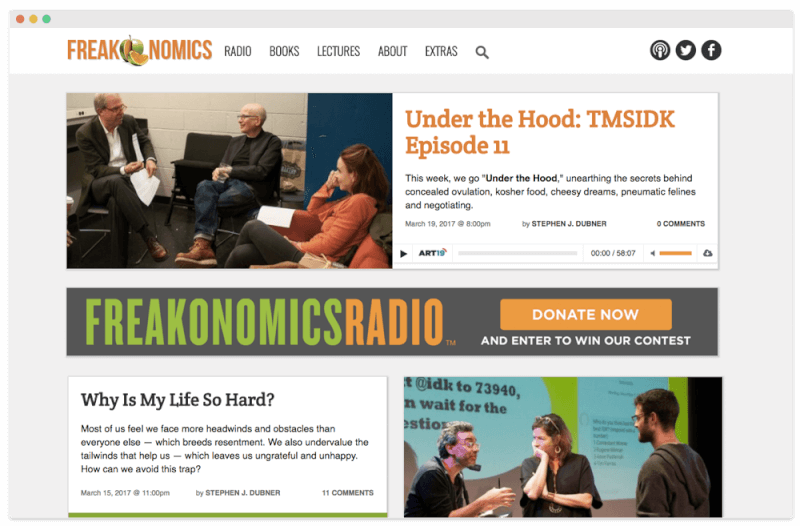 It began when journalist and author Stephen J. Dubner was assigned to write about award-winning economist Steven D. Levitt for The New York Times Magazine. Dubner had been reluctant to take the assignment (he was in the middle of writing a book about the psychology of money). Levitt was reluctant to be shadowed by a journalist (but his mother loved the Times Magazine, so he gave in).
The article led to Levitt and Dubner writing the book Freakonomics: A Rogue Economist Explores the Hidden Side of Everything. A documentary, lectures, a radio show and – a blog, followed.
"An expert must be BOLD if he hopes to alchemize his homespun theory into conventional wisdom." – Steven D. Levitt
Freakonomics establishes this unconventional premise: If morality represents how we would like the world to work, then economics represents how it actually does work. It will definitely redefine the way you view the modern world.
Must-reads:
Read on: Artificial Intelligence: Everything You Want to Know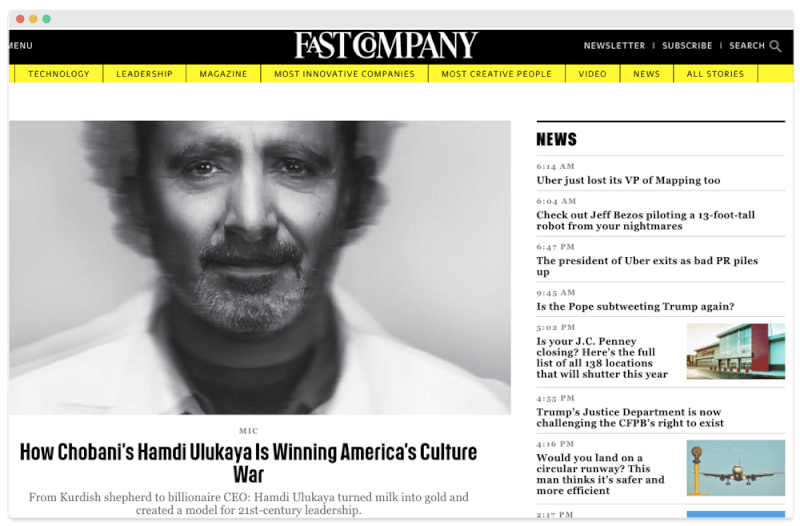 Fast Company has a unique editorial focus on innovation in technology, leadership, world-changing ideas, and design. Written by, for, and about the most progressive business leaders, it forces readers into thinking beyond traditional boundaries, and create the future of business.
Launched by two former Harvard Business Review editors, Fast Company was founded on a single premise: A global revolution was changing business, and business was changing the world. Fast Company set out to showcase the teams and individuals who are inventing the future and reinventing business.
Must-reads:
Read on: How AI is Changing the Way We Work
Everything about your business, one click away
8. More Human Leadership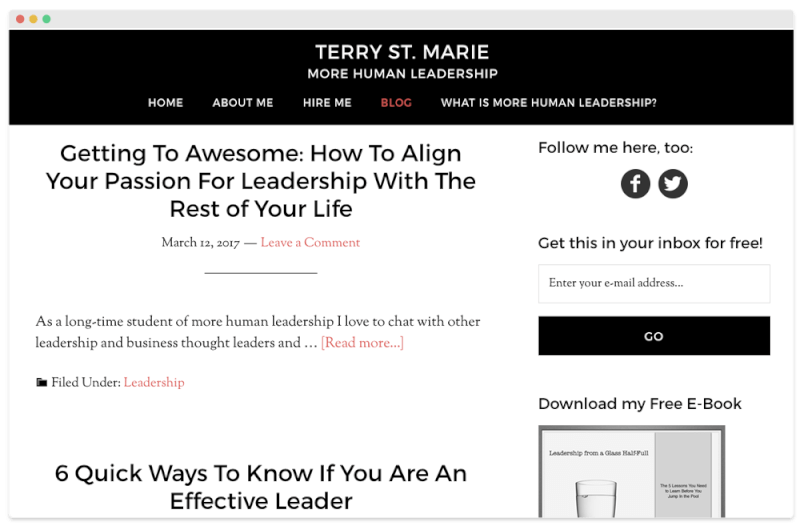 The More Human Leadership is a concept by Terry St. Marie – it's all about positivity, purpose, empathy & compassion, humility, and love.
The blog centers on what it means to be a More Human leader, and the fantastic benefit that can spring from it: The Success Trifecta – a successful company, a happy team, and a fulfilled you.
Must-reads:
6 Quick Ways To Know If You Are An Effective Leader
The Leadership Wonder Drug (But Beware Of The Side Effects)
Dream Adjusters: Why Company Leaders Also Have To Be Chief Calibration Officers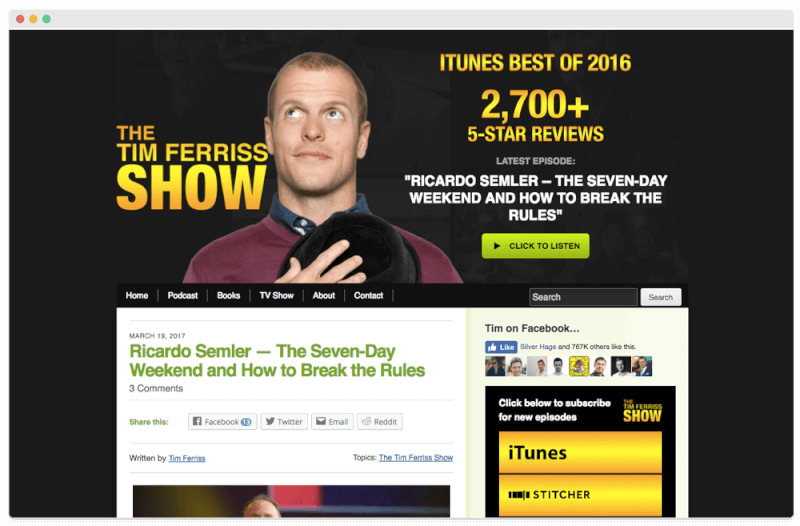 "Tim is Indiana Jones for the digital age. Simply put, do what he says, and you can live like a millionaire." – Albert Pope, Derivatives Specialist, UBS World Headquarters
Timothy Ferriss has been listed as one of Fast Company's "Most Innovative Business People", Forbes Magazine's "Names You Need to Know," and is the 7th "most powerful" personality on Newsweek. You probably know him for the 4-Hour Workweek concept.
"Being able to quit things that don't work is integral to being a winner." – Tim Ferriss
His podcast focuses on deconstructing world-class performers.
Must-listens: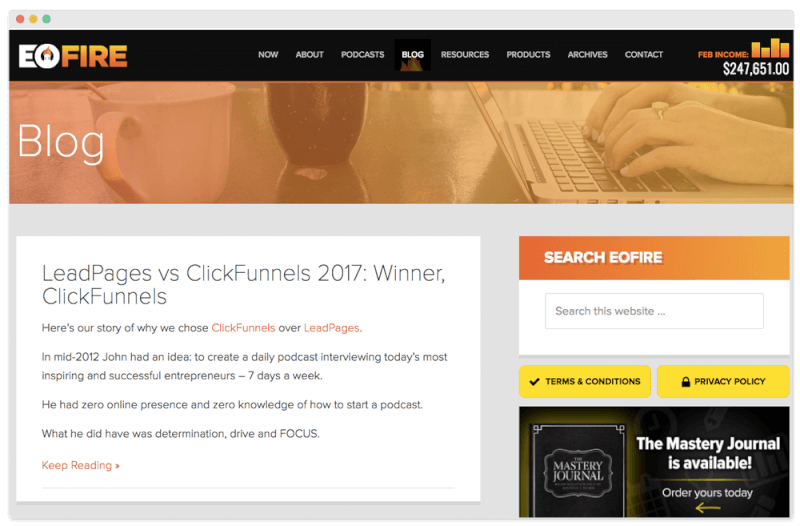 EOFire is an award-winning podcast featuring interviews with today's most inspiring Entrepreneurs 7-days a week!
If you're interested in picking the minds of Tony Robbins, Seth Godin, Gary Vaynerchuk, Barbara Corcoran, Tim Ferriss, Brian Tracy, and over 1500 others, don't miss out!
Must-listens: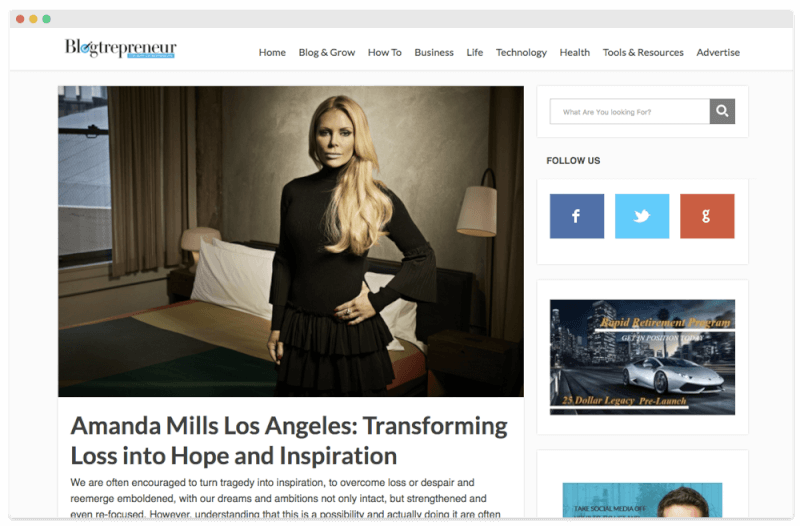 Blogtrepreneur was founded by brothers Matthew & Adam Toren – serial entrepreneurs, investors, and mentors. For nearly 20 years, Matthew and Adam have provided instruction in management concepts, marketing, and finance to emerging and distressed small businesses, also publishing the award-winning book, Kidpreneurs: Basic Principles of Entrepreneurship for Kids aged 7 to 12 years old.
One thing the Torens have learned through all their entrepreneurial adventures is that good advice is priceless. That's why they launched the Blogtrepreneur – to provide the insight and knowledge necessary to make everyone's entrepreneurial dreams a reality.
Must-reads:
Launched by a former top-ranked Wall Street analyst and DoubleClick executives, Business Insider is a fast-growing business site with deep media, financial, tech, and other industry verticals.
It's the largest business news site on the web and serves to keep you in the loop when it comes to what's happening in the business and entrepreneurship scene.
Must-reads: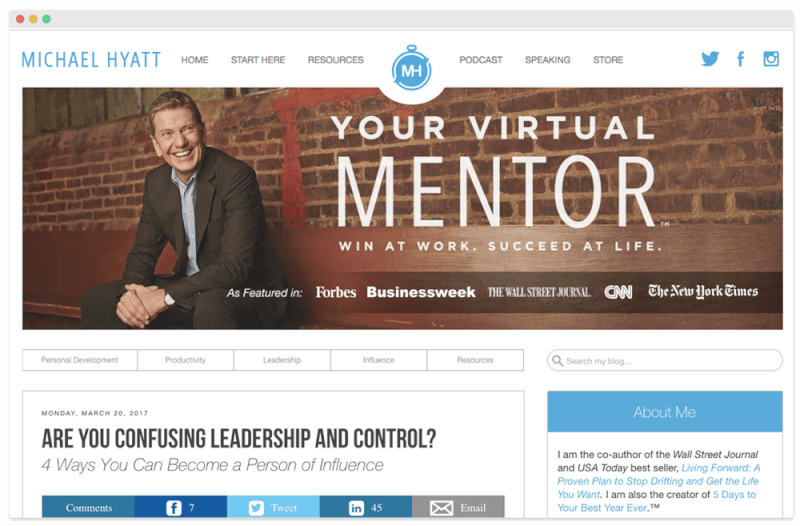 The author of three best-sellers Michael Hyatt is determined to help overwhelmed high achievers get the clarity, confidence, and tools they need to win at work and succeed at life.
"Self-leadership always precedes team leadership."  – Michael Hyatt
The blog focuses on productivity, leadership, and personal development – and is an excellent read for anyone who wants to stop drifting and start designing their life.
Must-reads: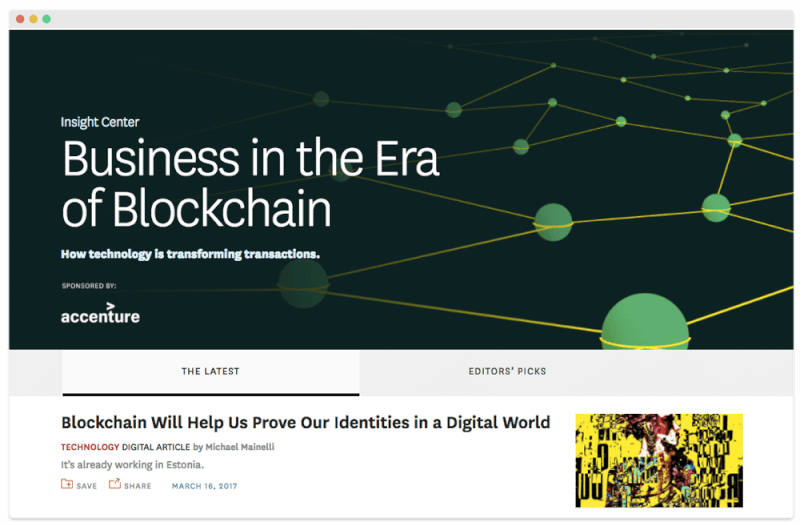 Harvard Business Review publishes the best thinking in the areas of business strategy, general management, technology, leadership, and innovation.
Intelligent business readers turn to HBR for answers to the questions they face every day, and for the guidance and debate that will have a profound impact on their lives — both personally and professionally.
Must-reads: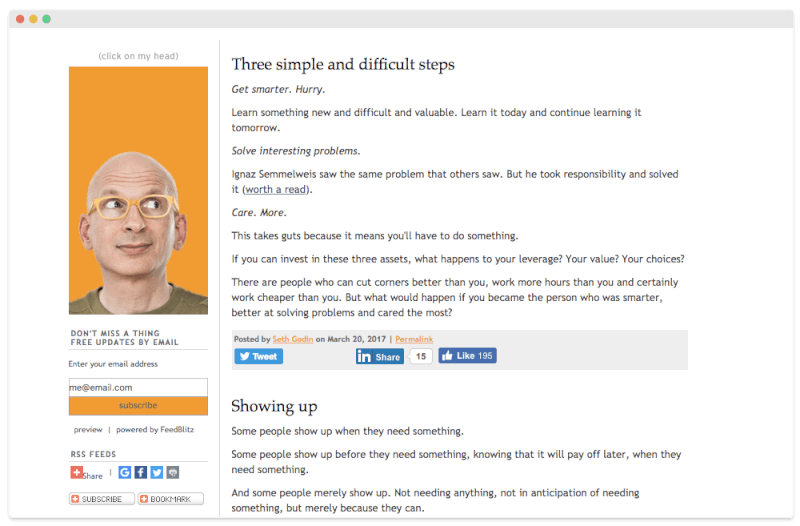 Seth Godin is an entrepreneur, marketer, public speaker, and the author of 18 bestselling books. His blog is about the way ideas spread, leadership, marketing, quitting, and most of all – changing everything.
"Transferring your passion to your job is far easier than finding a job that happens to match your passion." – Seth Godin
Must-reads:
Everything about your business, one click away