Work management
The Way We Use Software Is Changing. Don't Be Left Behind.
With the rapid growth of AI and Big Data, the business world's on the verge of recognizing their data as one of their most valuable assets on par with skilled workforce and time.
While companies are using tens of tools to manage everything from their infrastructure to customer service, business data is more scattered than ever. And the growth of SaaS (software as a service) production shows no signs of halting.
A report released in 2016 by price comparison checker Better Buys showed that the global SaaS market is expected to break $50 billion in terms of product spending by 2024, from $12bn this year.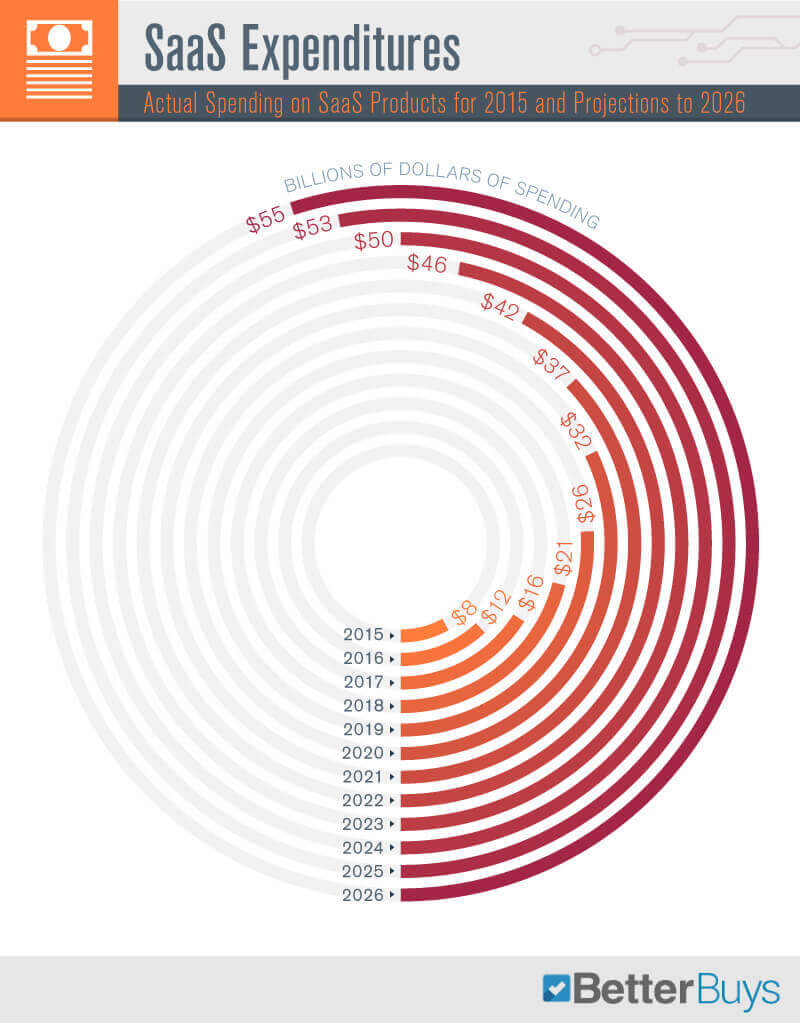 Every month, hundreds of new SaaS startups emerge, creating new business management software that promise to increase our work productivity. But do these tools truly give us an advantage?
Benefitting from tens of different business tools comes with a hefty price tag: unorganized data, leading to important knowledge being shared only on the team level. The top management is left without a cohesive overview, relying mainly on a wishful thinking instead of data-driven decision-making.
What can the companies do to harness the full potential of their workforce, and maintain relevant business data to contribute to future growth?
The paradox of modern business tools
We couldn't imagine our lives without software. SaaS tools help us run most of the daily business processes from collaboration to marketing. But here, an inevitable question emerges: how many business tools can we apply without losing an overview of our businesses (and having the tools work against each other)?
While business tools empower our daily work and are generally enjoyable to employ, there's a point when our productivity starts to suffer instead of being empowered by software.
From from mid-1995 through the end of 2010, productivity growth in the non-farm business sector averaged a prolific 2.6% per annum. From 2010 to 2016, the number's been bleak with the average productivity growth of only 0.4% each year.
According to the Wall Street Journal, one of the reasons could be the emergence of new popular online services such as Snapchat and Twitter. The general assumption's that these new tools are turning formerly productive work hours into a disguised waste of time.
But we believe that there's more to the low performance of overall productivity growth. With gigabytes of information being processed by various (software) tools, companies are struggling to keep track of their cross-departmental results in a meaningful way.
The data is scattered between tens of different tools that at best fail to communicate. A much darker scenario that's rarely discussed is the emergence of duplicate data with slight modifications, resulting in multiple versions of the truth.
Read on: 5 Good Reasons You Should Use Fewer Business Tools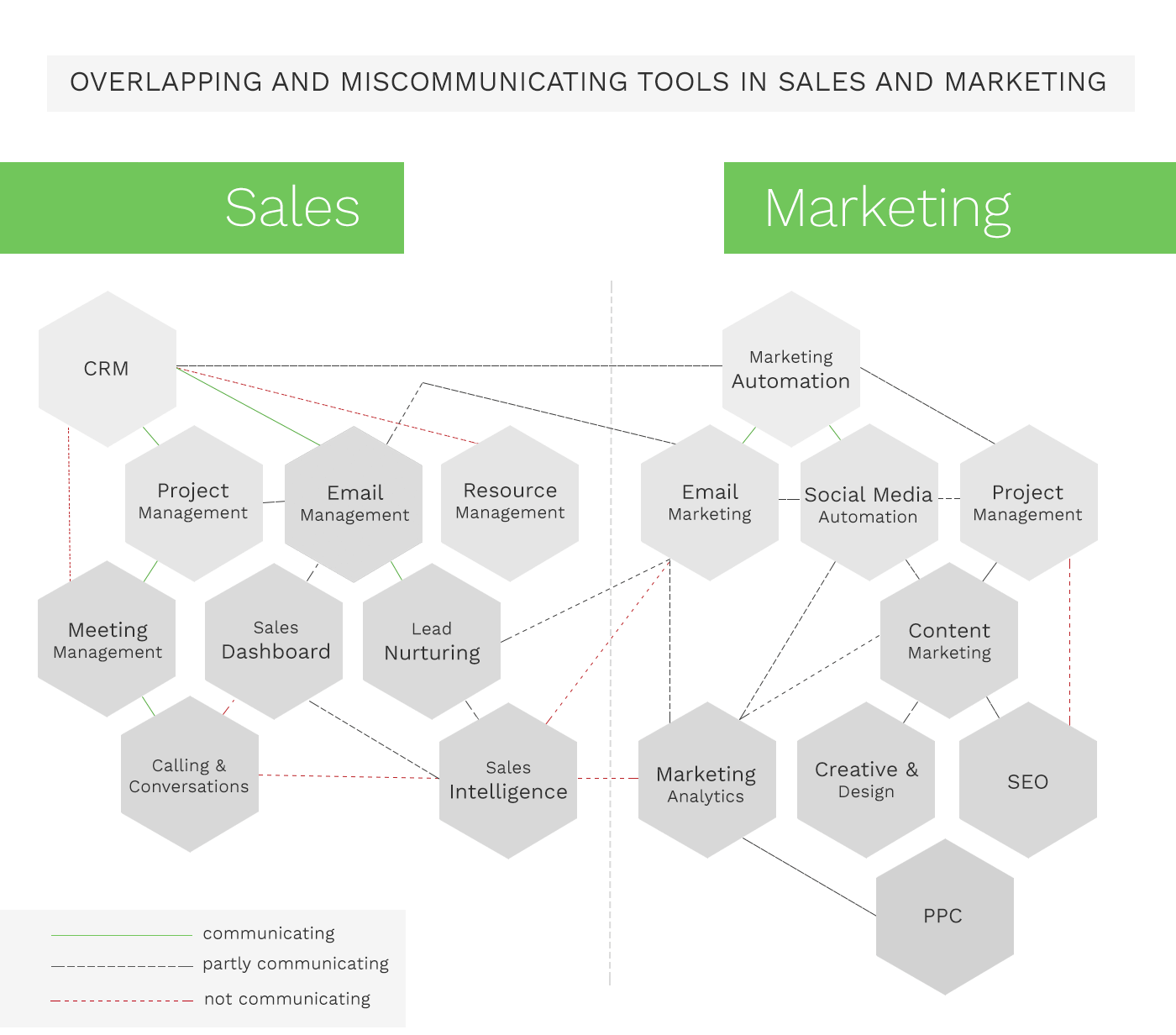 Take Sales and Marketing for example. There are several overlapping fields in the work of these two key business departments: lead management, email marketing, customer happiness … The list is long.
Without proper planning, these two superimposing business departments could end up using different tools that fail to integrate, leading to a deficient flow of cross-departmental information.
Businesses are hardly data-driven
Show us a modern company that wouldn't consider itself data-driven – we're all using software and analytics tools to track the key business metrics and compile extensive strategy reports.
As an article in the Harvard Business Review promptly points out, in the digitally networked enterprise, more stakeholders can instantly access and share actionable information. While technology increases real-time situational awareness, the managerial and operational ability to act on that data-driven information may not.
The core (and essentially simple) reason why managements struggle to act on data-driven information is their lack of cohesive overview.
Imagine you're the CEO of a 100-employee company. You'd like to increase the general customer satisfaction over a period of three months, meaning you'll need relevant data about customer service, sales, marketing, and other business processes.
Read on: How to Use Your Business Data for Smarter Decisions
The information's all present in the 20+ tools, 100+ spreadsheets, and 1000+ emails that you're never going to decipher as you've got more urgent problems to solve.
95% of modern businesses aren't data-driven. They're data-soaked.
And the very fact that we're using tens of SaaS products to disguise our inability to carry out a long-term business strategy is a testament to the problem.
We're ready for the next big disruption
In an article on Medium, Justin Jackson asks "Is SaaS ripe for disruption?"
The number of applications used by a single company has increased 10x in the past five years. If you look at the research by Bessemer, enterprise clients are continuously spending more on SaaS: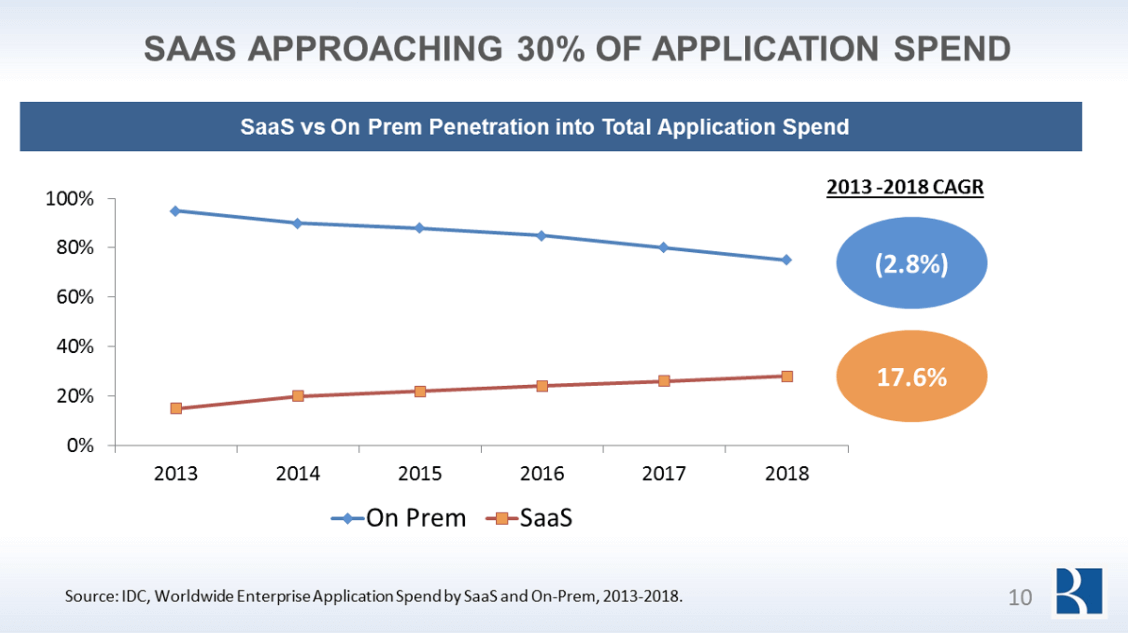 There are hundreds if not thousands of online tools to help you with every aspect of business management, each delivering a hopeful promise of increased revenue and skyrocketing productivity.
Just to help you put the current SaaS market from the right perspective, here's a chart from Chief Marketing Technologist blog featuring the products in marketing technology landscape: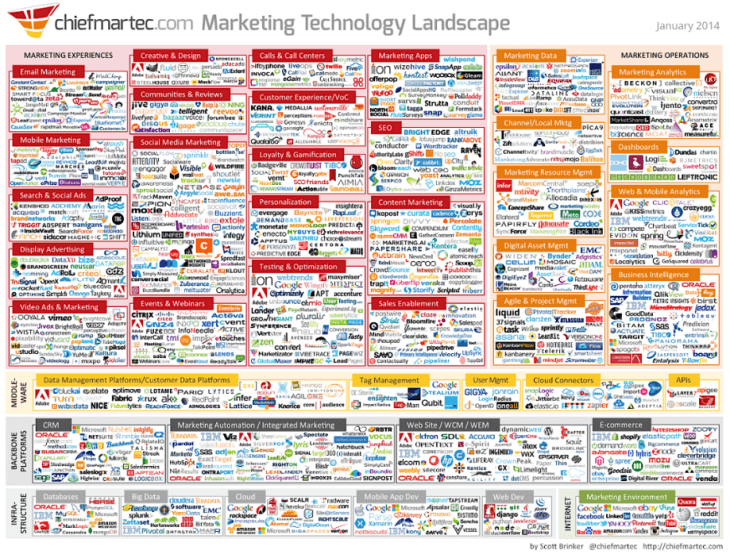 Pause for a moment and think about the tools you're currently using to manage your company. Even better, make a list of every single software and tool your team has employed in the past 12 months. Each of these tools incorporates valuable business data that you're too busy to explore.
Another trend you'll notice when looking closely at the list of your current toolkit is the opportunity for consolidation.
Some single-feature applications could be joined under more comprehensive tools, leaving your company with a less chaotic data footprint.
For example, the marketing automation software HubSpot consolidates CRM software, marketing, and sales tools needed for sustainable growth. They've even named their toolset a "growth stack", and that's exactly what's modern businesses need – a comprehensive solution that provides tools that integrate seamlessly for in-depth data insights.
Small businesses especially feel like they are using, and paying, for too many apps. But as we look at the potential cost of scattered business data, enterprise-level businesses have a lot more to lose (they're also the ones using a wider set of tools).
There's a light at the end of the tunnel, and it's switching to consolidated all-in-one solutions that embrace collaboration while empowering both the team members and leadership.
Rise of the hive mentality
A few months ago, Arjun Sethi, the former head of growth at Yahoo and CEO at MessageMe wrote an inspiring piece on the rise of hive mentality.
According to Sethi, the hive is a smarter, evolved network that is bigger than the sum of its parts. It increases the frequency of interactions between nodes (team members) and creates a higher level of synchronicity between members of the hive.
Look at the hive as a network of knowledgeable people. Math shows that as you annex one more new nodes to a network, you add many more connections. As the number of members increases arithmetically, the value of the network increases exponentially.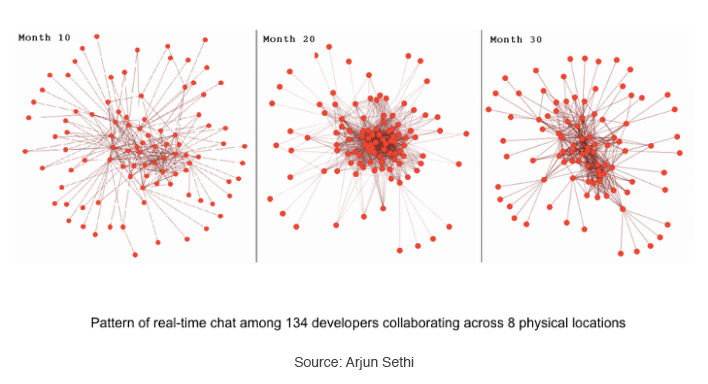 In order for the frequency of interactions between the nodes to grow, and more touch-points within the hive to be created, companies need to provide a structure to build on.
The multi-layered information network of SaaS tools, spreadsheets, and emails is outdated in today's modern world.
We're entering a new era of integrated business management with tools that have the capacity to support data-driven decision-making by collecting and consolidating all the relevant data.
Think about your team as a huge beehive. Every well-connected team member has the potential to contribute huge value, both in terms of knowledge and work. Using a collaborative small business management software decreases friction between the nodes and creates a higher level of synchronicity between members of the hive.
Modern businesses need to embrace the hive mentality to be truly able to make data-driven decisions.
This can be done by consolidating single-feature SaaS tools and establishing an organized framework of team collaboration software and comprehensive work management software.
How to keep up with the pace?
An increasing number of companies are grounding their organizational decisions around intelligent data.
As organizational decisions increasingly become more data-driven, top managers need to assure the decision rights are data-driven as well. That explains why so many organizations have made data governance a strategic and organizational priority.
Technology research company Gartner has predicted that by 2020, the information will be used to reinvent, digitalize or eliminate 80% of business processes and products from a decade earlier. With operational processes quickly becoming digitalized, many of the traditional analogue and manual processes will be automated.
High-impact business decisions are going to be increasingly supported by automated reports and data-driven judgment.
Read on: All-time Best Hacks for Business Optimization and Analysis
Businesses, both SMBs and enterprise-level players, need to start looking for increasingly efficient and consolidated ways of managing their new highly valued currency – data.
Successful SaaS products, on the other hand, should look for new ways of consolidating small yet undeniably required features to help businesses convert to the hive mentality. We in Scoro believe that companies are best managed with an integrated solution that consolidates all the relevant data across multiple business departments, leading to informed decision-making in the rapidly changing world.
Here are the key viewpoints to grind and reflect on:
The huge amount of SaaS management tools, spreadsheets, and emails is leaving our data scattered and intractable.
Instead of tens of single-feature tools, businesses need a consolidated solution for data-driven management and strategic decision-making.
Team members are like nodes in a huge network. When connected, the value of their knowledge and work becomes manyfold.
It's time to rethink the way we manage our companies and start looking for more structured and foresighted solutions to use the full potential of our teams.
Any other thoughts on the topic? Leave a comment… or two.
Everything about your business, one click away