Work management
The Best All-in-One Tools for Hybrid Working
As the world navigates towards the new normal, most companies are rolling out a hybrid working policy. This comes as a report by the UK's Chartered Institute of Professional Development (CIPD) reveals that two-fifths (40%) of employers expect more than half of their workers to work regularly from home post-pandemic.
Hybrid working can improve work-life balance so that staff remains motivated and works better. Even a study conducted in back 2013 showed that remote working could boost productivity by 13%. It can reduce absenteeism, improve employee retention, and enable savings on business expense claims and premises costs.
These are all powerful reasons to give hybrid working models a try. And today, you can pick from a growing number of collaborative work management platforms that allow you to manage workflows, support collaboration, and encourage innovation wherever your team happens to be.
Making hybrid working work for your business
Although it may be a departure from your business norms, heading up a hybrid working team requires the key management skills and techniques you're already familiar with. For example, it's essential to trust your team members, give them space and avoid micromanaging them.
And effective communication becomes even more critical when your team is distributed. They can't always drop into one another's offices to talk about a brief or chat about progress and deadlines while making a drink. So you need to open up effective digital communication channels that enable everyone to stay in the loop.
It may even be necessary to overcommunicate at first to make sure the channels work well, and staff is comfortable using them. The best tools are easy to use and keep teams collaborating in ways that meet the needs of the business while keeping each individual engaged and motivated.
Of course, alongside communication tools, you'll need others that support a range of familiar functions, for instance, cloud services for file storing and sharing and productivity tools to keep teams and projects on course and improve efficiency. And all of these need to keep your data safe. The good news is that all of these tools are developed with hybrid working in mind.
If you're looking for an all-in-one tool to bring all these products and services together into an overarching system, then here's our pick of the crop:
Best all-in-one tools
1. Scoro – best for supercharging the whole business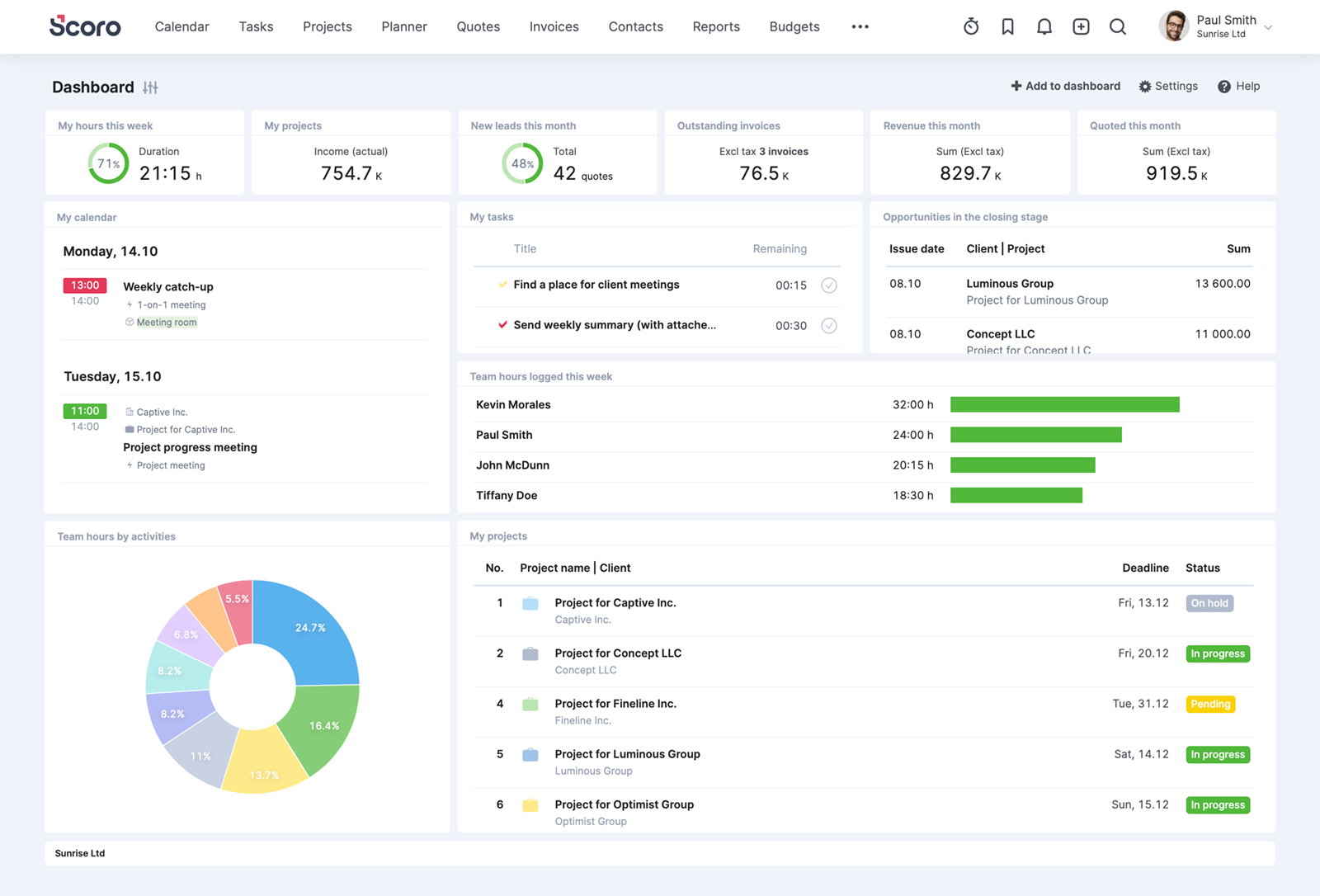 Scoro is a powerful end-to-end collaborative work management solution with all the features that medium to large enterprises need to manage company operations. With Scoro, you can streamline work to run your company as smoothly as possible. It also integrates with more than 1,000 leading tools.
Top features:
Projects with sub-tasks and deadlines
Real-time KPI dashboard
Shared team calendar & meeting scheduling
Contact management
Time tracking and billing for work
Quoting and invoicing
What's interesting about this tool: Scoro is highly customizable and allows you to create visual, accessible dashboards and detailed reports to give you a single source of truth.
Pricing: Free 14-day trial, paid plans from $26 user/month
2. Hubstaff – designed for managing remote workers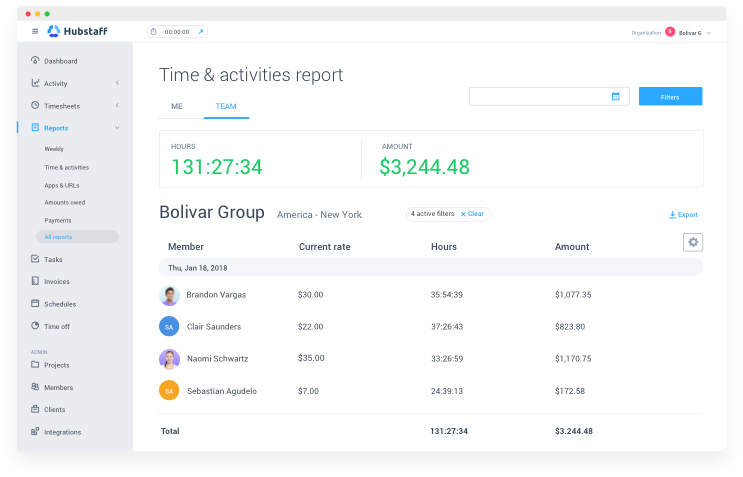 Hubstaff is a time tracking and productivity monitoring tool that makes it quick and easy for team members to streamline their work and improve productivity when they aren't on-site. It allows managers to keep track of multiple projects and teams and identify how each team member spends their time.
Top features:
Geofencing
Screen recording
Time-tracking and timesheets
Productivity measurement
What's interesting about this tool: With Hubstaff, you can accurately track work hours and sync timesheets directly with payroll.
Pricing: Free 14-day trial, most popular plan from $8.67 user/month (first 2 users $200)
3. Celoxis – simpler, slicker reporting for customer-facing teams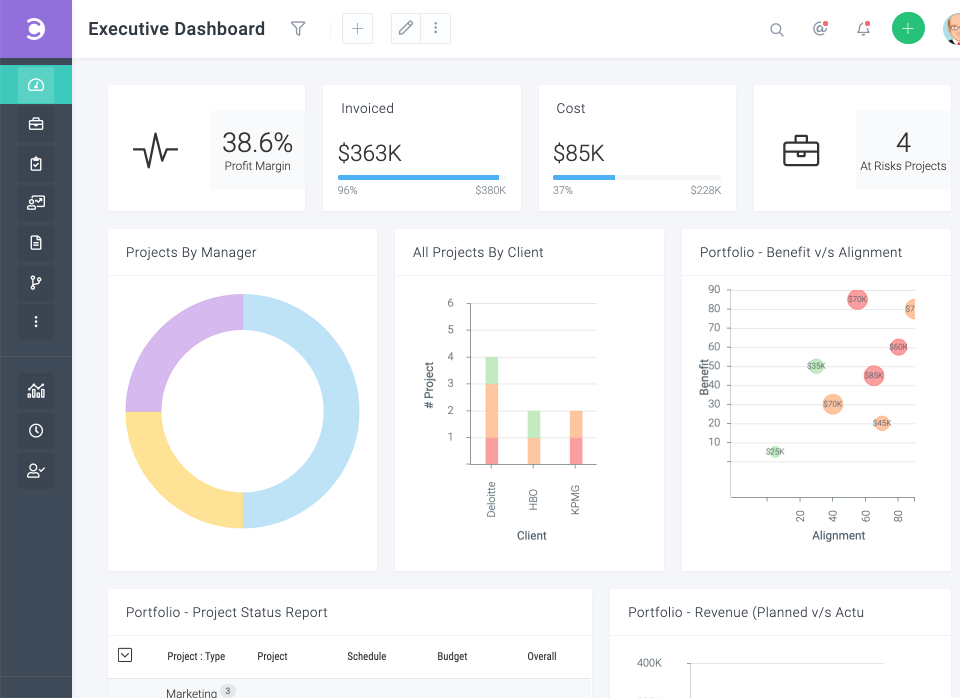 Celoxis is popular among businesses whose teams are collaborating with customers thanks to its highly developed reporting features. It allows you to create a customizable portal for each client so their project team can easily share documents, design ideas, progress reports, and more. It makes internal reporting simple, too, via impactful dashboards that can be tailored around the business's needs and preferences.
Top features:
Activity tracking & dashboards
Project management
Time-tracking
Resource management
What's interesting about this tool: Celoxis tailors product demonstration around your business to enable you to quickly decide whether the platform is suitable.
Pricing: Free trial, paid plans from $22.50 user/month
4. Jira – loved by software developers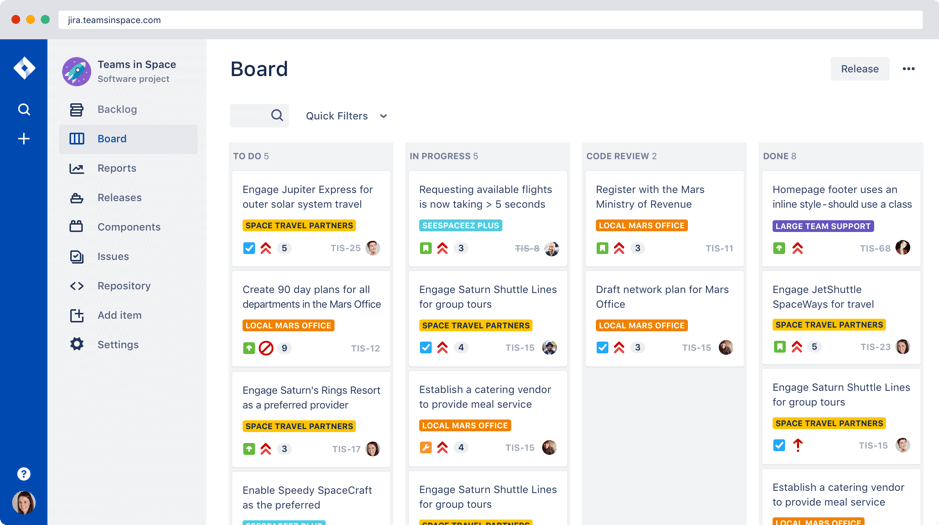 Jira started life as a bug-tracking tool for developers, but it now has many additional features, including an agile planning suite and other resources to keep on top of large projects and improve team performance. It is highly customizable, and users can present real-time data visually. However, it is designed for those who are comfortable using more sophisticated software.
Top features:
Agile-focused approach
Project tracking
Mobile device support
Extensive reporting functionality
A multitude of flexible APIs
What's interesting about this tool: Flexibility. Jira leverages multiple project management SaaS tool protocols, including scrum management, marketing, professional services, and more.
Pricing: Free trial, paid plans from $7.50 user/month
5. ClickUp – a flexible solution for small teams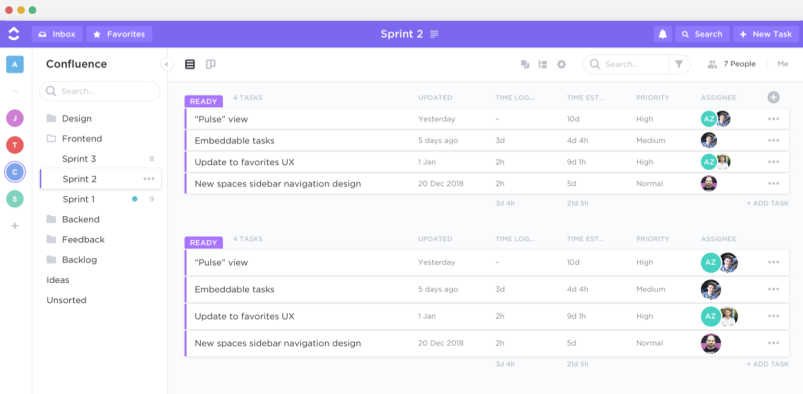 ClickUp is a customer-centric collaboration tool widely used by small teams within large organizations. It allows users to create and organize projects, assign tasks and bring together all project documents and resources in one place.
Top features:
Agile dashboard
Task assignments and statuses
Communication and collaboration tools
Real-time alerts and notifications
What's interesting about this tool: ClickUp's interface offers an intuitive user experience with lots of collaboration features.
Pricing: Free trial, paid plans from $5 user/month
Check out these ClickUp alternatives!
6. Podio – made for collaboration and sharing ideas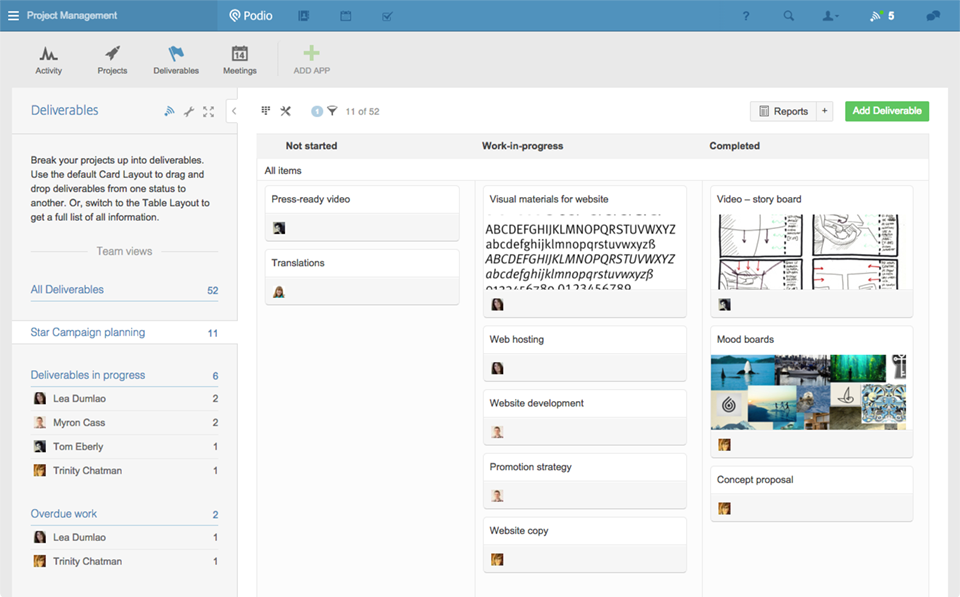 Podio is a flexible and highly customizable online hub for team communication. It promotes seamless communication, providing instant messaging to support brainstorming. It also allows users to customize how they collaborate and to create shared activity streams where team members can ask questions and post updates.
Top features:
Collaboration Tools
Milestone tracking
Time and expense management
Projections
What's interesting about this tool: Its workflows feature provides ITTT (if-this-then-that) logic to its apps. For example, you can tell an app to automatically create a task when another has been completed.
Pricing: Free trial, paid plans from $7.20 user/month
7. Smartsheet – flexible and accessible, especially for spreadsheet lovers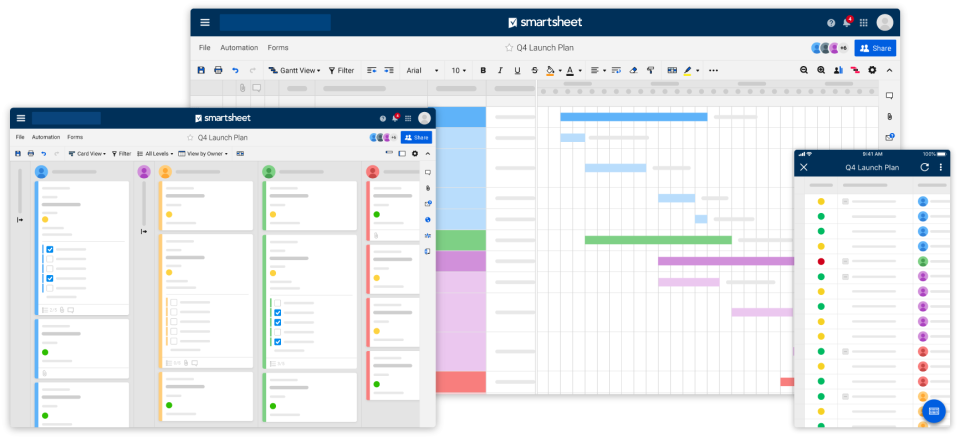 Smartsheet is a cloud app for work management and collaboration and is ideal if you want to get started fast. If you are familiar with Excel but feel it doesn't offer all the features you need, you may find Smartsheet provides the answer. It works well for individuals tracking their priorities and deadlines and is equally suitable for managing basic project management activities such as tasks, deliverables, and milestones in large corporations.
Top features:
Task dependencies
Project management
Dashboards
Issue tracking
What's interesting about this tool: Like many other tools, Smartsheet is also customizable and enables you to build your dashboards for reporting.
Pricing: Free trial, paid plans from $7 user/month (for teams up to 25)
Check out this list of Smartsheet alternatives!
8. Bitrix24 – practical solution for online business management
Bitrix24 is social enterprise software that offers a complete suite of social collaboration, communication, and management tools for your team.
Top features
Unlimited calendars & appointments
Calendar access rights
Invoicing
CRM
What's interesting about this tool: Bitrix24 has a broad set of features, from traditional project management to integrated telephone and HR systems or internal email.
Pricing: Free trial available, paid plans from $12 user/month
Read more: Bitrix24 Alternatives For Work Management.
Preparing for the future of hybrid working
If, like most companies today, you're considering ramping up your collaboration tools to accommodate a hybrid working environment for your teams, now is the time to start planning and to start testing the technology.
How are you going to plan projects and keep them on track? How will team members know what's required and what their project milestones are? How will you help them stay motivated and engaged? An all-in-one digital toolkit brings these elements together, automates routine tasks, and frees you up to focus on what you do best.
Once you've answered these questions and know what you want from the technology, it's time to start testing. Thankfully, most vendors offer free trials as well as advice and onboarding help to make sure you find a solution that will allow your business to flourish in a world of hybrid working.
Why not try Scoro's 14-day free trial to get you started?