Work management
14 Best Thryv Alternatives & Competitors
Thryv is an agency-focused work management tool that helps to centralize business processes for small businesses, especially those that experiencing or planning rapid growth.
However, there are a number of alternatives that may be a better fit for organizations, dependent on their specific requirements.
1. Scoro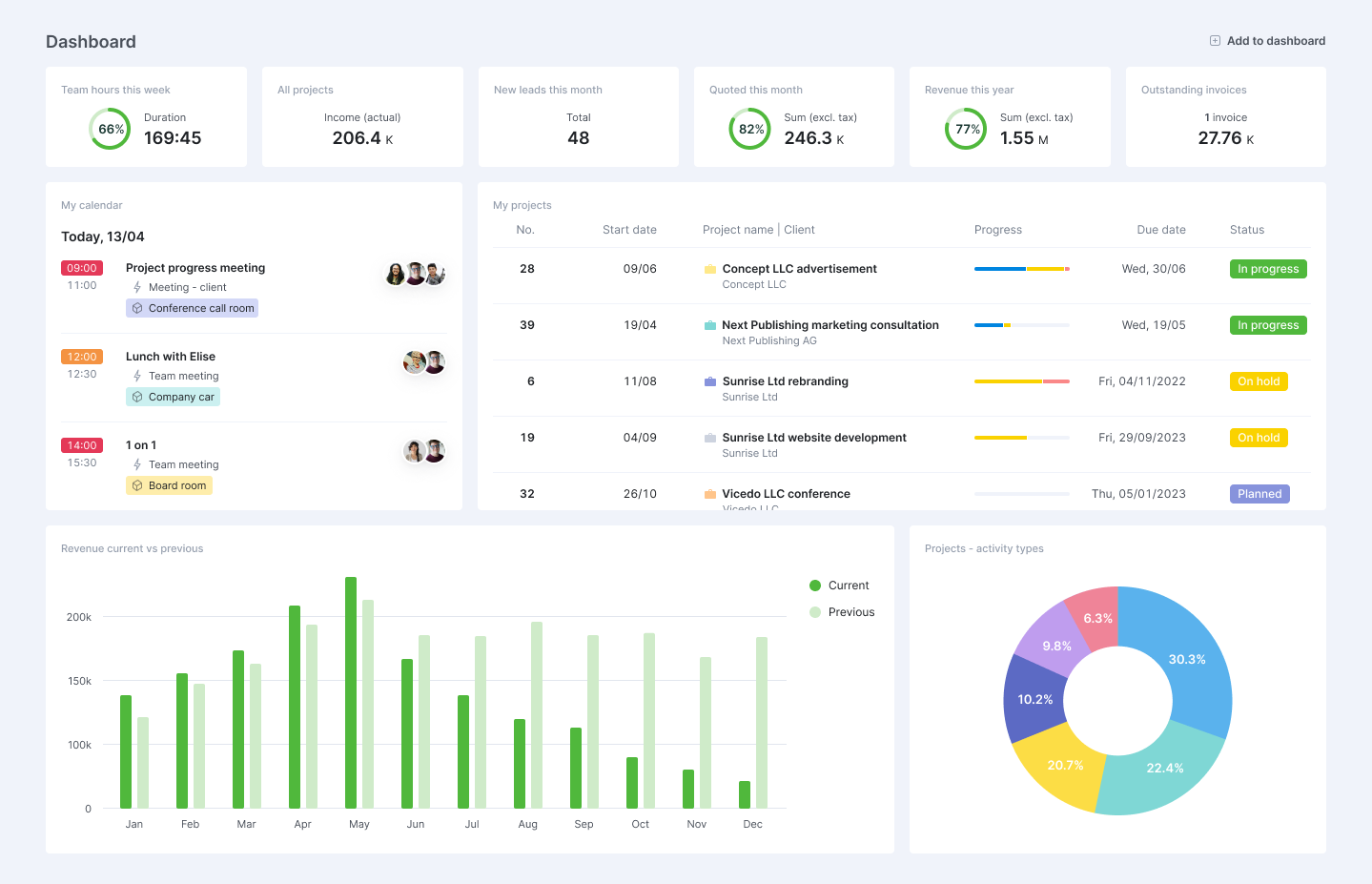 Scoro is an end-to-end work management software that is popular among consultancies, agencies, and professional service firms. By adding tools for project management, customer relationship management, and billing, this software is able to streamline your work and automate tasks.
This platform has a strong emphasis on the monetary value of your time and will help you optimize your revenue-driving activities. On the platform, you will be able to view your planned and completed activities, as well as the time spent and billed. You will also get detailed information on your income and costs.
With Scoro, you will be able to stay connected to the tools you normally use. For example, you can integrate it with Google Calendar, Outlook, and Dropbox. With these configurable integrations, you can achieve automation and will get more done at the end of the day.
Scoro also works as a great collaborative platform. As a manager, you can use it for all sorts of projects, regardless of their size. You can use it to monitor everyone's activity and time using a shared calendar. You can also set meetings and plan various tasks hour-by-hour. Depending on the nature of the project, you should indicate the priority levels of specific tasks and set their deadlines. The good thing with this tool is that it eliminates the need to keep shuffling through spreadsheets and emails. You will get a comprehensive overview of the performance of your team and can see how much work has been completed.
Top features:
Has configurable integrations with popular accounting software and cloud storage solutions
Works as a project and team management solution
Can help you determine what takes up your time
Has a real-time Gantt chart that helps you track your progress and events
Allows users to automate routine tasks
Try Scoro's 14-day free trial.
2. BigTime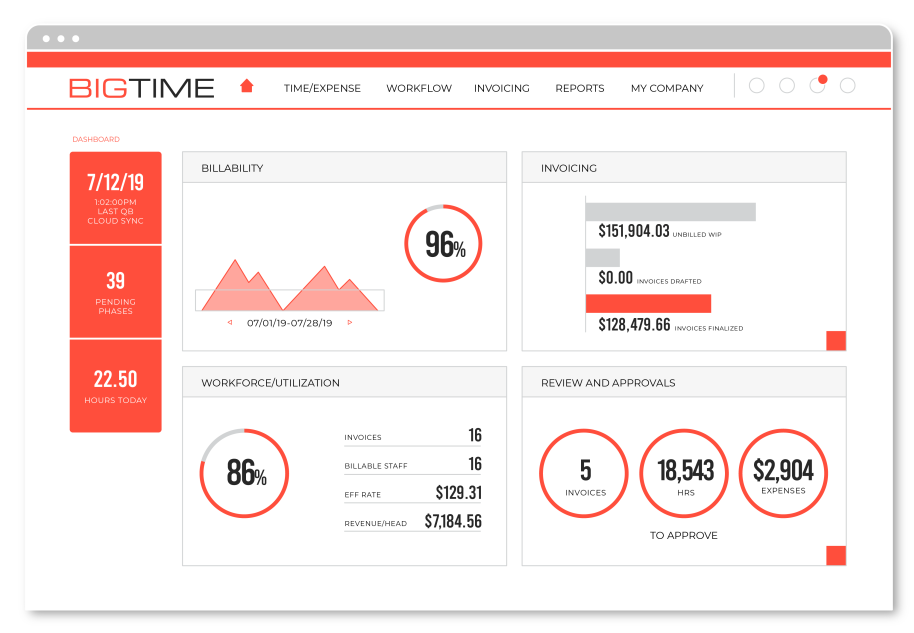 Big Time is a flexible platform that helps companies track their time and expenses. By helping you track and act on various metrics, the platform is able to make businesses scale. Big Time makes it easy to assign the right people to the right jobs. Since you can see which staffers are available to work on projects, you will be able to avoid over or underutilization. It also has skill-matching capabilities.
Top features:
Has a mobile app to track projects on the go
Has a billing and invoicing solution
Integrates seamlessly with QuickBooks and other accounting programs
Allows you to forecast your income
Enables companies to match employees with suitable tasks
3. Kimble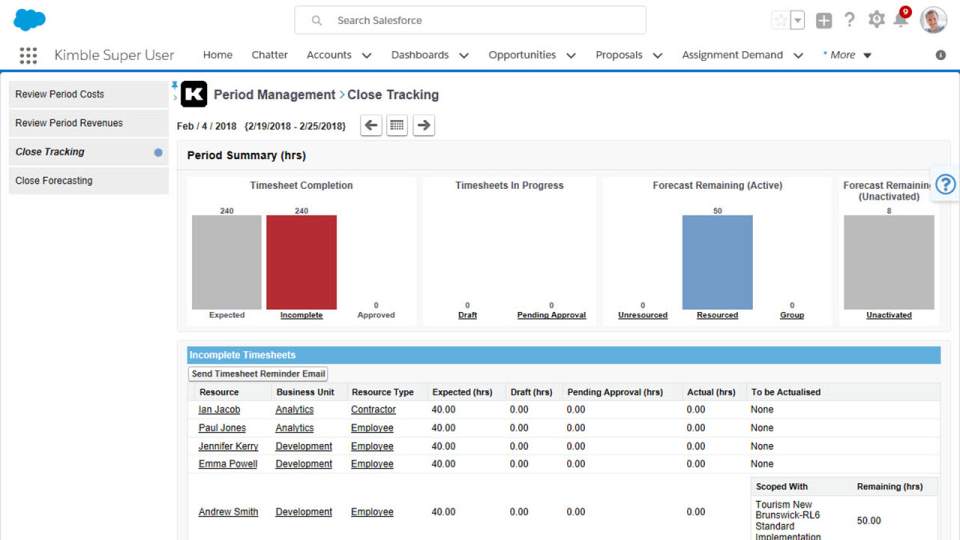 Kimble is a great work management program that focuses on professional services automation or PSA. The software helps companies make better decisions faster. The platform constantly improves team collaboration and efficiency around key service processes. With it, you can determine where you are performing poorly and where you are wasting resources. It is worth noting that Kimble works perfectly with customer relationship management tools such as Salesforce. The main issue with Kimble is that it has a steep learning curve.
Top features:
Is embedded with Salesforce CRM
Has work collaboration tools
Features budget management functionalities
Has a Gantt/Timeline view
Helps with revenue forecasting
4. Projector PSA
Projector PSA is a smart professional services automation software. This work management program has a steep learning curve, but you can watch the demo video to learn how to use it. The program has three different modules and three different layers, and each of these covers a different aspect of your business. One of the key modules in the program is the resource scheduling module, and this will help you to accurately anticipate staffing needs.
Top features:
Offers smart match booking
Is able to track the skills and abilities of employees
Supports labor supply and demand management
Supports multi-currency accounting
Offers detailed progress reporting
5. Upland PSA
Upland PSA is a professional service automation program that has been around for more than 20 years. In this period, it has been improved significantly. The software is ideal for companies that aim at automating their processes and increasing their team collaboration. As a customer-centric program, it can also help businesses build positive customer outcomes. Upland PSA doesn't have a free version, but you can try it out for free for a short period.
Top features:
Integrates with existing systems like CRM and ERP
Supports PSA native analytics
Has customizable templates
Has useful collaboration tools
Has great budget management tools
6. Easy Projects
This is an award-winning tool that will help you manage your projects, resources, and finances in one place. With this program, you can get complete visibility into your projects. You can choose to view the data in Gantt charts, tables, Kanban boards, or even calendars. It can also give you real-time insight into the talent and skills of your employees.
Top features:
Has in-built resource loading capabilities
Allows team members to share files and hold discussions remotely
Allows stakeholders to monitor progress using the client portal
Offers better forecast with Business Intelligence
Integrates with more than 2000 commonly-used tools, including MS Outlook and Salesforce
7. Forecast
This is a full-suite solution that can help you run all your project operations. The platform is run by an AI and significantly cuts down on managerial or administrative tasks. This way, members of a team can focus on the completion of a project. Forecast also helps supervisors of projects to distribute a fair amount of work to employees. This will help you avoid overworking individual members of staff, and you will eventually have low turnover rates.
Top features:
Offers complete operational and financial visibility
Allows you to monitor the performance of a team in real-time
Helps with the creation of realistic project plans and expectations
Facilitates backlog management
Has alerts and notifications
8. Synergist
Synergist works with more than 1000 UK-based agencies and has proven to be among the best work management tools in the country. With this end-to-end project management solution, you can control and improve your processes. It can be used for collaboration, billing, and even scheduling. It also has a tool for accurate estimating, and this is essential for great product delivery.
Top features:
Supports easy-to-manage budgets
Helps with accurate estimating
Records agreed-on changes to tasks
Has Kanban boards to help with team organization
Has automated alerts and reminders for project timelines
9. CMAP
CMAP is a project management tool that suits businesses of all sizes. Users of the software have noted that it has helped them land more work and has made them work more profitably. Since everything is handled in a unified system, you will no longer need to use spreadsheets and similar tools. A key feature in this work management system is job costing, and this has multi-currency support.
Top features:
Has flexible job costing functionalities, which makes it suitable for different industries
Has a fee estimator that allows you to come up with details quickly
Allows you to create proposals in seconds
Supports timeline Gantt charts
Helps you predict the future of your business
10. Runn
Runn software has a clean user interface and is fairly easy to use. However, because of its functionality, you may need to book the demo and sign up for the free trial. As a supervisor, you will be able to track the progress of your projects in real-time with this tool. It is also useful in coming up with forecasts for your business. Runn software will also give you insight into the capability of your staff so that you can distribute work effectively.
Top features:
Can help you distribute tasks
Will help you determine the hidden costs of the project
Will help you determine the most profitable roles in the project
Supports the integration of different tools
Effective in creating forecasts
11. Screendragon
Screen Dragon is a cloud service that can help you manage people and projects in a unified platform. It is used by some of the most famous brands in the world and is also popular with non-profits. With this tool, you will be able to get reports and analytics on your projects. You will also get custom forms that can help to streamline the planning of the project.
Top features:
Has a visual workflow editor that speeds up process creation
Supports visual task management
Offers custom reports and real-time insights
Has advanced permissions
Uses custom forms to streamline processes
12. TeamGantt
TeamGantt is also used by some of the top brands in the world, including Nike and Amazon. It currently has more than a million users. An advantage of this software is that it has a free Gantt chart maker, which can help you plan, manage, and schedule tasks. You can choose to also view your project using Kanban boards or calendar formats.
Top features:
Supports different projects views, including Gantt charts and Kanban boards
Supports drag and drop scheduling
Allows you to see the availability of team members for workload management
Allows team members to update progress with a single click
Tracks time spent on specific tasks
13. MeisterTask
This work management tool can be accessed using Android and iOS mobile apps, and both of these apps have been rated highly by users. With this tool, you can easily see which tasks each member of your team is handling. Since the platform is highly customizable, it can be perfectly adapted to your needs. You can view your project in different formats, and this can help you identify bottlenecks easily.
Top features:
Helps you automate repeated tasks
Has a built-in time tracker
Creates reports to give you insight into your team's productivity
Facilitates smoother collaboration
Supports Kanban-style project boards
14. Paymo
Paymo has built-in collaboration tools that make it great for remote workers. When assigning tasks to members of your team, you can indicate the priority level. You can also monitor the progress of the team using visual graphs. The platform also supports the Gantt chart view, which makes it easier to set tasks in a logical order.
Top features:
Has a resource calendar, which allows you to view the team's workload
Supports real-time task discussions and can even sync conversations on Slack
Supports email and in-app notifications
Supports Gantt charts and Kanban boards
Helps with time tracking