What is the Best Software for Creative Teams

Whether your creative company is looking for a boost after a period of complacency or you're just getting off the ground, you will need software solutions to further business. Fortunately we live in a day where there are programs available to ease the burden of running your business and allow you to focus on your true passion.

Most creative companies can benefit from software that aid in staff collaboration, accounting functions, project design, and task management. The creative agency software programs are highlighted below for their strong reviews in numerous sources. In many cases they also integrate well with each other providing a smarter way to run your creative agency with minimal tech barriers. It's important to note, not all software will make sense for all companies. You'll need to consider the needs of the industry, your clients, and your employees to select the best one for your business.
Scoro
Scoro features tools like calendar, task and project management, CRM and billing, all under one roof. What's even better, its super thorough automatic work reports help you get rid of timesheets completely. Where Scoro exceeds others is its ability to integrate with other software applications, be it Google Calendar, Quickbooks or Dropbox, to name a few. This helps you get a holistic overview of your entire company regardless of the tools your team uses. Moreover, it's highly customizable dashboard gives you a one-click overview of everything you need to know and need to do about your business. Check it out here.
Toggl
Toggl provides essential time tracking for your creative team. The software allows you to customize tasks, quickly keep track of how long these tasks take, and even set up billable hours and rates. This allows you to determine exactly how much time is spent on a given task or client and adjust your procedures accordingly. Toggl will even produce colorful graphs to provide you with a visual reference on how much time is being spent on a given project. Check it out here.
Basecamp
While it's obviously well-known internally, Basecamp is one of the most well-received creative platforms reviewed. Its reputation as a standout is justified based on its excellent toolset to manage projects and communicate with customers. In addition, Basecamp offers tools for to-do lists, file sharing, and messaging. Available on both iOS and Android apps, it allows your workforce to collaborate in real time whether they are at their desk or on the go. Check it out here.

Looking for a quick fix to work more efficiently? See the list of 12 Productivity tools.

QuickBooks
What is generally considered the leader in accounting software for small or medium businesses, Intuit is now even easier to navigate for new Quickbooks users. You are now able to bill a client or cut a check in a few simple clicks. What's even better is that Quickbooks integrates with project management software like Scoro mentioned above. Among the many benefits this brings to your accounting team is the ability to invoice customers in Quickbooks for the jobs completed in Scoro with tremendous ease. Check it out here
Google Tasks/Docs/Drive
While email function is still alive in most businesses, many companies are now looking for faster response and easier revision from collaborative tasks. Hence, quite often traditional email is simply not enough. Google Docs and Drive allow users working on the same project to make revisions and updates to a project simultaneously, so you don't have to waste time sending files back-and-forth. Google Drive also has apps on the more popular mobile operating systems, which increases flexibility in getting a project completed wherever you are. Check it out here.
Need some help finding the perfect software? See the complete guide to finding the best software that suits your needs.

We'd love to hear your thoughts on what is the best software for creative teams. Let us know in the comments bit.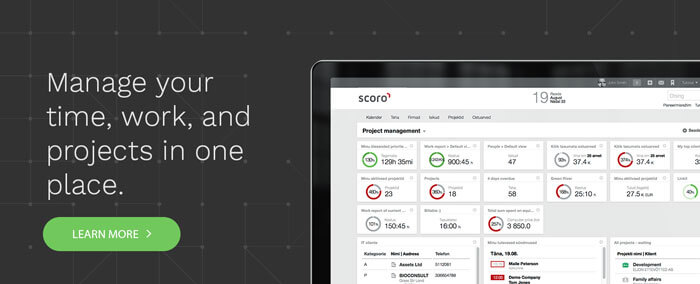 Like this?
Get the best tips, hacks, and tricks delivered to your inbox once a week.
This seems to be an invalid email address
One more thing! You will soon receive a subscription confirmation email. Please open it and confirm.