Work management
23 Best SaaS Tools for Businesses in 2022
Gone are the days of companies developing their own in-house tools to manage projects, time, sales funnels, and internal teams. Firms now benefit from hundreds of readily available online or on-premise applications that manage critical business functions and allocate resources at the click of a button.
SaaS (Software as a Service) tools have become the bedrock of the modern workplace. Some of them focus on one specific area of a business' operation, such as time management, whilst others are designed as an end-to-end solution that governs the lifecycle of a project from conversions to billing.
The marketplace is crowded, and any business looking to take advantage of the hundreds of applications on offer faces the daunting task of sifting through endless like-for-like tools that are often indistinguishable from one another.
We've put together this article to help you decide what SaaS tools are best for your business.
Work & Project Management tools
1. Scoro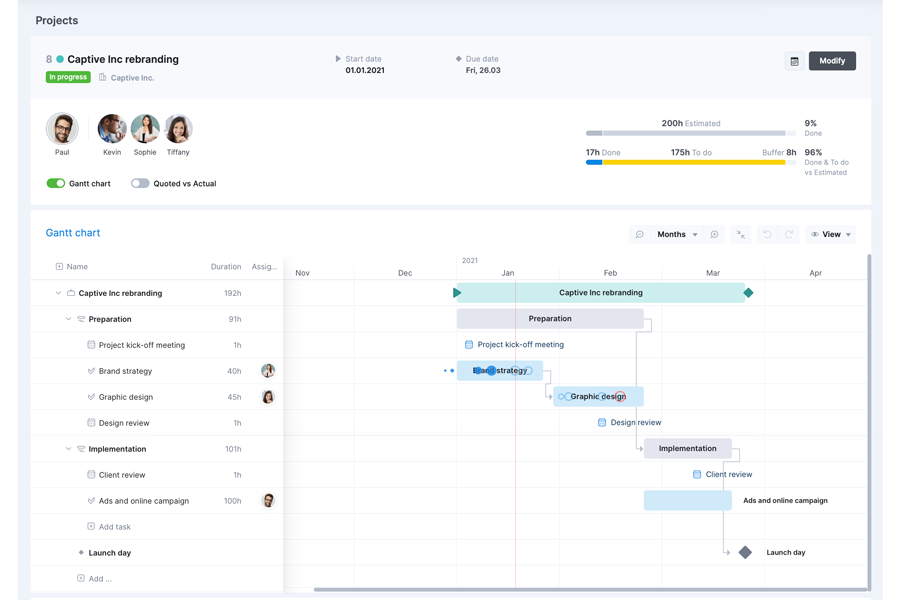 Scoro is the industry-leading work management software that helps creative and professional service businesses streamline projects, automate quoting and billing, optimize utilization, and much, much more.
Top features:
Projects with sub-tasks and deadlines
Real-time KPI dashboard
Shared team calendar & meeting scheduling
Contact management
Time tracking and billing for work
Quoting and invoicing
What's unique about it: In a word – convenience. Scoro brings ALL the main business functions into one application. Other software providers claim to do this, but none of them truly achieve it in the same manner.
Pricing: Free 14-day trial, paid plans from $26 user/month
2. Jira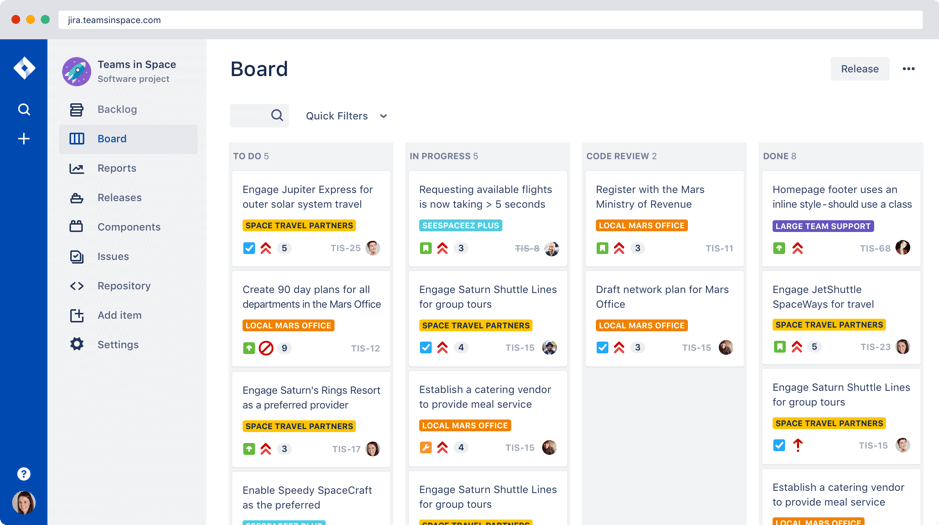 Jira is a great tool for those looking for ways to improve team performance. It started as a bug-tracking tool but now offers various other features, including an agile planning suite and other resources needed to track large projects.
Top features:
Agile-focused approach
Project tracking
Mobile device support
Extensive reporting functionality
A multitude of flexible APIs
What's unique about it: Flexibility. Jira leverages multiple project management SaaS tool protocols, including scrum management, marketing, professional services, and more.
Pricing: Free trial, paid plans from $7 user/month
3. Bitrix24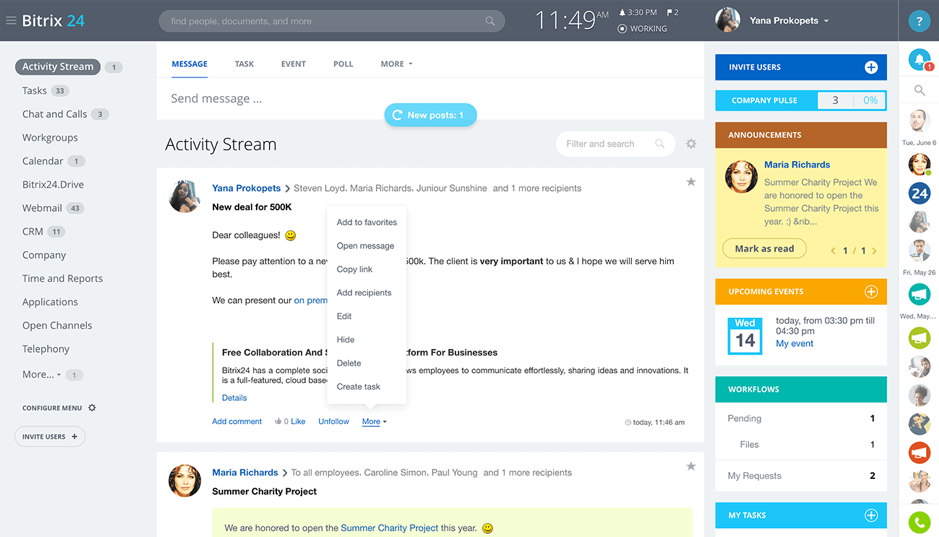 Bitrix24 is social enterprise software that offers a complete suite of social collaboration, communication, and management tools for your team.
Top features
Unlimited calendars & appointments
Calendar access rights
Invoicing
CRM
What's special about this tool: Bitrix24 has a broad set of features, from traditional project management to integrated telephone and HR systems or internal email.
Pricing: Free trial available, paid plans from $12 user/month
Check out these Bitrix24 alternatives!
4. ProofHub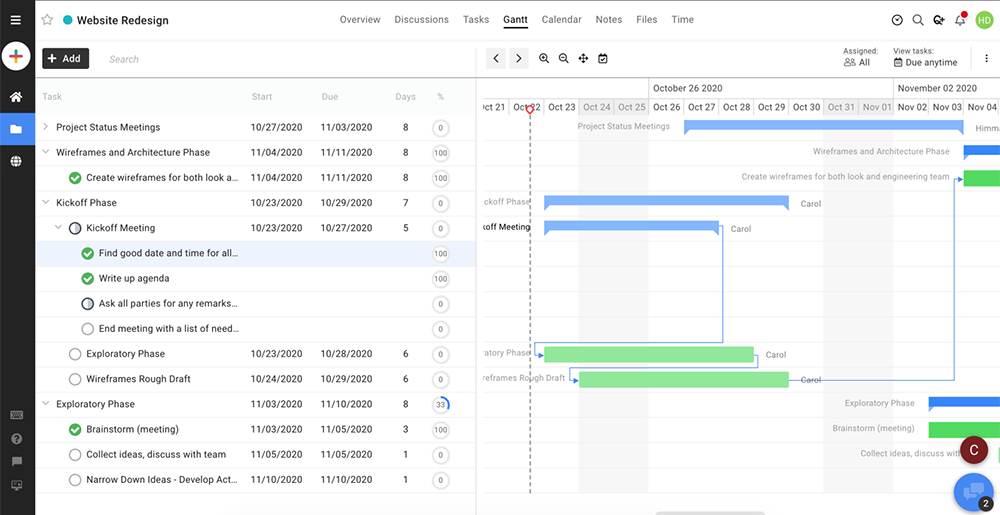 Proofhub is a flexible project management solution that enables teams of all sizes to collaborate and communicate in real time.
Top features
To-do lists and notes
Tasks, sub-tasks, and add comments
Defined deadlines
Reminders and events in the calendar
What's special about this tool: ProofHub gives project managers ultimate controls over who gets access to specific tasks.
Pricing: Free 14-day trial, paid plans from $45 per month
5. Nifty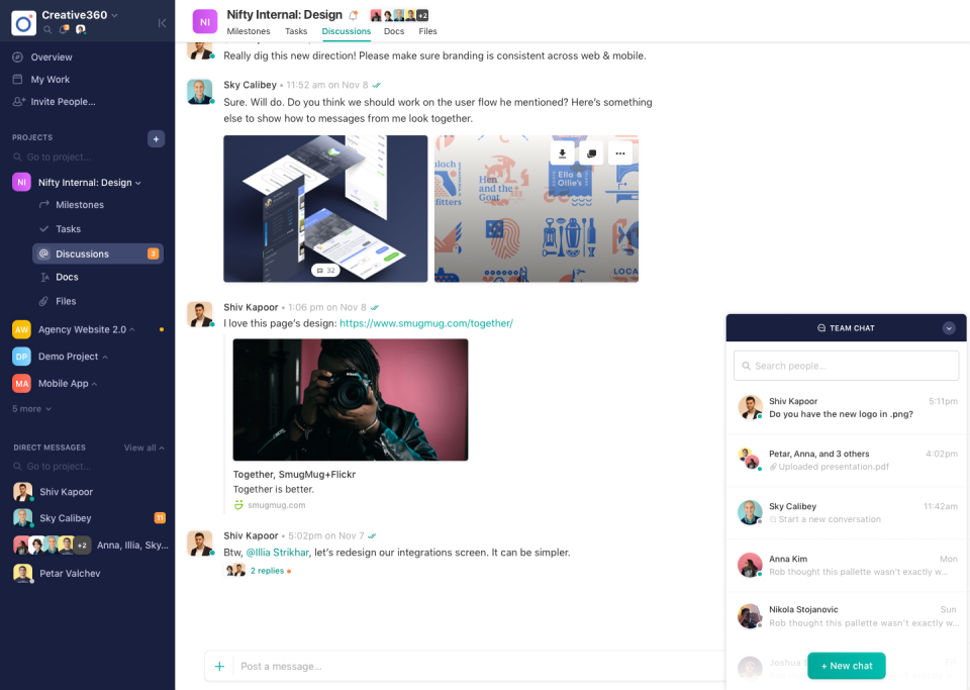 Nifty is a cloud-based workflow management platform that allows you to create, manage, and track tasks and set deadlines and assign team members.
Top features
Gantt chart and Kanban view
Integrated chat for discussions
Intuitive interface
Analytic tool for teams and processes
What's special about this tool: Nifty's discussions enable everyone to share ideas, turn ideas into actions, finalize specifications, and gather feedback in real time.
Pricing: 7-day free trial available, paid plans starting from $39 per month.
Business Intelligence (BI) tools
6. Datapine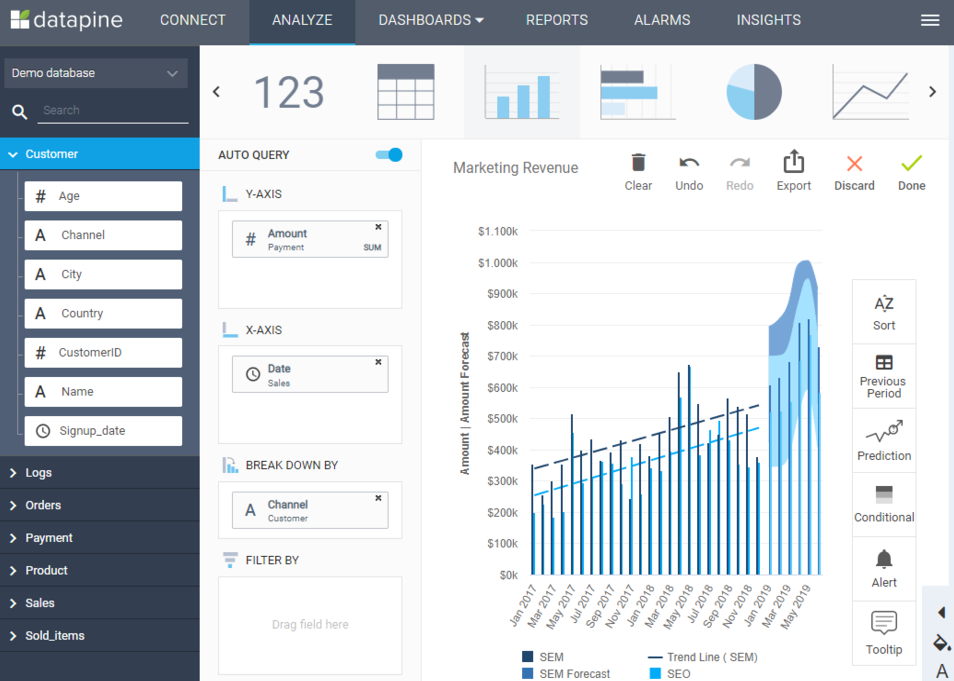 Datapine is an interactive BI SaaS tool enabling companies to make decisions based on data by visualizing any number of key metrics at any one time.
Top features:
Versatile filters
Multiple data visualization modes
Mobile optimization
Ad-hoc data source queries
What's unique about it: Datapine offers fast and efficient connections to multiple data sources, incorporating predictive analytics and insightful data alarms based on customizable triggers.
Pricing: Free 14-day trial, paid plans from $249 per month (1 user)
7. GROW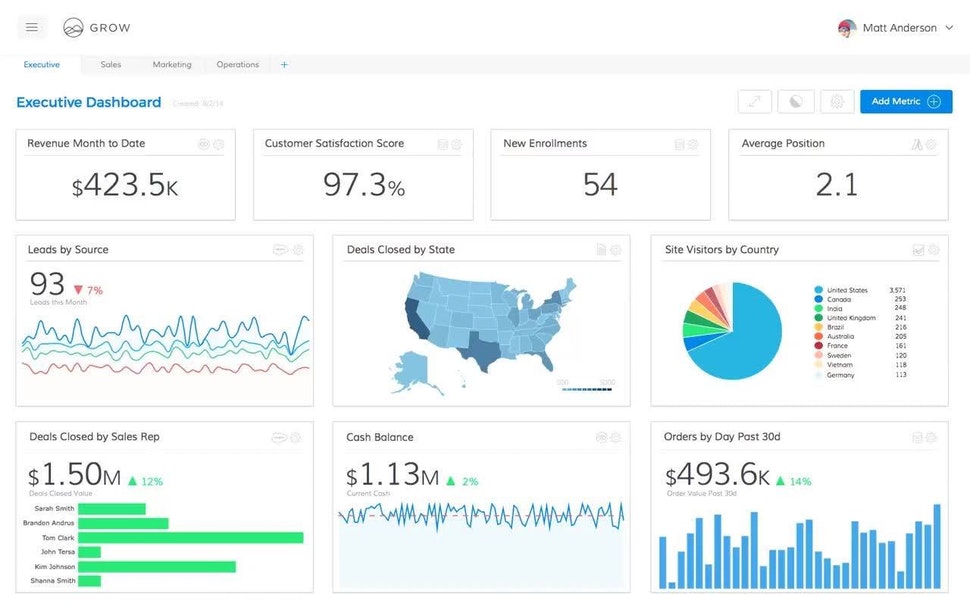 GROW is a cloud-based business intelligence tool that provides analytics and reporting solutions for small and mid-size businesses, enabling users to pull data from a wide range of sources.
Top Features
Allows data extraction from over 115 sources
Highly intuitive UI
Dashboards with various data visualization elements
What's interesting about this tool: With GROW, you can import all your advertising data from social media platforms such as Facebook, Twitter and LinkedIn to optimize your marketing budget.
Pricing: Free trial available, pricing for paid plans available on request
8. SAS Business Intelligence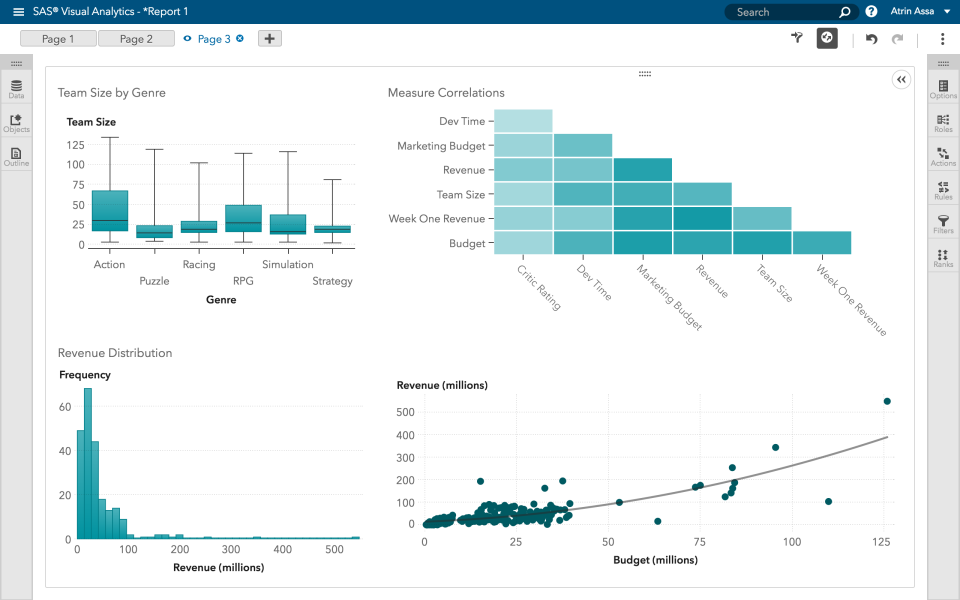 Rather than being a singular SaaS tool, SAS Business Intelligence is a suite of apps that collects and visualizes data for display from multiple sources.
Top features:
Visual data exploration
User-friendly analytics
Interactive reporting
Customizable dashboards
What's unique about it: As an enterprise-level analytics tool, SAS BI is able to process and visualize extremely large data volumes that other SaaS tools would struggle to manage.
Pricing: Free trials available. Pricing is on request.
9. Clear Analytics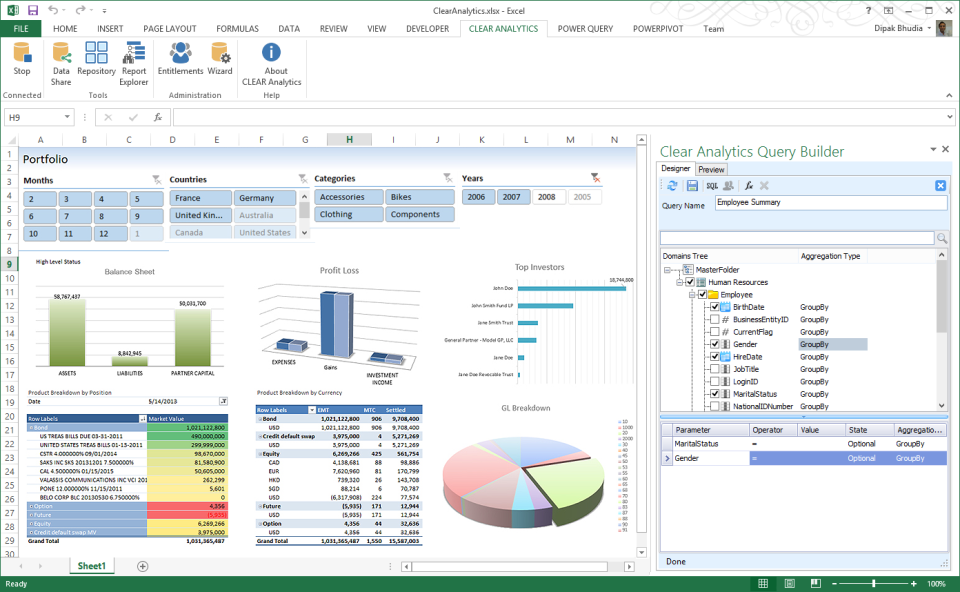 Clear Analytics is an Excel-based data visualization tool that focuses on SME data services from cloud-based or on-premises connectors.
Top features:
Performance metrics
Report generation
Customizable dashboards
KPI analytics
What's unique about it: Clear Analytics is Excel-based, meaning anyone with a passing knowledge of the application will be relatively conversant with the package out of the box.
Pricing: $89 a month for up to 11 users
10. Dundas BI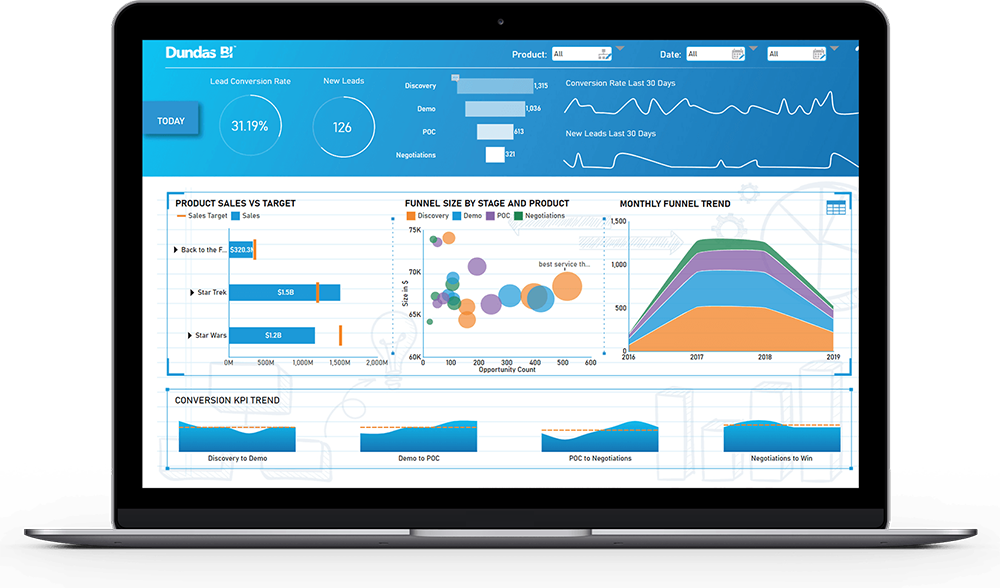 Dundas BI is an end-to-end business intelligence platform that empowers businesses to analyze and visualize data. With Dundas, you can quickly transform raw data into actionable insight in the form of dashboards, reports, and visual data analytics.
Top Features:
Drag and drop tools
Real-time data analysis
Personalization of reports and visualizations
Integrates data from numerous sources
What's interesting about this tool: Dundas BI platform has an open API across the entire platform, enabling users to connect and integrate with any data source.
Read on: 12 Best Business Intelligence Tools in 2021
Communication and Collaboration tools
11. Microsoft Teams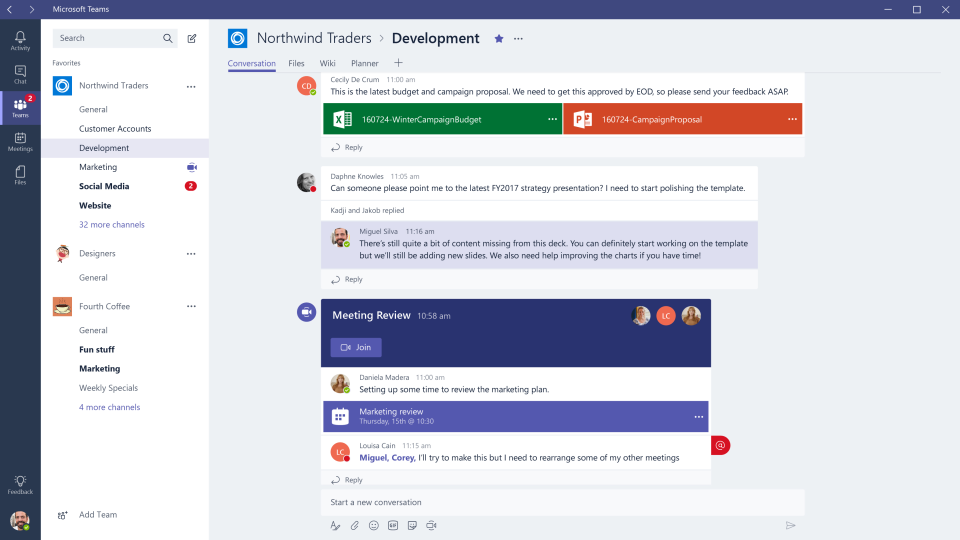 Microsoft Teams brings together a suite of cloud-based internal communication and collaboration SaaS tools that offer unrivaled flexibility.
Top features:
API/tool integration
Full compatibility with Microsoft 365 product suite
Screen sharing
Usage reports
What's unique about it: MS Teams' 3rd party integration functionality incorporates everything from document management solutions to HR tools.
Pricing: Free 30-day trial, paid versions from $5.34 user/month
12. Slack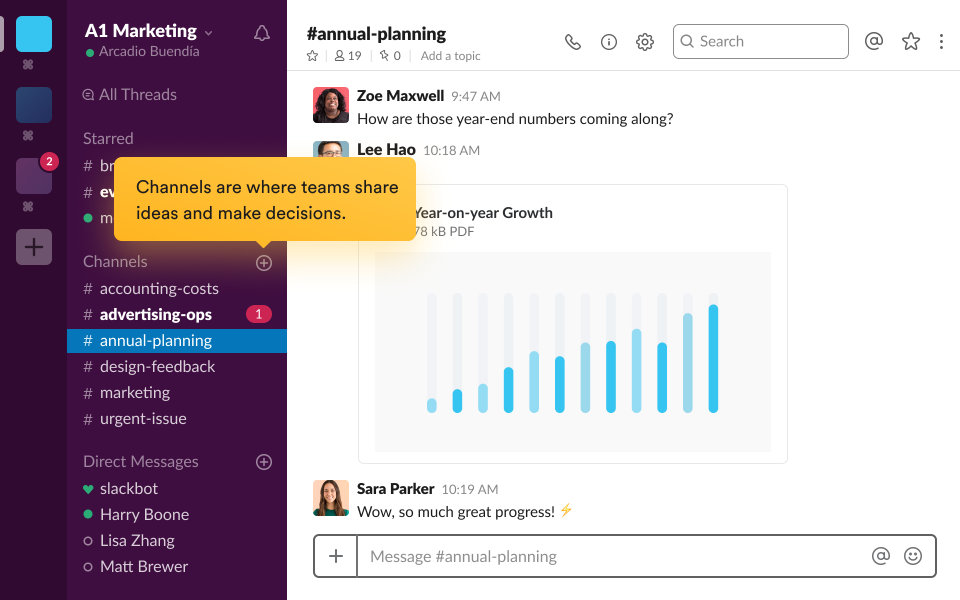 Slack is a digital space that makes it easy to communicate with teammates. Remote teams can use it for instant messaging and collaboration. Slack offers complete functionality on iOS and Android so you can also remain connected on the go.
Top features:
Connect with teams from external sources
#channels act as central spaces for organizations
Voice and video calls
Integrations with other platforms
What's unique about it: Slack's UX is a lot simpler than similar SaaS tools.
Pricing: Free trial, paid plans from $7 user/month
Read on: 5 Clever Ways to Automate Your Work with Zapier
13. Zoom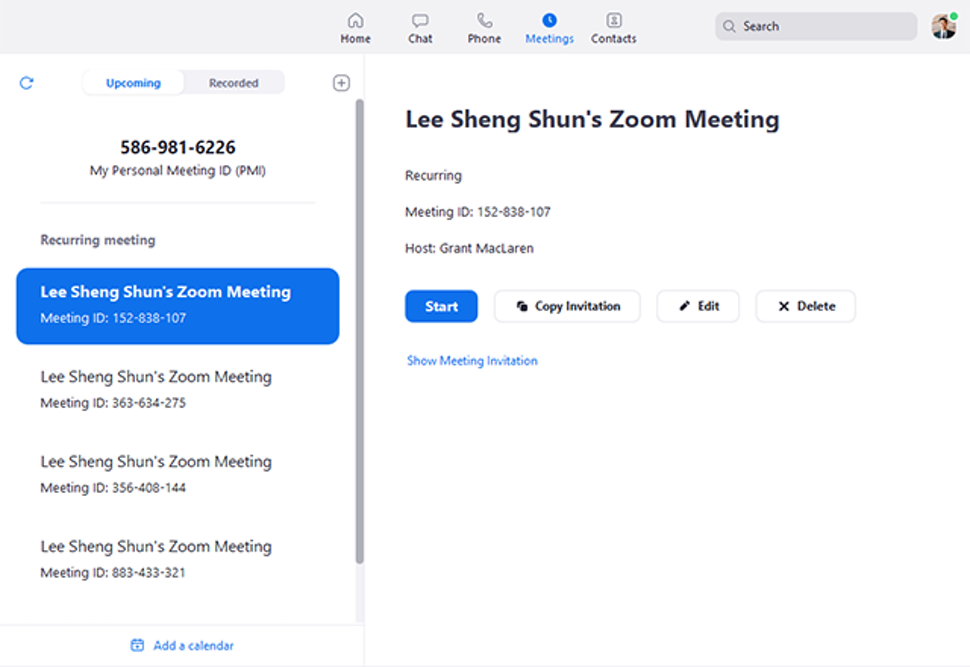 One of the most popular communication platforms for businesses, Zoom brings teams together to get more done in a frictionless and secure video environment. It offers high video quality and enables you to record your team meetings.
Top features:
HD video, audio, collaboration & chat
Customizable video rooms and workspaces
Commercial webinars
App marketplace
What's unique about it: Free 40-minute online conferences that support up to 100 attendees.
Pricing: Free plans for single users, paid plans from $14.99 license/month
14. Filestage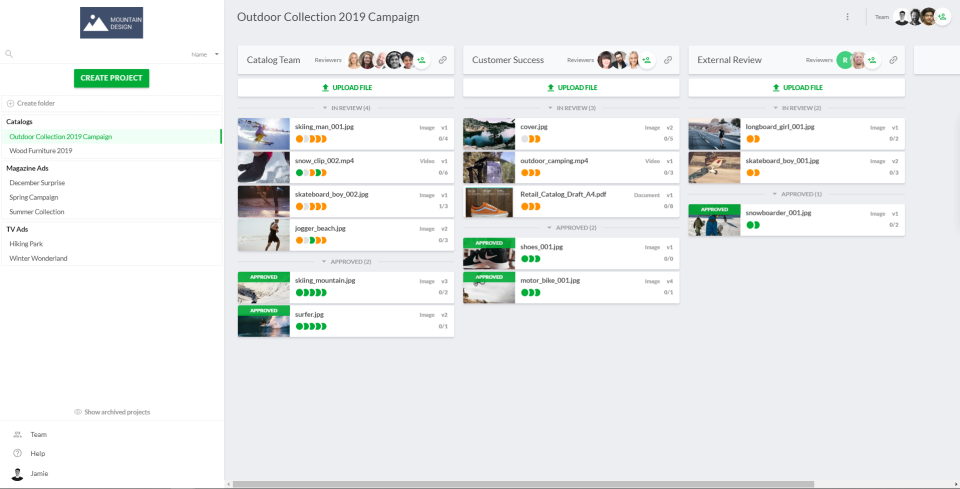 Filestage is an online file approval platform that allows internal team members and external stakeholders to review individual documents, suggest changes, leave comments, and authorize for approval.
Top features:
Unlimited reviewers
One-click approvals
Annotations
Project dashboard
What's unique about it: Rather than dealing with revisions in-app with limited functionality, Filestage offers a comprehensive editing and review solution.
Pricing: Free trial available, paid plans from $89 a month
15. Bit.ai
Bit.ai is a simple document collaboration platform that helps teams centralize and organize their work, collaborate in real-time across workflows, manage digital content intelligently, and track engagement across the shared content.
Top features
Multiple file support
Focus mode to eliminate distractions
Versatile to-do list features
What's special about this tool: Bit.ai has a minimalist editor that's ideal to use when you don't want to be distracted from your tasks.
Pricing: Free trial, paid plans start from $8 user/month
Productivity tools
16. nTask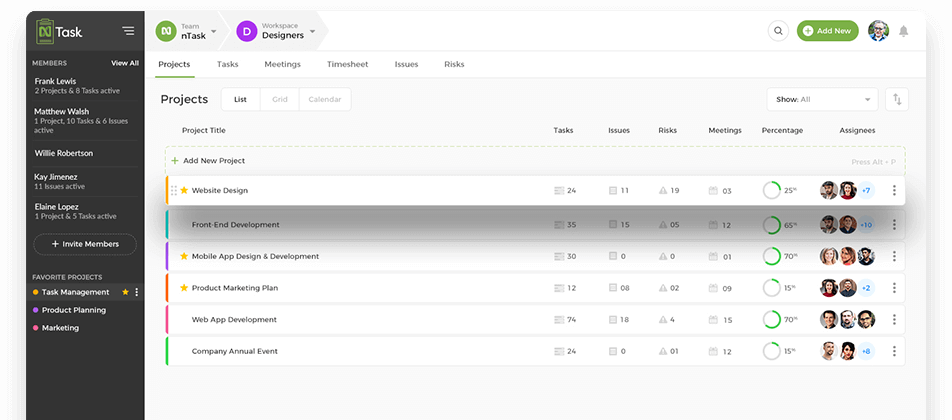 nTask is a process management tool that utilizes Kanban boards to manage pre-assigned prioritized deliverables, with a focus on daily tasks across internal teams.
Top features:
API integration
Access controls
Daily activity dashboard
Assignment management
What's unique about it: nTask features an online meeting facility that's packaged alongside the standard productivity management platform, with a collaborative agenda and discussion points.
Pricing: Free plan available, paid plans starting from $2.99 user/month
17. Toggl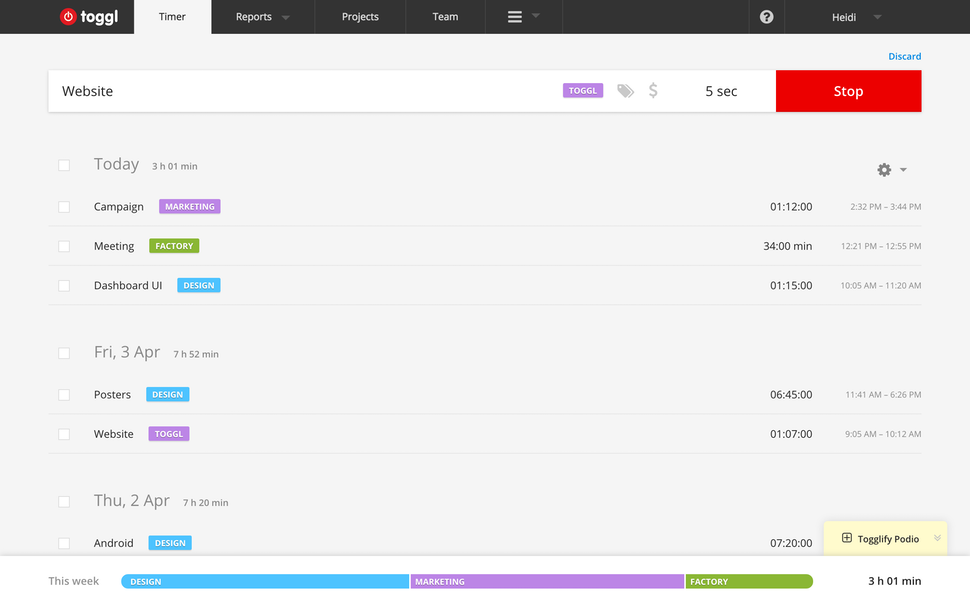 With Toggl, you can choose to track time in real-time or insert information manually afterward. Further, you can easily compile reports for customers and managers, showing how long team members spent on different projects and progress toward team goals.
Top features:
Work timer
Unlimited projects and subprojects for accurate time tracking
Reports featuring team progress
Online & offline time tracking
What's unique about it: Toggl integrates seamlessly with your favorite productivity tools.
Pricing: Free trial, paid plans for teams from $9 user/month
18. Hubstaff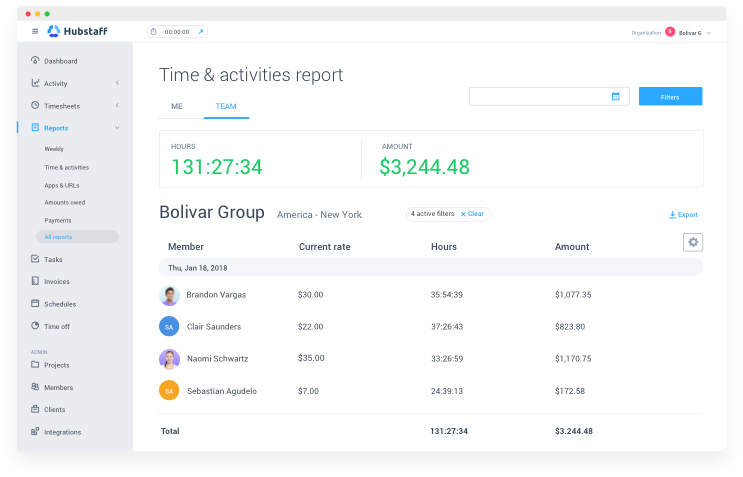 Hubstaff is a time tracking and productivity monitoring tool that enables your team to streamline their work and improve productivity with features like screen recording, online timesheets, and more.
Top features:
Geofencing
Time-tracking
Project budgeting
Productivity measurement
What's unique about it: With Hubstaff, you can accurately track work hours and sync timesheets directly with payroll.
Pricing: Free 14-day trial, paid plans from $11.67 user/month
19. GanttPro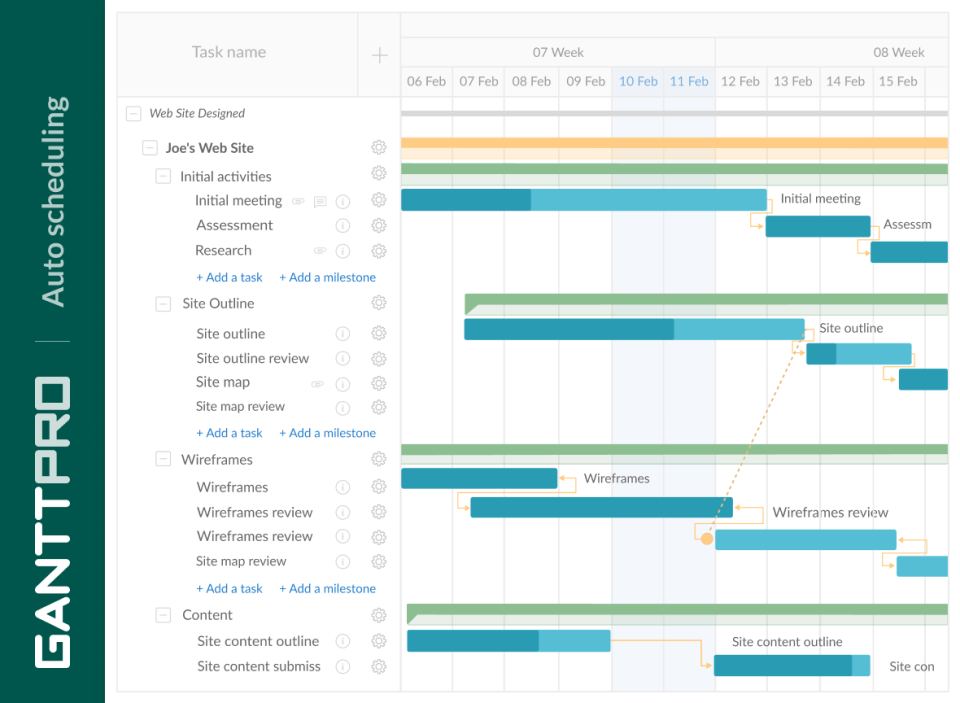 GanttPRO is a cloud-based task & productivity manager that expands on the basic premise of a Gantt chart, offering enhanced visualization and functionality that suits a variety of business processes.
Top features:
Deadlines and milestones
Bulk change requests
SSO/SAML sign-on
Multi-factor authentication
What's unique about it: GanttPro offers an intuitive timeline visualization, so you never lose any detail.
Pricing: Free version available, paid plans from $8.90 user/month
20. Trello

Trello is a multi-faceted digital collaboration SaaS tool that simulates an office environment. Trello is built around Kanban boards and lists that designate tasks and resources across multiple internal teams.
Top features:
Flexible Kanban boards
Keyboard shortcuts
Advanced visual checklists
Drag-and-drop functionality
What's unique about it: Trello is a good option for those users who like to visualize items through the process.
Pricing: Free 14-day trial, paid plans from $9.99 user/month
Document Management tools
21. Microsoft OneDrive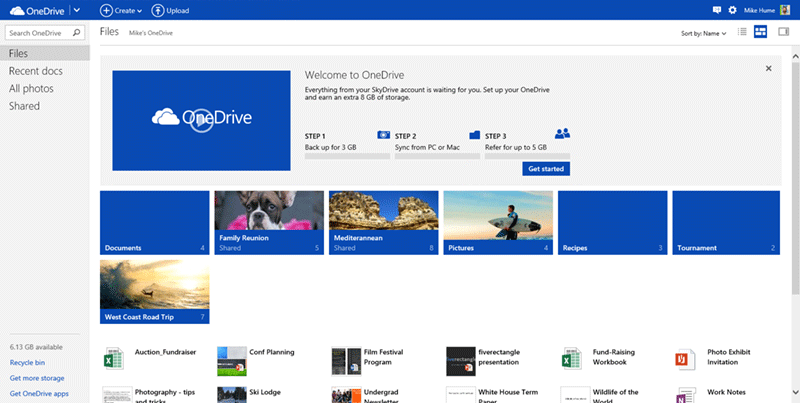 Microsoft OneDrive works similarly to Dropbox and Google Drive, enabling you to store large files and quickly share them with the team. It's also a good option for businesses who are already using Microsoft's Office 365 suite.
Top features:
• Library sync across multiple devices
• Enhanced collaboration and policy controls
• Extensive admin capabilities with sync reports, sensitivity labels, and managed migration
What's unique about it: If your business relies on Microsoft 365 SaaS tools to run your daily operation, OneDrive offers unrivalled integration with the full range of Microsoft products, and it's at the forefront of all major Windows/Teams file sharing updates.
Pricing: Hosting plans start at $5 per month for OneDrive Business Plan 1.
22. Dropbox Business
Dropbox Business is a cloud storage system with multiple features making it easy to collaborate and share documents. It comes in handy when you need to share large files with the team and can't do so by email.
Top features:
• HelloSign – legally binding eSignatures
• Easy to use, intuitive interface
• Compatible with hundreds of 3rd party desktop and mobile apps
What's unique about it: DropBox's collaborative elements offer a lot more versatility to remote and onsite teams, including LAN sync and granular file permissions.
Pricing: Free 30 day trial, plans for teams starting from $12 user/month
23. Google Workspace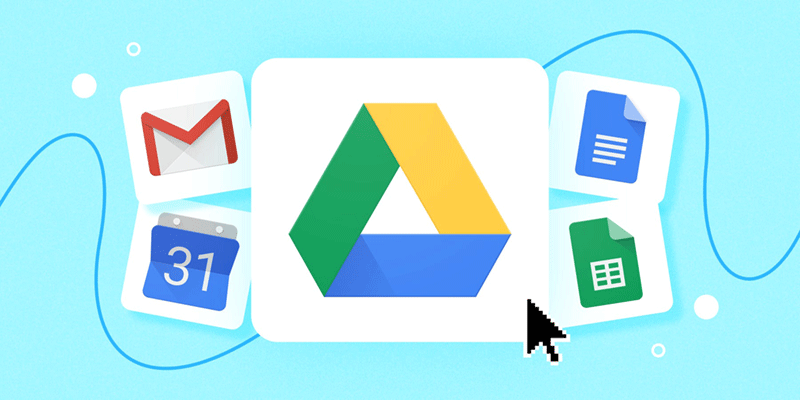 Google Workspace has evolved from Google Drive to become a leading light in cloud-based file storage and cross-platform collaboration. Much more than a document management solution, Google Workspace offers the full range of front-end business tools.
Top features:
Gmail, Contacts, Calendar, Meet and Chat for communication
Google Currents for employee engagement
Google Docs suite for content creation
Admin Panel is provided for managing users and services
What's unique about it: Google Workspace uses AI to predict user interactions in real time by recognizing high-priority content and ML-based search enhancements to suggest files that require attention.
Pricing: Paid plans from $6 user/month
Everything about your business, one click away