Work management
23 Best SaaS Tools for Businesses in 2023
Software as a Service (SaaS) is an online software that is developed, maintained and hosted by a third-party provider and used by customers over the internet as a service. Most SaaS tools are aimed at business users, therefore they provide solutions that help automate or streamline key business processes.
For collaboration, companies turn to tools like Scoro, due to its work management, time-tracking, invoicing and client management features, while companies might use Jira to collaborate during the project planning phase, as it features scrum and Kanban boards as well as performance tracking systems. For collaborative communication, organizations use software like Bitrix, which has HD video calling, private and group chats, and an inbuilt news feed that keeps everyone up to date on important information.
Additionally, tools like Datapine and Grow provide features like data connecting, visualization and filtering. These features assist managers in developing a robust business intelligence capability without the need to code their own solution.
Lastly, notable features in tools like Filestage and Bit.ai help companies that create large amounts of content that they need to manage effectively. These tools can be used to track changes, make annotations, and manage document permissions and versioning.
1. Scoro For Project Management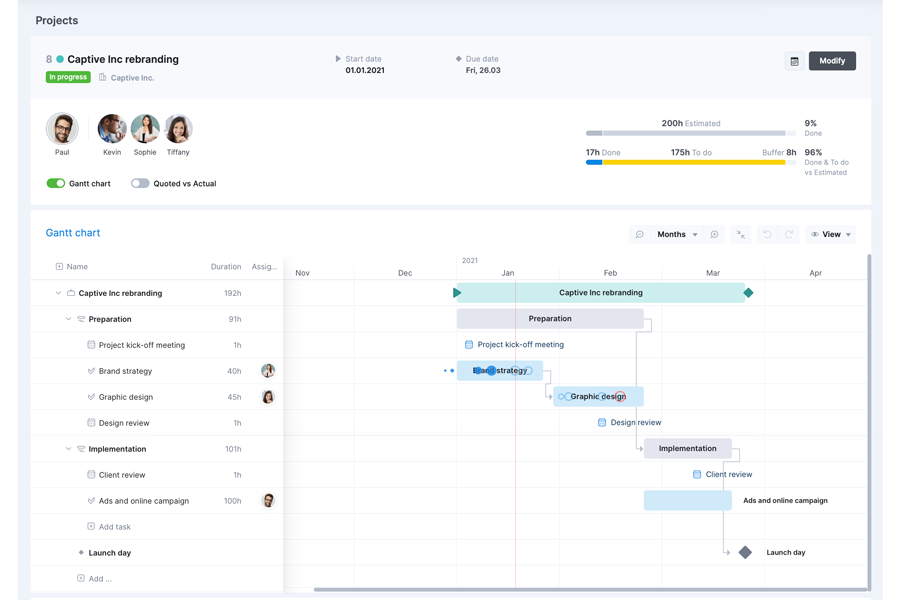 Scoro is an end-to-end management solution that helps businesses streamline their projects. Companies can use Scoro to track and monitor the progress of different tasks, dependencies, and events. These insights help managers quickly adapt to changes that impact project delivery. 
Scoro also helps companies avoid double bookings and manual updates. It allows managers to have a detailed overview of time spent and billed on planned and completed activities. Using this SaaS tool also allows organizations to track profitability in real-time and helps increase their managerial efficiency. 
Scoro comes equipped with features like Gantt charts, forecasting, and task automation. These features help enterprises better manage their projects. Improved project management helps them maximize resource utilization. Scoro's online software ensures effective project management as it allows companies to leverage features like automation, Gantt charts, and budget comparisons. 
Key features of Scoro are mentioned below.
Accurate forecasting.

Budget comparison.

Gantt charts.

Task automation.
Pricing for Scoro starts from $26 per user/month.
2. Jira For Agile Project Planning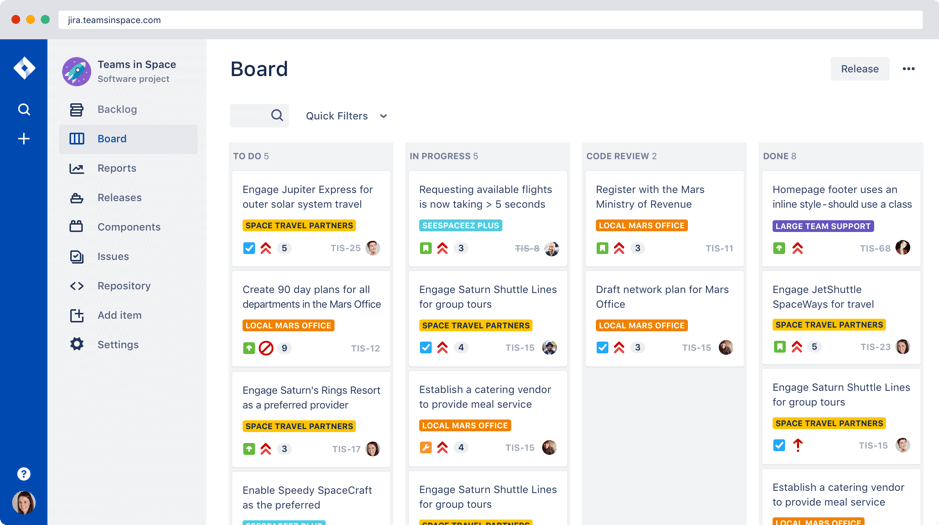 Jira is an issue-tracking platform that offers an agile planning suite allowing managers to break down major projects into smaller manageable chunks. Jira's roadmaps feature allows managers to strategically plan and track workloads across multiple teams. Tracking multiple workloads helps managers ensure that all teams are in sync with each other.
Project managers can also use Jira's scrum boards to ensure agile planning. These scrum boards help companies divide large and smaller projects into smaller and more manageable sprints. They detail which activities are pending, which are in review, and how much time is left to complete the project. 
Jira allows managers to use roadmaps and performance insights. Managers can use these features to divide large complex projects into smaller, more manageable sprints. They can also use them to view performance insights and improve their agile planning. Jira's modern business solution comes roadmaps and scrum boards that make project planning more effective. 
Key features of Jira are mentioned below. 
Roadmaps. 

Performance insights.

Scrum boards.

Kanban boards.
Pricing for Jira starts from $77.75 per month.
3. Bitrix24 For Improved Communication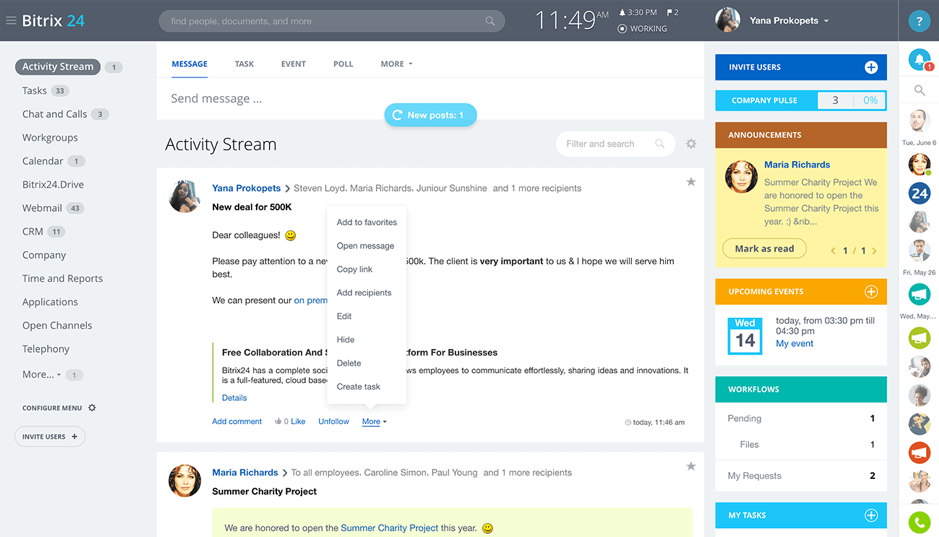 Bitrix24 is a SaaS collaboration tool that helps companies improve their communication between office and remote employees. It allows team members to make HD video calls which can help them easily share and collaborate on multiple ideas. Bitrix24 also allows employees to have private and group chats helping them share files with ease. 
Bitrix24 also promotes employee communication using its inbuilt news feed. The Bitrix24 news feed allows companies to post regular updates. It also allows employees to make their vote, share their thoughts about projects, and vote on certain decisions. Improving communication using Bitrix24 allows organizations to create a sense of unity and a welcoming office environment. 
Bitrix24 helps employees make HD Video calls, use an inbuilt news feed, and send private or group messages. All these features make effective communication among managers and employees much easier. Bitrix24's software is accessible online, its prices are based on the number of users meaning businesses only get charged for what they use. 
Key features of Bitrix24 are mentioned below.
HD video calls. 

Private or group chats. 

In-built news feed. 

Webmail. 
Pricing for Bitrix24 starts from $49 per month/per user. 
4. ProofHub For Better Collaboration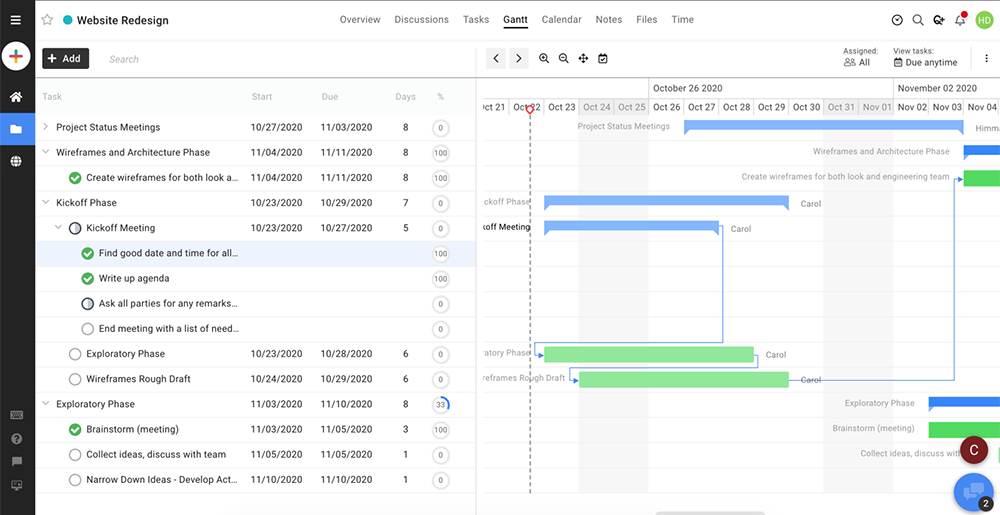 ProofHub is an online project management software that companies can use to ensure collaboration among employees. It facilitates group discussions by allowing managers to add team members and stakeholders to the same conversation. These facilitated discussions ensure that all team members are able to collaborate effectively. 
ProofHub also helps employees see all updates about a project in one place. This helps ensure that all team members, regardless of the department, are aware of the project's progress. When members are aware of the progress, they can optimize their work schedule better. In addition, they can also collaborate with others in a more meaningful and productive manner. 
ProofHub helps companies ensure topic organization, privacy controls, file-sharing, and commenting. These features help managers ensure the effective organization of business documents and allow them to control who can access this information. Its real-time comments capabilities enable a seamless collaboration experience. ProofHub's online software ensures effective collaboration among employees. It helps companies overcome physical barriers that limit teamwork as it can be used via the internet. 
Key features of ProofHub are mentioned below. 
Topic organization.

Topic privacy control.

File sharing.

Real-time commenting.
Pricing for ProofHub starts from $89 per month.
5. Nifty For Accurate Measuring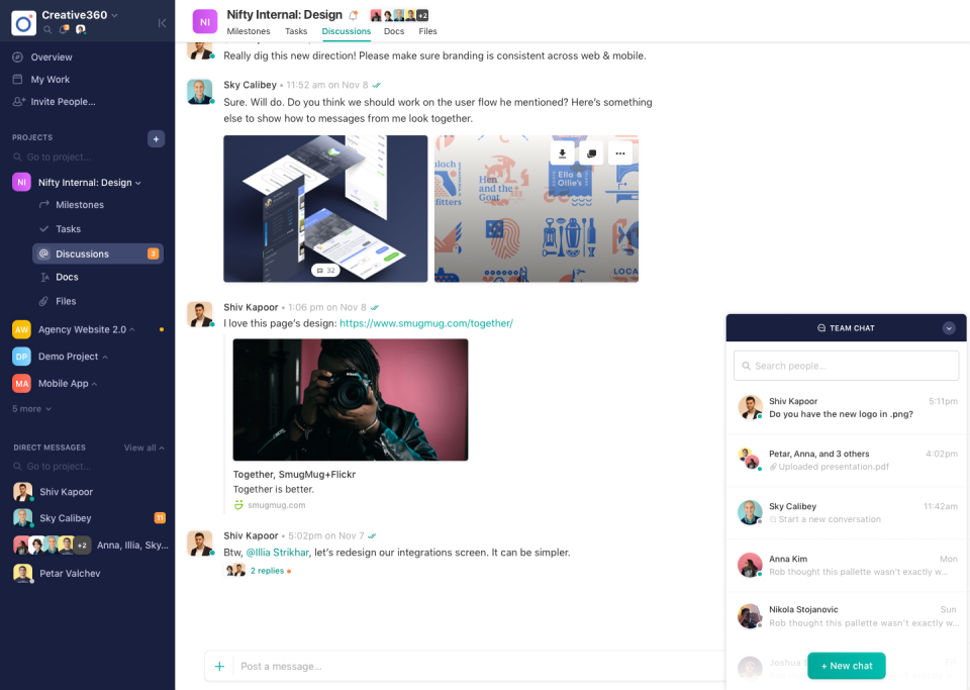 Nifty is an online project management platform that allows companies to improve their project and employee monitoring. Nifty's master overview features allow employers to have a bird's eye view of all projects their teams are currently working on. It also allows managers to monitor individual workloads plus active and completed tasks. 
Monitoring projects and employees using Nifty helps businesses have a better idea of their employees' capabilities. Knowing what employees are capable of helps make their operations more effective. Nifty also allows employers to track employee hours and monitor what they are working on. 
Managers can use Nifty for a master overview and workload monitoring. These features allow employers to track employee activities and get a cohesive view of the project. Enterprises can also use visual reports generated by Nifty to better analyze their performance. Nifty's online platform is highly affordable to use and advanced features can be bought as add-ons if required. 
Key features of Nifty are mentioned below. 
Master overview.

Workload monitoring.

Bird's eye overview.

Visual reports.
Pricing for Nifty starts from $39 per month.
6. Datapine For Date-Driven Decision Making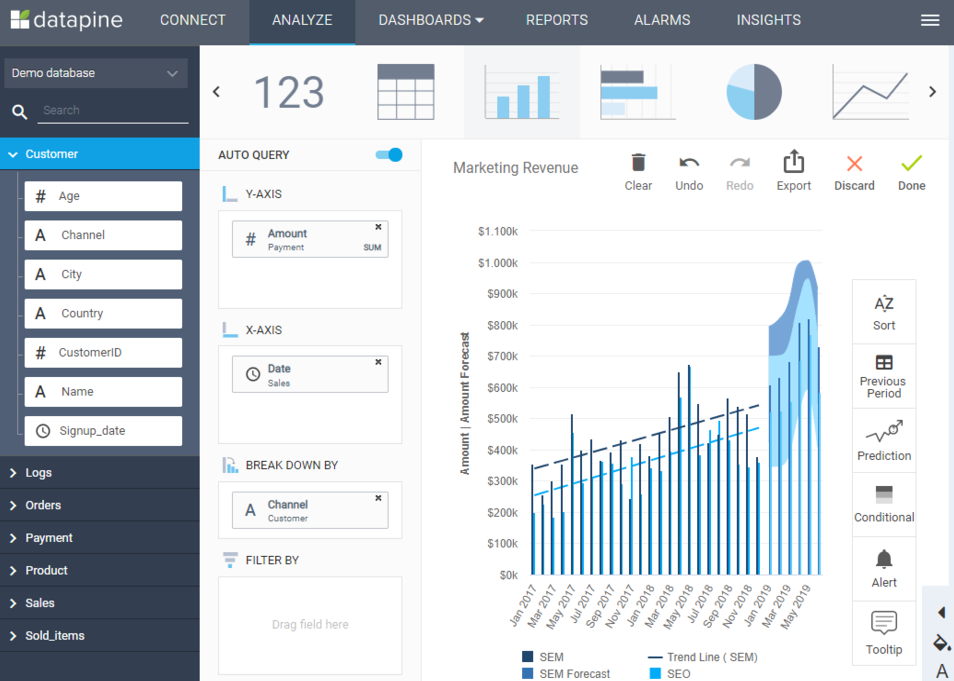 Datapine is a SaaS business intelligence (BI) tool that helps organizations make data-driven decisions. Datapine's drag-and-drop interface allows businesses to run advanced MySQL queries to turn raw data into advanced insights. Its self-service analytics help companies manage, control and manipulate datasets of various sizes and formats. 
Its data connectors help companies collect information from all sources, like social media, online storage tools, and databases. Businesses can then use this collected information to analyze different factors like online customer behavior that affect their operations. Employers can also use Datapine's predictive analysis feature to forecast results and make informed decisions.
It allows analysts to use data connectors, predictive analysis, and advanced MySQL queries. The features help enterprises turn raw data into valuable insights. These insights can be leveraged for forecasts and informed decision-making. Datapine's online tool comes with dynamic features making it perfect for businesses looking to excel in today's data-driven world. 
Key features of Datapine are mentioned below. 
Data connectors.

Advanced MySQL queries.

Predictive analysis.

Data visualization.
Pricing for Datapine starts from $249 per month, but it also comes with a free 14-day trial.
7. GROW For Code-Free BI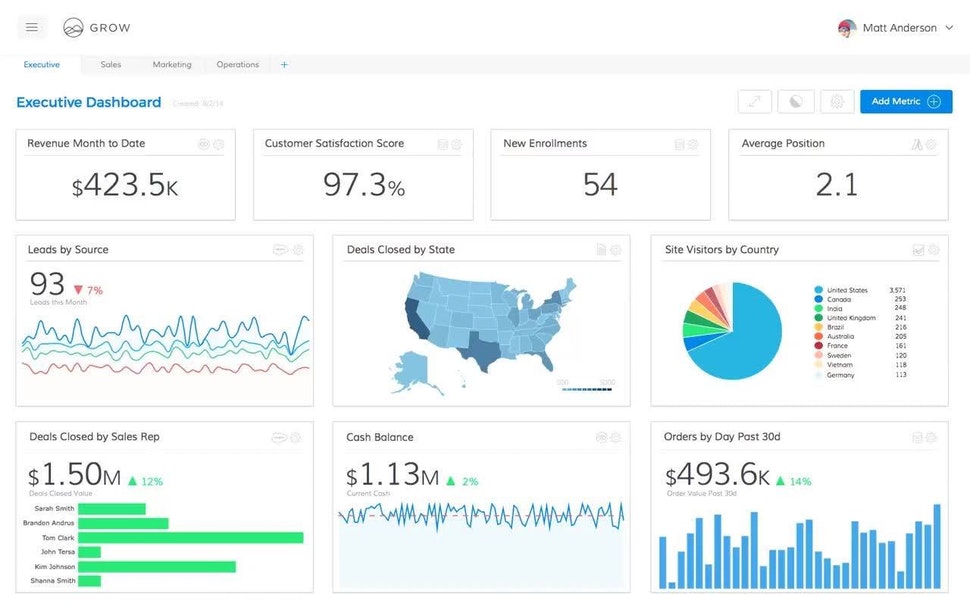 GROW is a cloud-based solution that allows companies to harness the power of BI without having to code. GROW comes with no code transforms that write all the SQL codes behind the scene. This helps eliminate the need of having a programmer to use BI for business operations. 
Using these no-code transforms allows employees to perform various functions like filtering and grouping data, summarizing statistics, and running calculations. Filter data helps companies ensure that the information is categorized and used appropriately. Summarizing the filter data helps employees have access to brief and comprehensive statistics. These statistics can then be used for accurate calculations. 
It has features like data filtering and group and summarized statistics. Managers can use these data filters and groping controls to categorize data as needed and generate summaries. Its no-code transforms also ensure that analysts can make use of data without having to code. Cloud-based solutions by GROW are essential for companies looking to leverage BI for data-driven decision-making. 
Key features of GROW are mentioned below. 
Data filtering and grouping.

Summarized statistics.

Visual reports.

No code transforms.
GROW comes with a free trial, and paid plans are available upon request.
8. SAS 360 Engage For Digital Advertising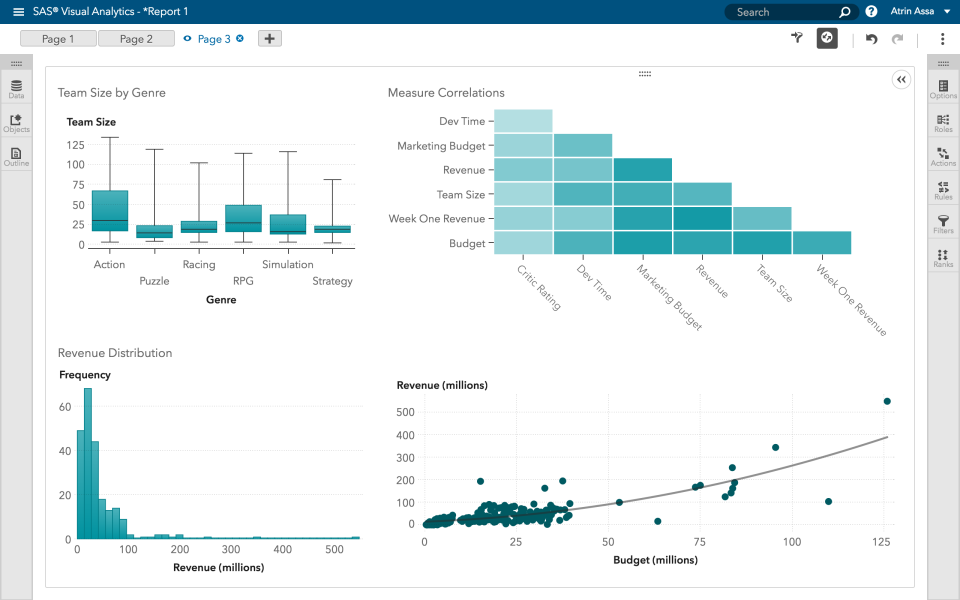 SAS 360 Engage is a SaaS tool that allows businesses to improve their digital advertising by leveraging in-depth analytics. It comes equipped with advanced segmentation and campaign capabilities. Advertisers can use these capabilities to create multiple segments for targeting audiences across different platforms.
Companies can even use SAS 360 Engage to split their segmented audiences into different groups. These groups can then be used to deploy and measure the effectiveness of A/B testing strategies. Using such capabilities allows companies to maximize their ad spend and improve the effectiveness of their digital advertising strategies. 
Advertisers can use SAS 360 Engage to create different customer segments. The tool can also be used to generate histograms and visual reports. Advertising managers can then use these insights to better allocate the ad spend. SAS 360 Engage's in-depth analytic and targeting capabilities make it a must for businesses leveraging digital mediums for sales and marketing.
Key features of SAS 360 Engage are mentioned below. 
Customer segments.

Omni channel targeting.

Histograms. 

Report visualization.
SAS 360 Engage comes with a free trial version, and paid plans are available upon request.
9. Clear Analytics For BI Using Excel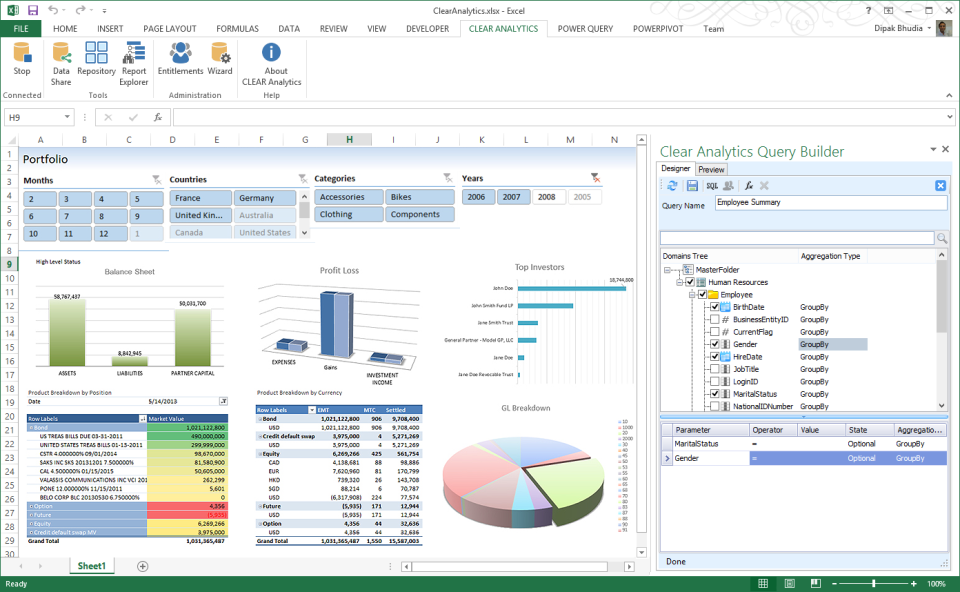 Clear Analytics is an Excel-based tool that allows companies to harness the power of BI. It integrates with Microsoft Power BI allowing organizations to filter, model, and visualize data as required. Clear Analytics can be used with the current Excel environment an organization has, and migration or training is not required.
This ease of integration allows companies to ensure that all analysts are able to leverage the power of BI. When integrated, Clear Analytics allows analysts to publish queries on SharePoint or OneDrive. Insights derived from the analytics can be made available on a variety of devices using Excel.
It helps analysts conduct custom queries. Data analysts can use this feature to derive required insights from raw data. It can be integrated with Excel, meaning that employees don't have to go through a learning curve to use it. Clear Analytics's online software is highly affordable to use as prices are tailored on a per-user basis.
Key features of Clear Analytics are mentioned below.
Integration with Excel.

Regulatory compliance.

Custom queries.

Compatibility with Microsoft Power BI.
Pricing for Clear Analytics starts from $29 per month for up to 8 users. 
10. Microsoft Teams For Task Management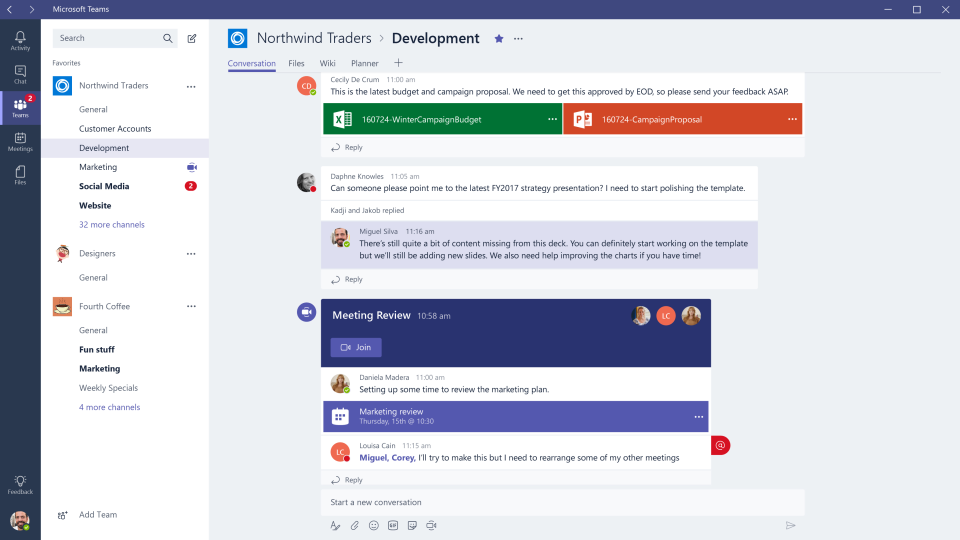 Microsoft Teams is a proprietary business communication platform that allows companies to improve their task management. Using Microsoft Teams helps managers create multiple tasks for different activities like writing, designing and more. These tasks can then be assigned to each employee. The employee then attached all the files they were working on in the task. 
Managers can also comment on the task they created to provide any updates if necessary. In addition, they can assign different labels to each task. Assigning labels helps ensure that all team members are aware of the task's progress. These tasks can also be stored in a project bucket for future reference if needed. 
It comes loaded with features like labeling and project buckets. Managers can create a Team bucket for individual projects and assign progress labels to each task. This not only ensures team alignment but makes task management much more efficient. Microsoft Teams's online platform helps companies overcome communication and management hurdles as it can be used on any device or operating system. 
Key features of Microsoft Teams are mentioned below. 
Labeling. 

Project buckets.

Task updates.

Compatibility.
Pricing for Microsoft Teams starts from $4.14 per month/user.
11. Slack For Workflow Automation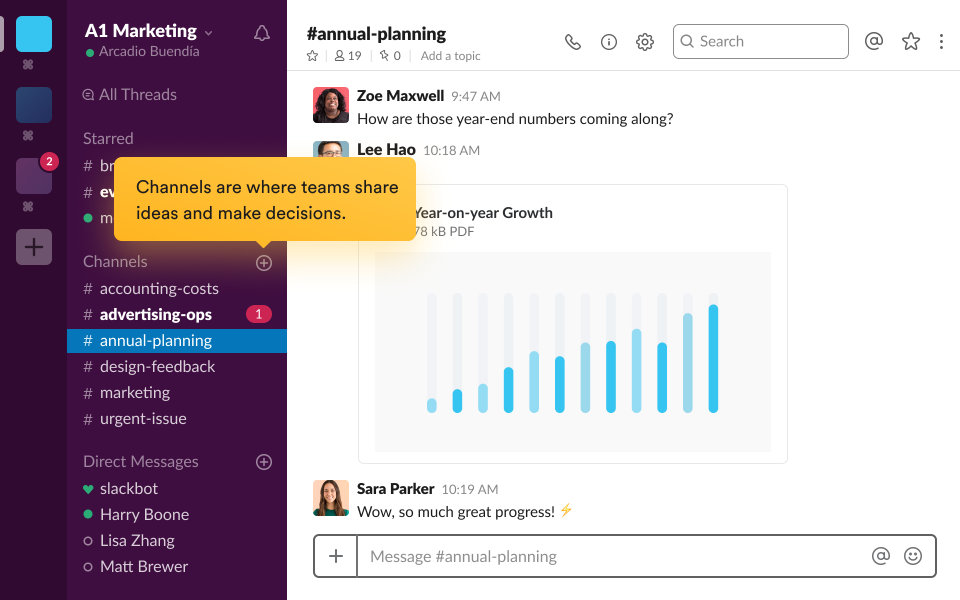 Slack is an organizational communication tool that businesses can use to automate daily tasks. It even comes with a workflow builder that can be used to automate redundant activities. Being free from redundant tasks allows employees to use their skills more productively. The workflow builder can even be used to automate tasks outside of Slack and doesn't require coding. 
Managers and employees can use this feature to update and streamline processes like onboarding. In addition, it can even be used to automate standard requests to ensure that the required information can be obtained with ease. This information can then be added to other applications like Google Sheets or Excel.
It allows managers to utilize its built-in no-code automation capabilities. Managers can leverage this feature to create and automate workflows with ease. Automated workflows not only save time but also help improve employee productivity. Slack's digital platform is easily accessible via the internet and helps streamline business processes quicker. 
Key features of Slack are mentioned below. 
Gather requests.

Provide updates.

No-code automation.

Streamlined onboarding.
Pricing for Slack starts from $7.25 per month.
12. Zoom For Video Conferencing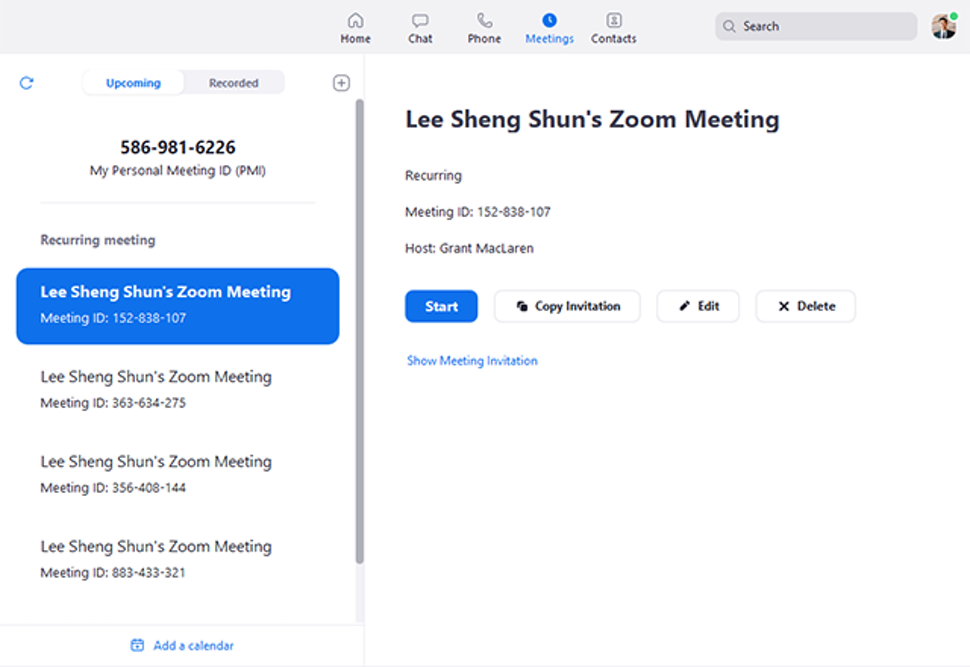 Zoom is a communication tool that helps companies bring together employees in a secure video environment. Businesses can use Zoom Rooms to conduct video meetings. These meetings help ensure team alignment and result in increased productivity. In addition, Zoom Rooms also help managers ensure that all their employees are able to collaborate in real time.
Zoom Rooms also leverage AI to capture a single view of multiple employees who're part of the meeting. This helps remote employees get an improved face-to-face communication experience with those in the meeting. Managers can set up a Zoom Room and invite participants to join all within minutes. 
Zoom's feature list includes AI-based camera views and Zoom Rooms. These features help managers create a secure video conferencing environment. This experience helps employees stay in touch and ensures effective communication. In today's digital world, employees prefer working from remote locations. Zoom's video conferencing capabilities make it an essential for businesses with a hybrid workforce. 
Key features of Zoom are mentioned below. 
Video conferencing.

AI-based camera views.

Compatibility.

Improve communication experience.
Pricing for Zoom starts from $14.99 per month/user.
13. Filestage For Content Approval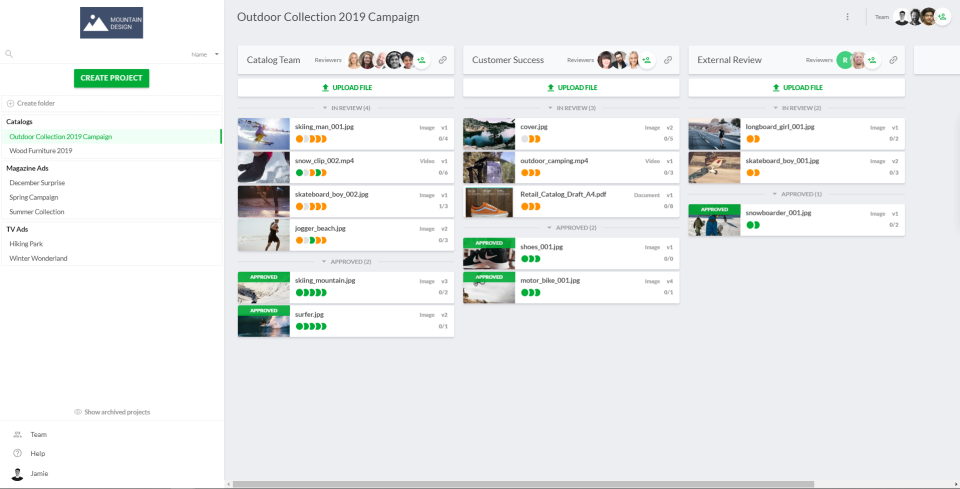 Filestage is an online review and approval tool that helps companies streamline their content review and approval process. Managers can use Filestage to comment, review, and suggest changes to documents. This feature helps employees gain valuable feedback required to improve their content. Filestage also allows businesses to have access to analytical insights about the review process.
Filestage also comes equipped with a smart annotation that makes the review process more efficient. Managers use the smart annotation feature to pinpoint exactly where changes need to be made. In addition, they can also choose to send team-only comments to ensure the privacy of the review and changes.
It has robust features like built-in smart annotation, team-only comments, and automatic highlights. These features help managers review content and provide feedback with ease. Employees can engage with managers in the feedback threads to ensure that all changes are made as directed. Filestage's online tool can be used on any platform, making content approval more efficient. 
Key features of Filestage are mentioned below. 
Smart annotation.

Team-only comments.

Feedback threads.

Automatic highlighting.
Pricing for Filestage starts from $49 per month/user.
14. Bit.ai For Content Management
Bit.ai is a document collaboration that organizations can use to manage their content efficiently. Bit.ai comes with a digital content library that employees can use to store their documents. Content stored in these libraries can only be accessed by those who are a part of that specific workspace. 
Employees can also use Bit.ai's smart search features to look for required documents or content within those documents. Managers can also integrate Bit.ai with their cloud storage platforms and download files to the content library. This helps ensure that all essential documents are in one place. 
Bit.ai allows managers to use features like smart search, content library, and access controls. These features help companies manage content and categories content with ease. They also help them control who has access to specific documents. Bit.ai's digital platform is priced on a user-based model, meaning that companies only pay for what they use.
Key features of Bit.ai are mentioned below. 
Smart search.

Content library.

Cloud integration.

Access control.
Pricing for Bit.ai starts from $8 per month/per user.
15. nTask For Issue Management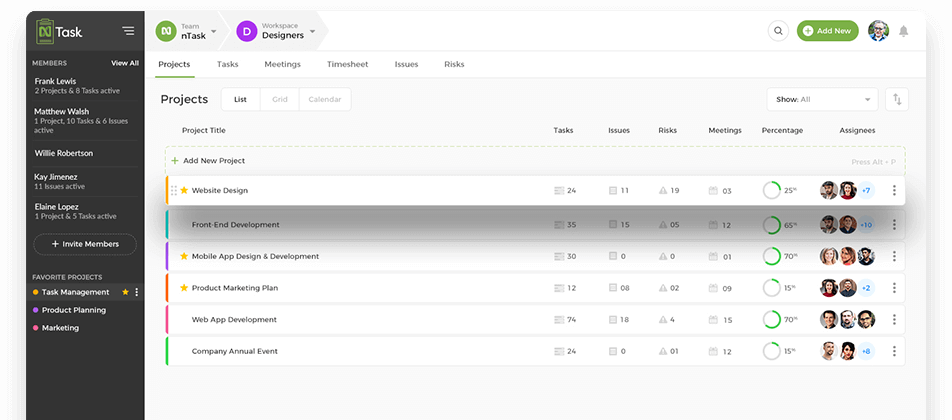 nTask is a project management software that companies can use to manage issues and bugs. Using nTask allows managers to set the severity of each problem. This helps them determine which problems need to be resolved as a top priority. In addition, managers can also set, add and update the status of an issue or a bug. 
Updating that status ensures that all team members are aware of the problem. nTask also allows companies to categorize reported bugs or issues. When categorizing, managers can use color codes or unique IDs. This helps ensure that all bugs are reported to their respective departments. 
nTask's dynamic features, like issue status, color codes, and unique IDs, make issue tracking and management effective. Enterprises can use these tools to ensure that all issues and bugs are categorized and addressed appropriately. nTask's online software ensures collaboration among team members making issue management more effective.
Key features of nTask are mentioned below. 
Issue status.

Color codes.

Unique IDs.

Issue severity.
Pricing for nTask starts from $3 per month/user.
16. Toggl For Hiring Top Talent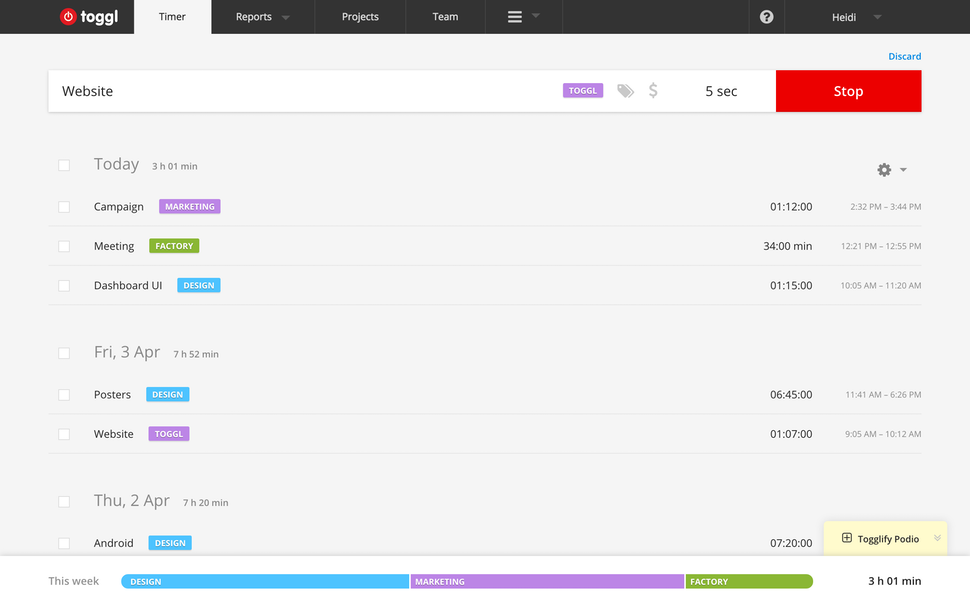 Toggl hire is a skill-based assessment platform that helps companies hire top talent with ease. It comes equipped with tons of job templates that can be used during hiring. Using these templates helps managers create relevant skills assessments to measure a candidate's capabilities. 
In addition, hiring managers can also use Toggl Hire to automate candidate screening. Automating this part of the hiring process helps save valuable time and improve the efficiency of the screening process. Toggl Hire also scores the candidates, which makes finding suitable applicants much easier. 
TooglHire's array of features includes job templates, automated screening, and skill-based assessment. These features help hiring managers post in-depth employment opportunities. It also takes care of the screening process, ensuring that only relevant and skilled candidates make it to an interview. ToogleHire's online tool comes with screening and assessment capabilities that make the candidate review process more efficient. 
Key features of Toggl are mentioned below. 
Job templates.

Automated screening.

Skills assessment.

Candidate scoring.
Pricing for Toggl Hire starts from $17 per month. 
17. Hubstaff For Time Tracking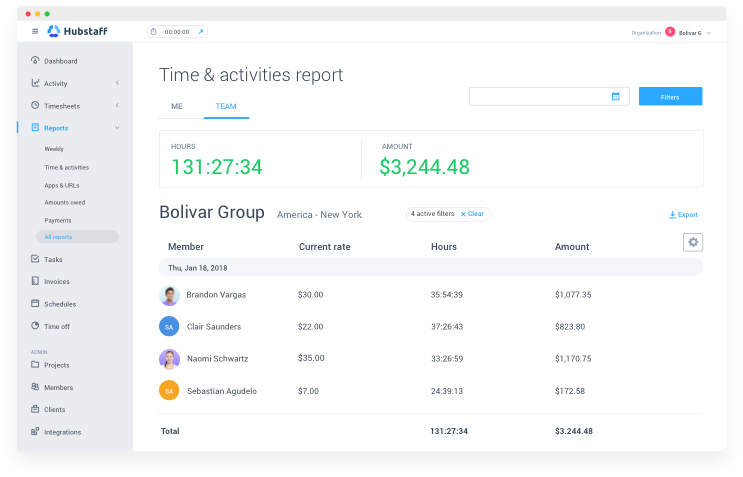 Hubstaff is a workforce management software that businesses can use to track their team's working hours. Its employee hours tracker allows managers to track and monitor how long team members work on a particular project. Both managers and workers can then generate automated timesheets based on the entries. 
These automated timesheets help managers view employee hours by date, client, or specific projects. Hubstaff also allows managers to approve or reject timesheets from within clicks. Its time-tracking software is supported on Windows, MacOS, and Linux. Such compatibility ensures that employees are able to log working hours regardless of the operating system they use. 
Its feature suite includes geofence time tracking, automated timesheets, and time off requests. These features help enterprises ensure they are able to track employee working hours down to the second. Hubstaff's online software can be used on different devices and operating systems making time tracking more easier and effective. 
Key features of Hubstaff are mentioned below. 
Geofence time tracking.

Automated timesheets.

Compatibility.

Time off requests.
Pricing for Hubstaff starts from $5.83 per month/user. 
18. GanttPro For Resource Management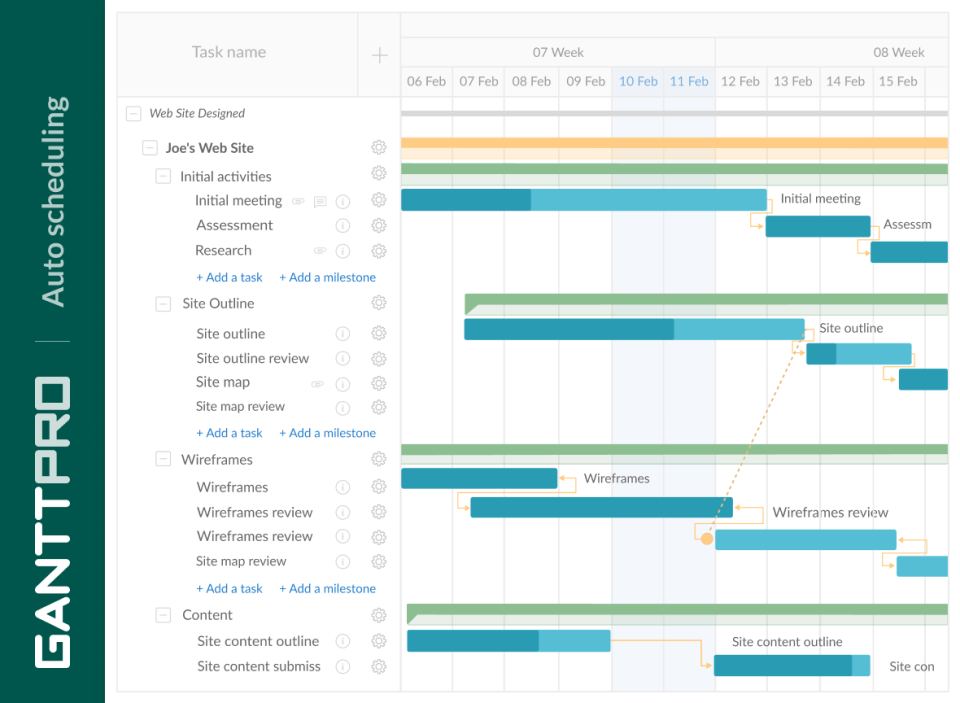 GanttPro is an online project management solution that allows companies to manage their resources with greater efficiency. Using GanttPro, managers can add virtual resources for team members. Once these materials have been added, managers can then assign hourly or item-based usage protocols for them. 
It also allows managers to add labor or material resources to specific projects. This helps employers improve their resource management. It also ensures that companies are able to get the best value for money. Creating and managing resources is intuitively simple and can be done within a matter of minutes. 
GanttPro's cohesive features include virtual resource management, material resource management, and analytical reporting. These features help an enterprise manage its resource utilization as it can allocate resources to specific teams and projects. GanttPro's digital solution is easily accessible ensuring that managers are able to allocate resources effectively. 
Key features of GanttPro are mentioned below. 
Virtual resource management.

Labor and material resource management.

Project-specific resources.

Analytical reports.
Pricing for GanttPro starts from $9.99 per month.
19. Trello For Deadline Management

Trello is an online list-making application that organizations can use to better meet their deadlines with ease. It comes equipped with a timeline feature that makes planning simpler. Managers can use this timeline feature to ensure their teams stay ahead of project deadlines. The timelines features also allow managers to get a comprehensive overview of all project activities. 
Trello's timelines support the drag-and-drop capability, which ensures effective real-time management. Managers can use this capability to change start and due dates for certain activities as priorities change. In addition, they can also see upcoming activities and plan accordingly. 
Trello comes with timelines and a drag-and-drop functionality. This allows them to have real-time access to how employees use their working hours. These insights can then be used to manage deadlines more effectively. Trello's online tool can be used for organizing tasks and ensuring adequate deadline management. 
Key features of Trello are mentioned below. 
Timelines.

Compatibility.

Drag-and-drop functionality.

Keyboard shortcuts.
Pricing for Trello starts from $5 per month.
20. Microsoft OneDrive For Document Management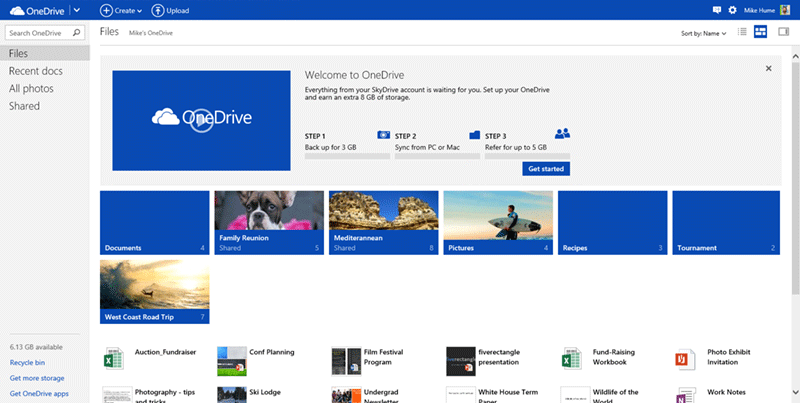 Microsoft OneDrive is a file-hosting service that businesses can use to streamline their document management. It allows companies to store large files and share them with team members with ease. OneDrive also ensures that documents and files are easily accessible. It also ensures that the stored documents are protected against ransomware and malicious attacks. 
OneDrive also ensures that changes made to files, folders, and documents are updated across all devices. Managers and employees can even scan and upload documents using OneDrive. It also ensures that all data stored on the cloud platform is backed up and secure. It also ensures that users are able to share documents privately. 
Its comprehensive feature suite includes file sharing, cloud storage, and advanced security protocols. These features ensure that companies are able to store and manage documents in an intuitive and secure environment. Microsoft OneDrive's online service ensures that files and folders can be accessed and managed from any device.
Key features of Microsoft OneDrive are mentioned below. 
File sharing.

Cloud storage.

Advanced security.

Compliance capabilities.
Pricing for Microsoft OneDrive starts from $5 per month/user.
21. Dropbox Business For Cloud Storage
Dropbox is a file hosting service that businesses can use to store files on the cloud. Dropbox Business comes with 5,000 gigabytes (GB) of storage space companies can use. This storage capacity allows businesses to store and share large files like lengthy documents and high-definition (HD) videos with ease. 
Dropbox has a simple and easy-to-use interface that helps team members store files with clicks. It's also compatible with desktop and mobile devices meaning employees can store files on the go or while at work. It also has capture and screen recording features that help businesses record and store detailed documentation. 
Dropbox has support for digital signatures, 5,000 GB of cloud storage, and automatic backups. This feature helps enterprises ensure that they have an adequate amount of space needed for storage and that the storage space is secure. Dropbox's online service improves data storage as it has more space than traditional mediums. 
Key features of Dropbox Business are mentioned below. 
Digital signatures.

5,000 GB of cloud storage.

Screen recording.

Automatic backups.
Pricing for Dropbox Business starts from  $18 per month/user.
22. Google Workspace For Streamlining Workflows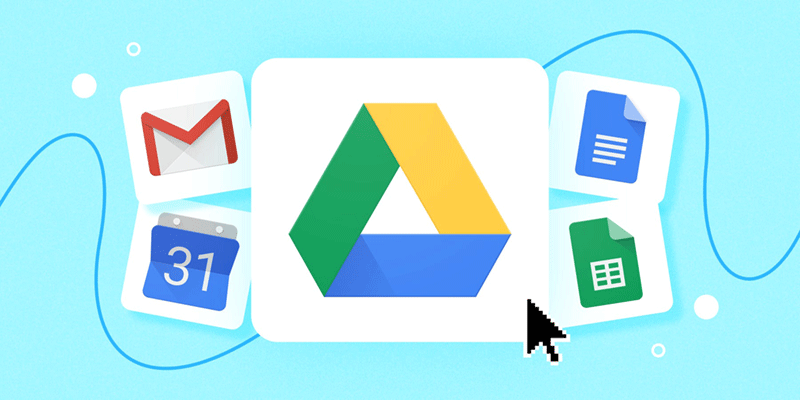 Google Workspace is a collection of cloud computing, productivity, and collaboration tools that organizations can use to streamline their workflows. Google Workspace empowers employees with tools like Google Docs, Sheets, and Slides. Employees can use these tools to create, store, and share business documents in a streamlined manner. 
These documents can also be shared with other team members to ensure real-time feedback and collaboration. Both managers and employees can also use tools like Google Drive to store larger files. Links to these drives can then be shared via email and chat, which helps companies streamline their operations. 
Its robust features include secure data storage, real-time feedback, and document management. These features, when used in combination, allow a business to streamline its daily workflows. Google Workspace's online platform facilitates workflow collaboration as it can be used on any device or operating system.
Key features of Google Workspace are mentioned below.
Create and store business documents.

Data storage.

Real-time feedback.

Device compatibility.
Pricing for Google Workspace starts from $6 per month/user.
23. Bizview For Budgeting and Forecasting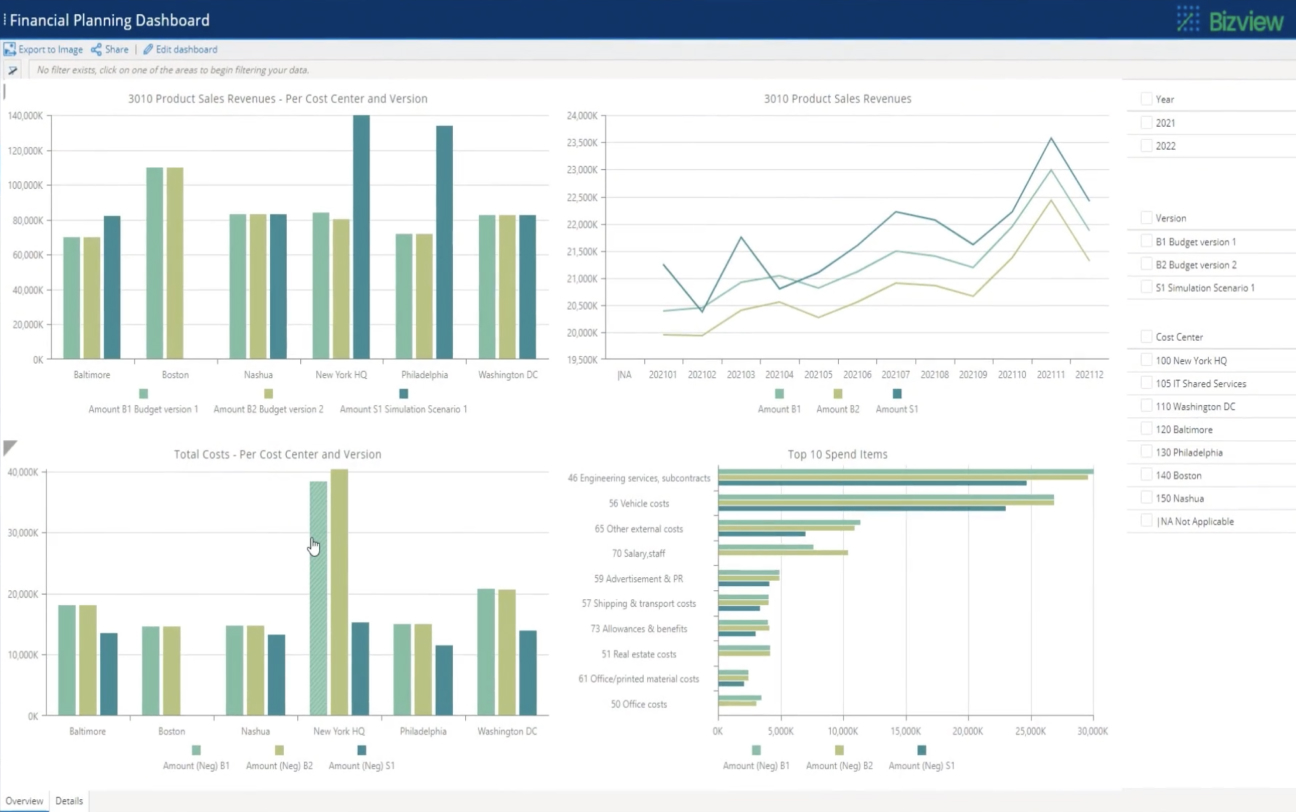 Bizview is a web-based planning solution that allows companies to improve their budgeting and forecasting processes. Using Bizview allows managers to create insightful dashboards. These dashboards can be used to manage different financial statements. Managers can combine actual reports with their forecasting. 
Comparing both the actual and forecasting reports helps them determine where an operational gap exists. These insights can then be used to tailor organizational operations and ensure their alignment with the forecasted objectives. Using Bizview can help businesses speed up their forecasting cycles and improve their efficiency. 
It has great features such as insightful dashboards, a customized budgeting process, and budget and forecast comparison. These features help enterprises gain access to valuable data that can be used for analysis, budgeting, and forecasting. Bizview's web-based planning solution is constantly updated, meaning that companies always have access to the latest features.
Key features of Bizview are mentioned below.
Insightful dashboards.

Custom budgeting processes.

Budget and forecast comparison.

Reporting.
Pricing for Bizview is based on specific business requirements.
Everything about your business, one click away