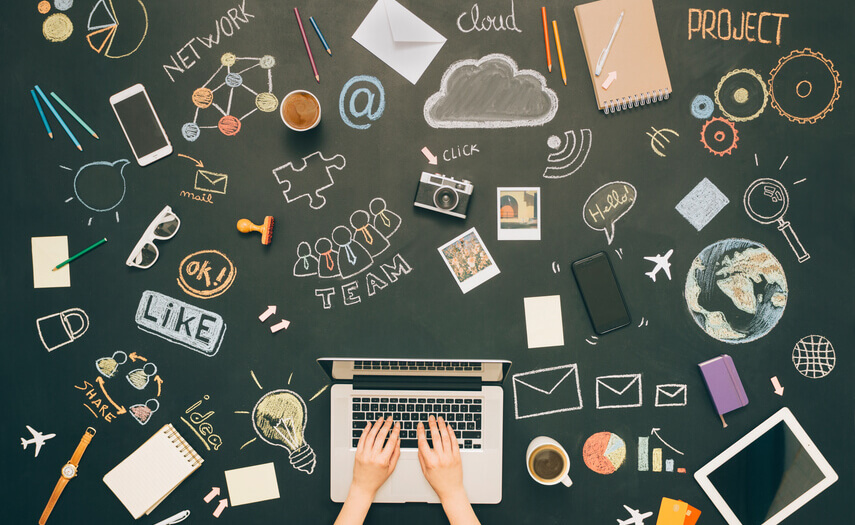 Work management
Best Business Management Software In 2019 – Be In Control of Your Business
BUSINESS SOFTWARE by definition is an application or a system of tools to help businesses support, improve and automate their processes. In 2019, there are numerous software providers from single-feature tools to comprehensive enterprise solutions.
It is important to keep in mind that any business management software solution should make your work more efficient, not create extra tasks. Unfortunately, 74% of employees say they spend up to an hour a day on data entry and searching for information. That's why you should be extremely attentive and do proper research when selecting the best software to support your business.
Ideally, business management software will help you manage all your core business processes in one system. Based on your needs and preferences, you could integrate some additional apps into that core system.
The features you are likely to need in your business management software solution:
project & task management
time management & calendar
document sharing & collaboration
sales and CRM
time tracking and work reporting
budget, invoice, and expense management
business intelligence and dashboards
accounting and financial reporting
product and warehouse management
operations and logistics management
resource management
As you can see, there are various functionalities you might need. How to put together a fully integrated system, which pulls and pushes your data and enables you to have complete control over your business with only a few clicks? The answer is – you don't have to do it by yourself, choose an end-to-end software solution.
To make the selection smoother and give you a direction, we have reviewed and listed the best business management software on the market.
---
Every Business Management Software listed here:
Is by a trustworthy provider, with regular updates and high security
Is more or less of a comprehensive all-in-one solution or offers various features to choose from
---
1. Scoro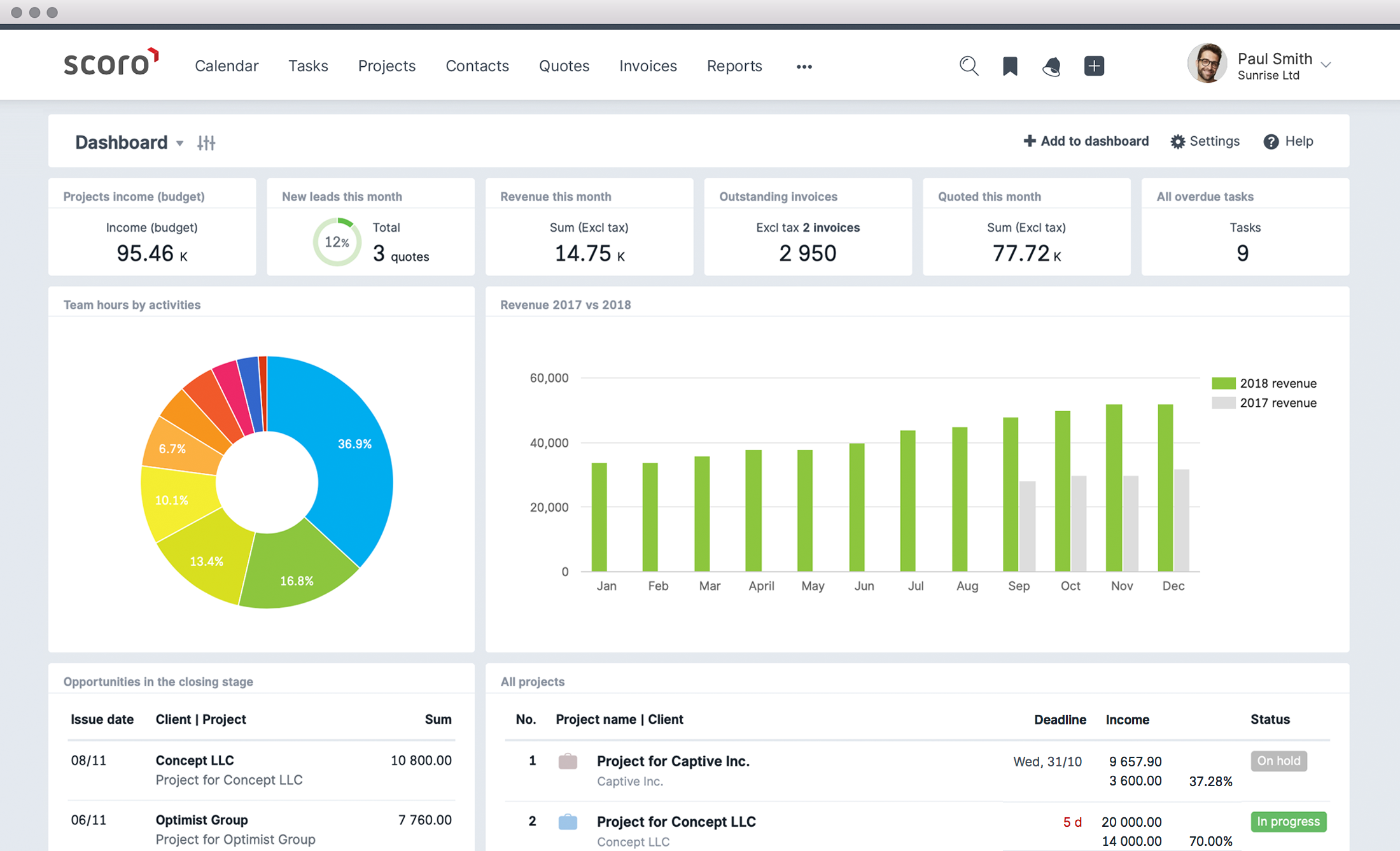 Scoro is a powerful business management solution that combines all the features you might need to manage your company: projects & tasks, contact management, quotes, team collaboration, billing, and reporting.
Top features:
Project and work management
Shared team calendar, meeting scheduling & document sharing
Customer management & sales pipeline
Real-time KPI dashboards
Detailed reports on every aspect of your business
Quoting and invoicing with pre-set templates and automation
What's special about this tool: Scoro helps to streamline your entire work progress, so you don't need to use different tools for every task. Scoro also has the most advanced business intelligence features – detailed reporting and custom dashboards.
Pricing: From $26 user/month
Try Scoro for free for 14 days
2. StudioCloud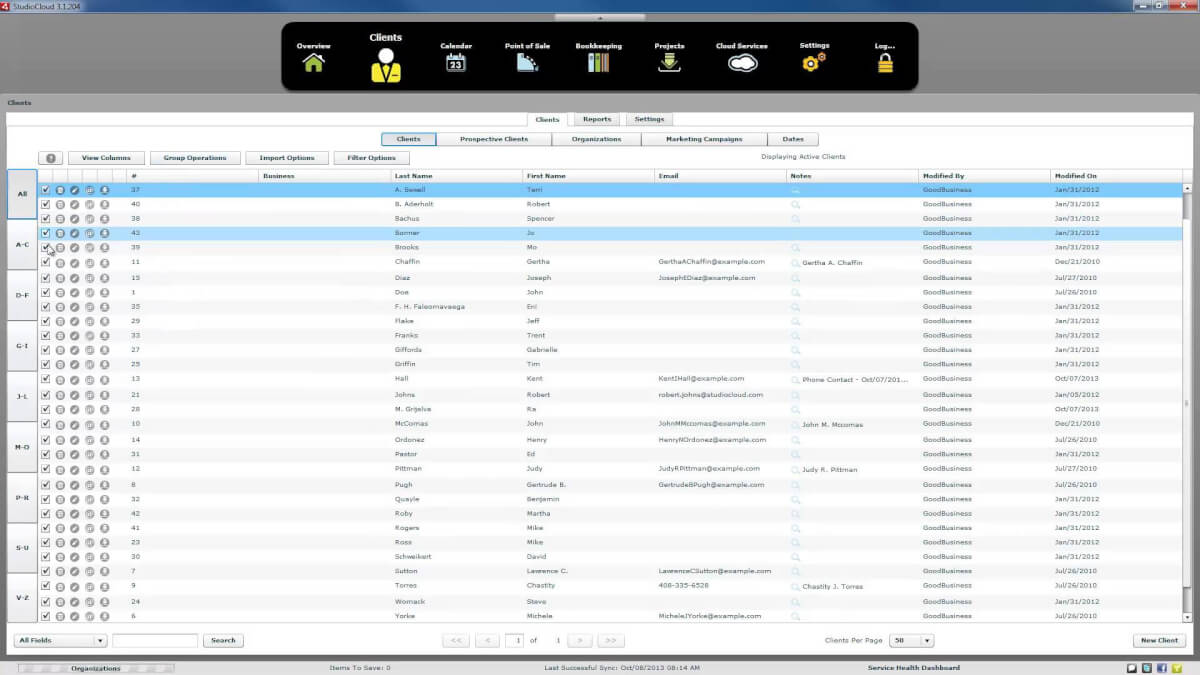 StudioCloud is an all-in-one solution that gives you all the features you need to successfully manage your business anytime, anywhere.
Top features:
Manage clients, leads, organisations, partners, and vendors
Schedule clients, events, appointments, employees, locations, and more
Create and send professional invoices and quotes from customised price lists
Create pipelines, deadlines, and tasks for projects, orders, etc.
Send automated, personalised, text and email reminders, payment requests, etc.
What's special about this tool: Are you a one-man band? Then this free software is for you! StudioCloud provides mobility by syncing all of your data between the cloud, your desktop, and all of your internet enabled devices.
Pricing: $65/month for teams of 3+
3. ZOHO ONE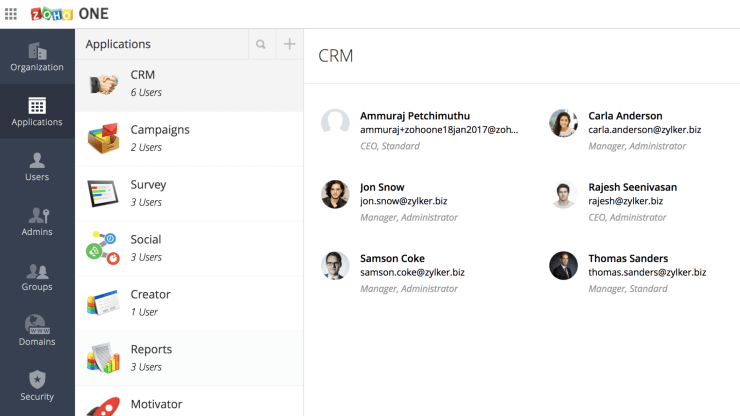 All the tools you need to create, collaborate, and communicate with your teams, in one integrated suite of apps — Zoho One.
Top features:
Sales & marketing – CRM, email integration, online forms, live chat
Collaboration – documents storage and sharing, team chat, online meetings
Finance – accounting, invoices, expense management, inventory management
Create custom applications and automate your personalized business workflows
What's special about this tool: You can add and integrate 37 of Zoho applications such as CRM, Mail, Finance, Creator, Books, Recruit, etc. to manage almost every aspect of your business in one system.
Pricing: From $30 user/month
Check out this Zoho Alternative and 21 more best Zoho Alternatives for business management!
4. Odoo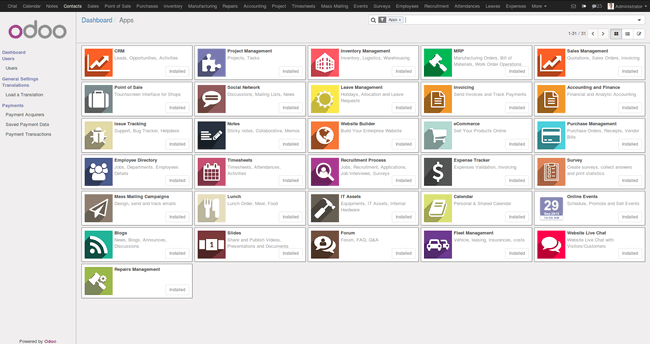 Odoo is a suite of open source business apps that cover all your company needs: CRM, eCommerce, accounting, inventory, the point of sale, project management, etc.
Top features:
Design custom dashboards to get a picture of your business at a glance
Get accurate forecasts
Automate activities based on your sales scripts: calls, meetings, and quotations
Real-time messaging to enhance collaboration
What's interesting about this tool: Odoo focuses mainly on CRM and ERP functionalities. It also has a large application market due to their open source model.
Pricing: From $14 user/month
5. NetSuite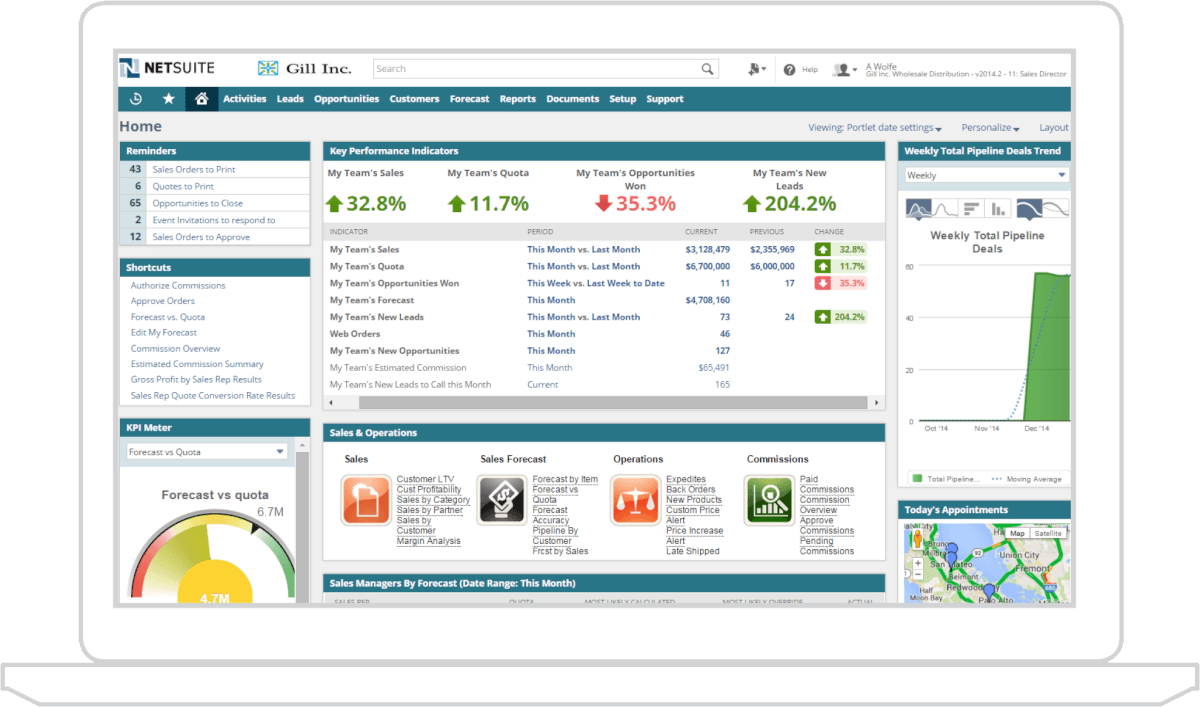 NetSuite is an unified business management suite, providing various tools for ERP, Financials, CRM, HR, eCommerce.
Top features:
Global business management – multiple currencies and taxation rules, financial consolidation, subsidiary management
End-to-end eCommerce management – inventory and order management, CRM, marketing, and finance
Services resource planning – resource management, project accounting, timesheet and expense management, CRM
Business Intelligence – real-time dashboards, reporting, and analysis across all the integrated processes
What's interesting about this tool: NetSuite offers various toolsets –NetSuite CRM, NetSuite OpenAir, NetSuite Global Business Management, NetSuite PSA etc. Be ready to take some time to filter out which NetSuite solution could be the best for you.
Pricing: On request

6. Bitrix24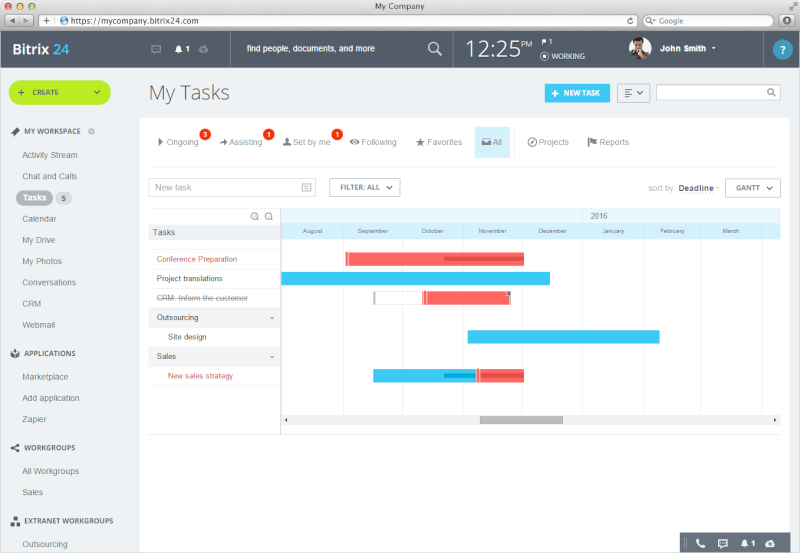 Bitrix24 offers a complete suite of social collaboration, communication and management tools for your team.
Top features:
Social intranet for internal communication for chats and document sharing
Project and work management including time and workload tracking
Customer relationship management including sales funnels, website forms, interaction tracking and marketing automation
Telephone integration – call directly from the CRM and record conversations
What's special about this tool: Bitrix24 has a large set of features, from traditional project management to integrated telephone and HR system, or internal email.
Pricing: Free plan, paid plans with more storage from $39/month
Check out this Bitrix24 Alternative!
7. WORKetc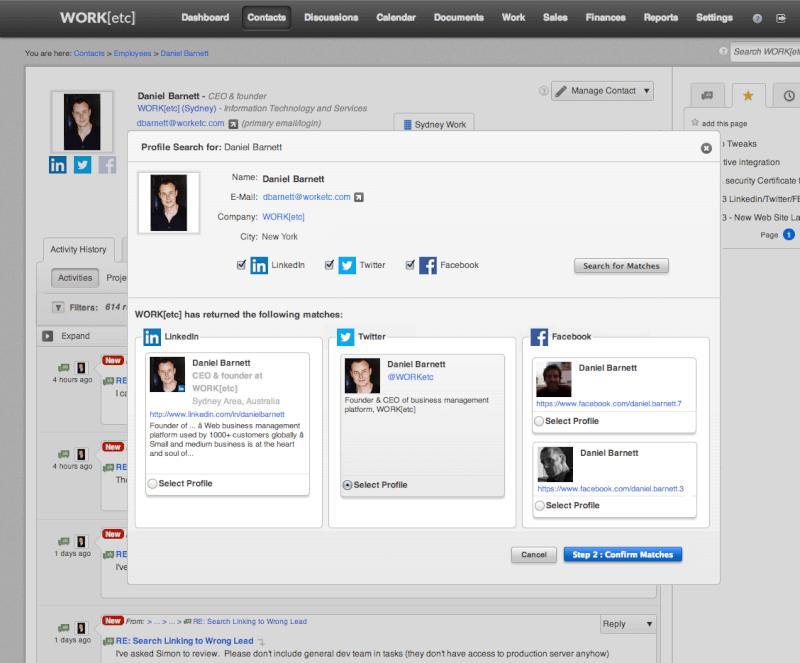 WORKetc is a web-based platform for CRM, project management and collaboration.
Top features:
Link timesheets, documents, discussions, notes, contacts and more to your projects
Manage complex project budgets
Automatically capture and invoice all revenue activities across all departments
Use live support, web forms, and email to capture support tickets
What's special about this tool: By integrating support cases directly inside of all areas of WORKetc, you can ensure the customer is always looked after. Your sales team is talking with your customer support team, and project issues can be assigned to the right person.
Pricing: From $49 user/month (first 3 users $65/month)
Check out this WORKetc alternative!
8. OneSoft Connect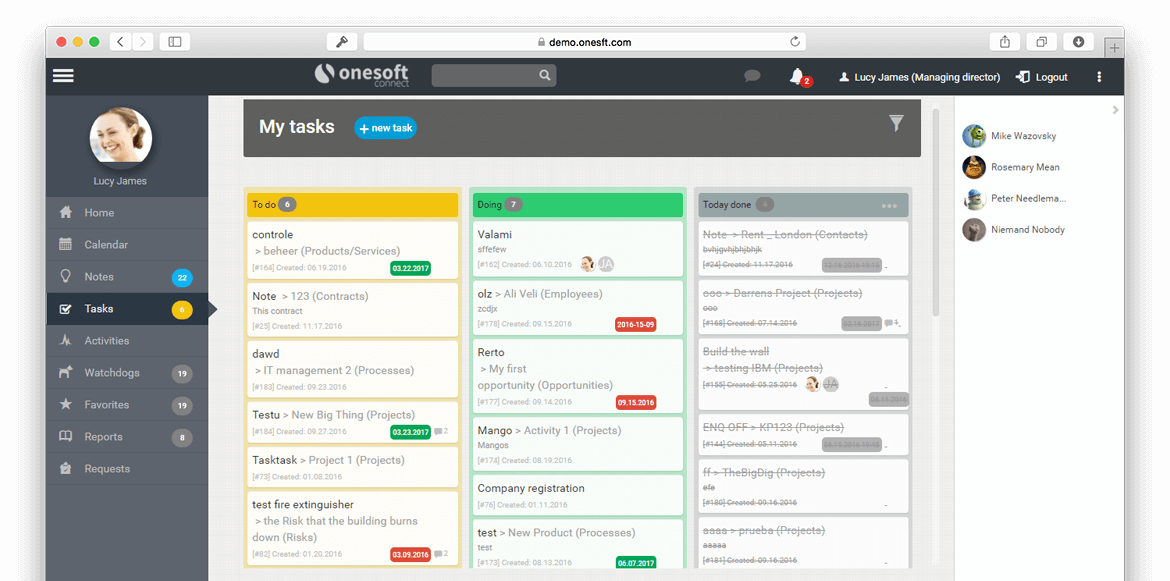 OneSoft Connect promotes themselves as a software for daily issues. It helps you manage your customers, team and projects in one solution.
Top features:
Data storage – have information about your customers, team, projects and assets in one place
Create reminders for important tasks and deadlines
What's special about this tool: OneSoft is a better fit for small teams than large enterprises. They also offer a solution for the Public Sector.
Pricing: Free plan, paid plans from $6 user/month
Read more: How to Deal With Overdue Invoices And Get Your Money Faster
9. BlueCamroo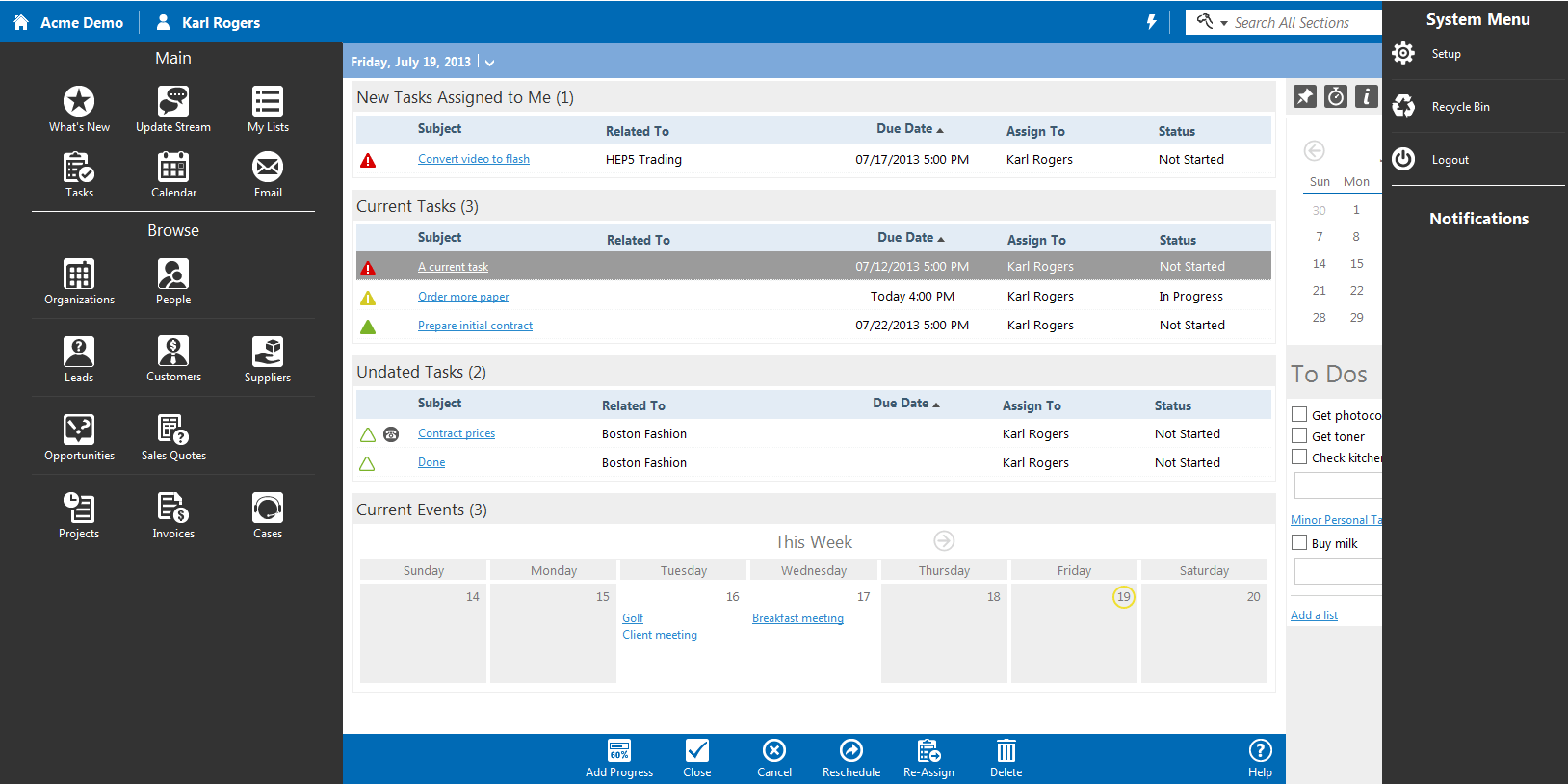 BlueCamroo aims to integrate CRM features with project management. It helps you manage your contacts, sales & projects in one solution.
Top features:
Contact management
Sales forecasting
Visual sales pipeline
Project management – tasks, stages, depencies
Budgets versus actual costs
Customer Support opportunities
What's special about this tool: BlueCamroo provides a lot of useful tools for a small business. An interesting feature is the Website Builder for websites, landing pages, microsites and even eCommerce sites.
Pricing: From $41 user/month
10. Deltek Maconomy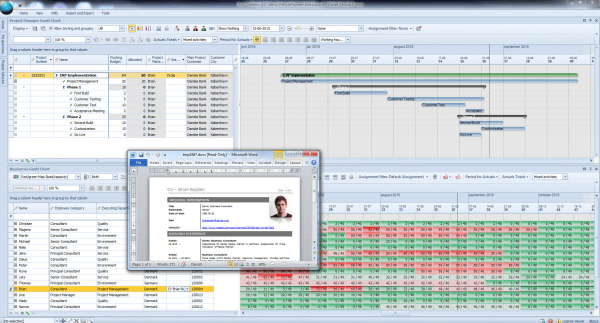 Maconomy is an integrated project centric ERP solution designed to support the entire project lifecycle of professional service companies.
Top features:
Finance management
Time and expense tracking
Job and task management
Client management
Business Intelligence
What's special about this tool: Founded in 1984, Deltek has a long history in software solutions. Maconomy is a robust tool while said to have maintained the ease to use.
Pricing: Per request
11. Frank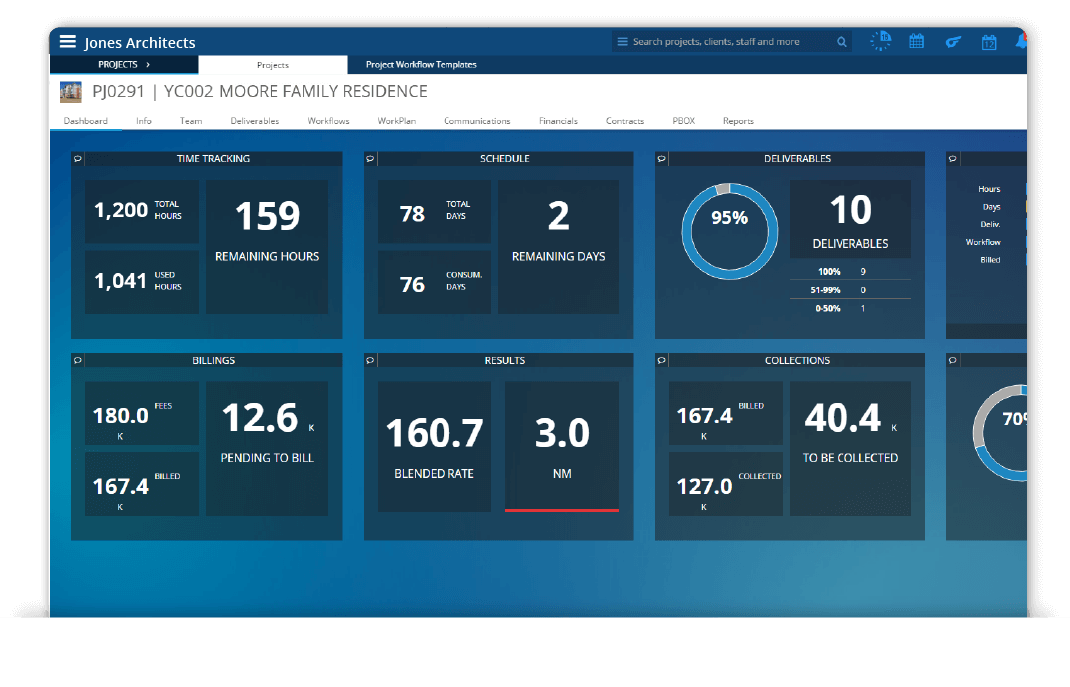 Frank is dedicated to be a wholesome management platform for architecure and engineering studios.
Top features:
Customer database
Project management & documentation
Task organiser
HR management & recruiting
Accounting
Workload, project and resource reports
What's special about this tool: Frank is very niche-oriented software for managing complex architecture and engineering projects. The features to highlight are: Vendor Qualifications, Cost Control, Project Phases and Contractual Deliverables.
Pricing: Free plan available, paid plans from $150 per month
12. Microsoft Dynamics GP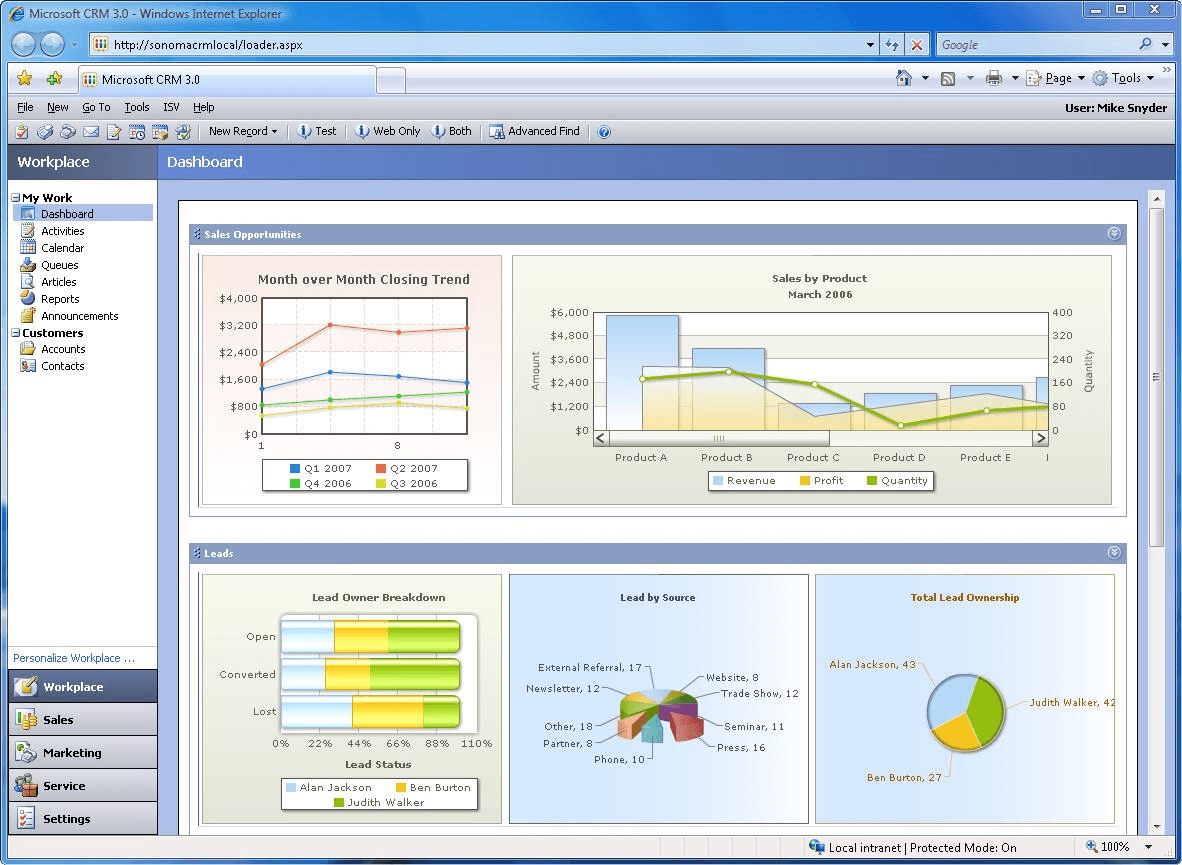 Microsoft Dynamics GP is a complete enterprise resource planning (ERP) software with a wide range of features from operations management and financial management to human resource management and manufacturing.
Top features:
Financial management & accounting
Inventory management & operations
Sales & service
Business intelligence & reporting
Human resources and payroll
What's special about this tool: Microsoft Dynamics also has a new fresher solution Dynamics 365, which has a subscription-based licensing. Dynamics DP provides a lot more flexibility, but do not expect for cutting-edge features.
Pricing: Per request (Dynamics 365 starts from $40 user/month)
13. Oracle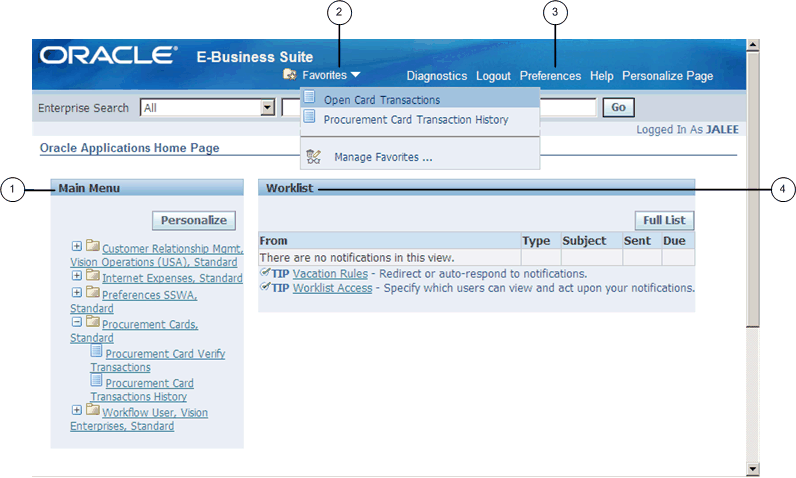 Oracle is a comprehensive suite of connected cloud applications which deliver functionality, analytics, security, mobile capabilities, and social collaboration. Oracle has various products with different focuses.
Top focuses:
Human Capital Management
Enterprise Resource Planning (ERP)
Customer Experience
Supply Chain Management
Enterprise Performance Management
What's special about this tool: Oracle is the type of a solution provider who wants to have it all. It might be overwhelming and confusing to differentiate all the products and features Oracle provides, but you can be sure you'll finally find everything your business needs.
Pricing: Per request
---
Which business management solutions are you using to support your business? Share your experience in the comment section.