Work management
12 Best Business Intelligence Tools for Small Businesses in 2023
Today, we all have access to data, and growing businesses can't afford to make decisions on incomplete information and gut-feeling. But data alone isn't enough – we need a way to turn data into insight. That's why every business needs a business intelligence tool.
But what are business intelligence tools? Business intelligence tools are used to access and analyze sets of data and present findings to provide users with a detailed overview of the state of the business.
What are business intelligence tools?
Business intelligence tools enable business leaders to make more informed business decisions by eliminating as much of the guesswork and gut-feeling from the decision-making process as possible. BI tools offer a complete overview of data by bringing all the collected data into a single unified view allowing managers to get a complete overview.
What features to look for in business intelligence tools?
There are so many options to choose from – from basic reporting tools to much more comprehensive solutions, to business management software that has some BI capabilities. Regardless of your choice, there are some key features you are likely to need:
Data collection, analysis and visualization
Reports and customizable dashboards
Predictive analytics
Integration with other tools
User security
Choosing the right business intelligence tool
Even though there are lots of options out there, choosing the perfect business intelligence tools is not easy. If you're looking for the best business intelligence tool for your company, we've made it easier for you by analyzing the best solutions available on the market and reviewing the 11 best ones so you can make an informed choice quicker.
Have a look at the best business intelligence tools and check out their top features and pricing so that you can find the best fit for your business.
1. Scoro
Scoro is more than a business intelligence tool – it helps to manage not just your data but your entire company in one place. With an all-in-one solution to manage your sales and customers, plan your team's time and projects, and keep track of your business results, you can set your business up for success.
Top Features
Real-time KPI dashboard
A full overview of your projects, clients and finances
Integration with a wide range of business tools
Automated reporting
What's special about this tool: Scoro's highly customizable KPI dashboard gives you a real-time overview of every aspect of your work, and automated reporting allows you to grow your business with actionable insights.
Pricing: Starting from $26 user/month
2. Dundas BI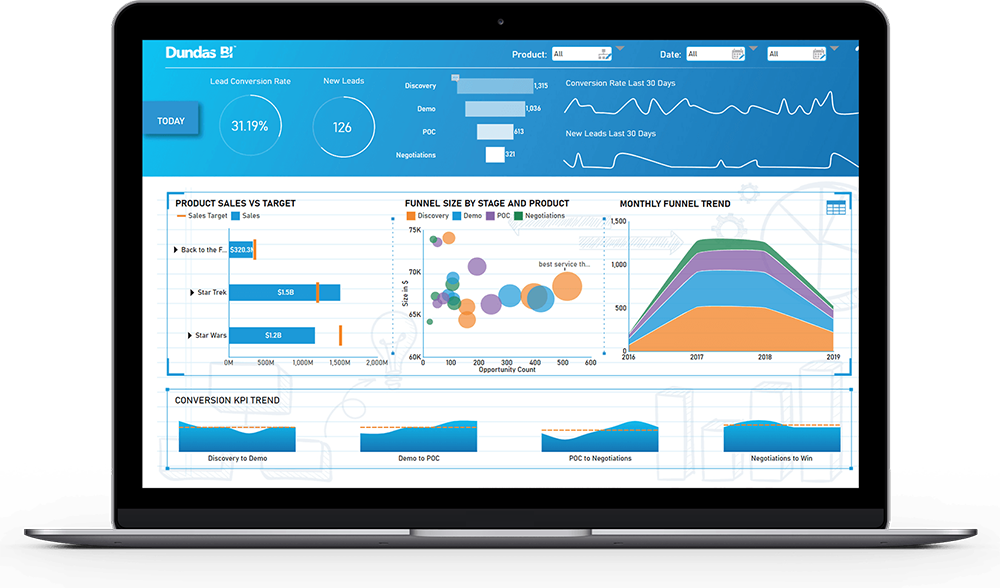 Dundas BI is an end-to-end business intelligence platform that empowers businesses to analyze and visualize data. With Dundas, you can quickly transform raw data into actionable insight in the form of dashboards, reports and visual data analytics. Further, it integrates into existing systems, administration and web portals for white-labelled access to data from within your applications.
Top Features
Drag and drop tools
Real-time data analysis
Personalization of reports and visualizations
Integrates data from numerous sources
What's interesting about this tool: Dundas BI platform has an open API across the entire platform, enabling users to connect and integrate with any data source.
Pricing: Free 25-day trial, price quote available on request
3. Microsoft Power BI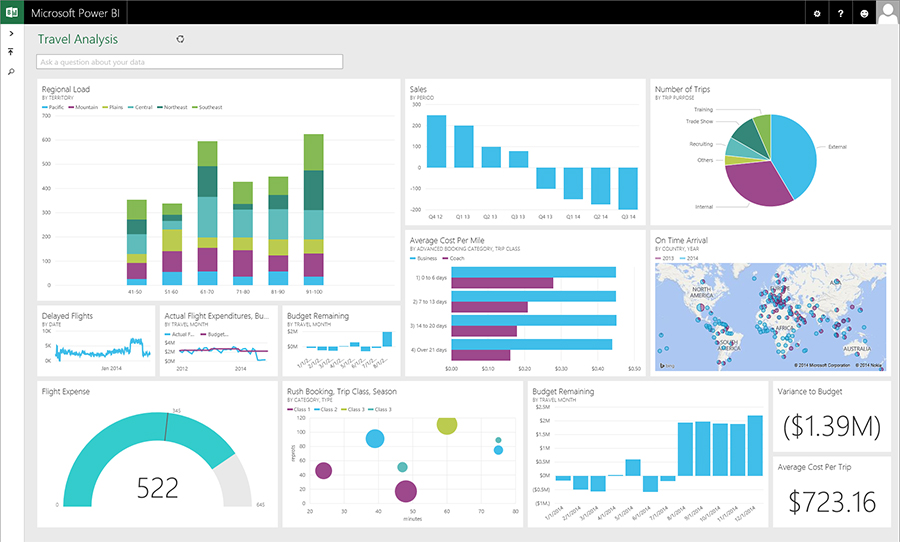 Created by software behemoth Microsoft, this web-based business intelligence tool focuses on business analytics. Microsoft Power BI offers three distinct products that provide increasing levels of service. It enables you to transform, explore, and analyze data, both on-premise and in the cloud.
Top Features
Collects information in a centralized cloud location
Allows access on web and mobile devices
Creates real-time visualizations
Capability to export reports and collaborate with other users
What's interesting about this tool: You can easily connect Microsoft Power BI to your own data sources and benefit from real-time analytics.
Pricing: Free trial available, paid plans from $9.99 per user per month
4. Sisense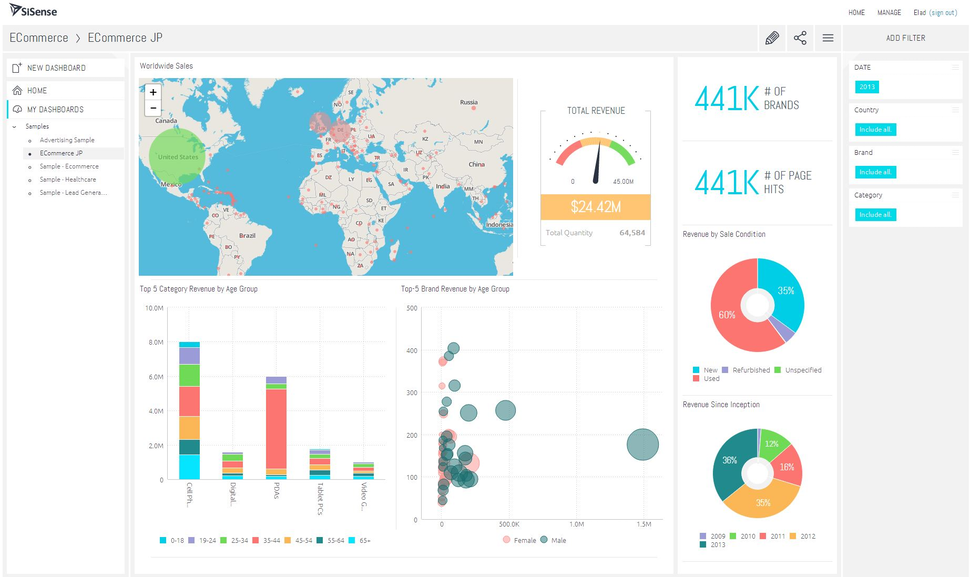 A business intelligence tool that does a good job at simplifying data analysis, Sisense incorporates AI to create analytic apps that users can embed anywhere. The platform can integrate data from a wide variety of sources and requires no specialized user training. Users can get real-time data feeds to create intuitive dashboards and reports.
Top Features
Ad hoc reporting
Interactive business intelligence dashboard
Big Data Services
Data Transformation and Modelling
What's interesting about this tool: Sisense is one of the few business intelligence tools that uses AI to create analytics.
Pricing: Free trial available, paid plans available on request
5. MicroStrategy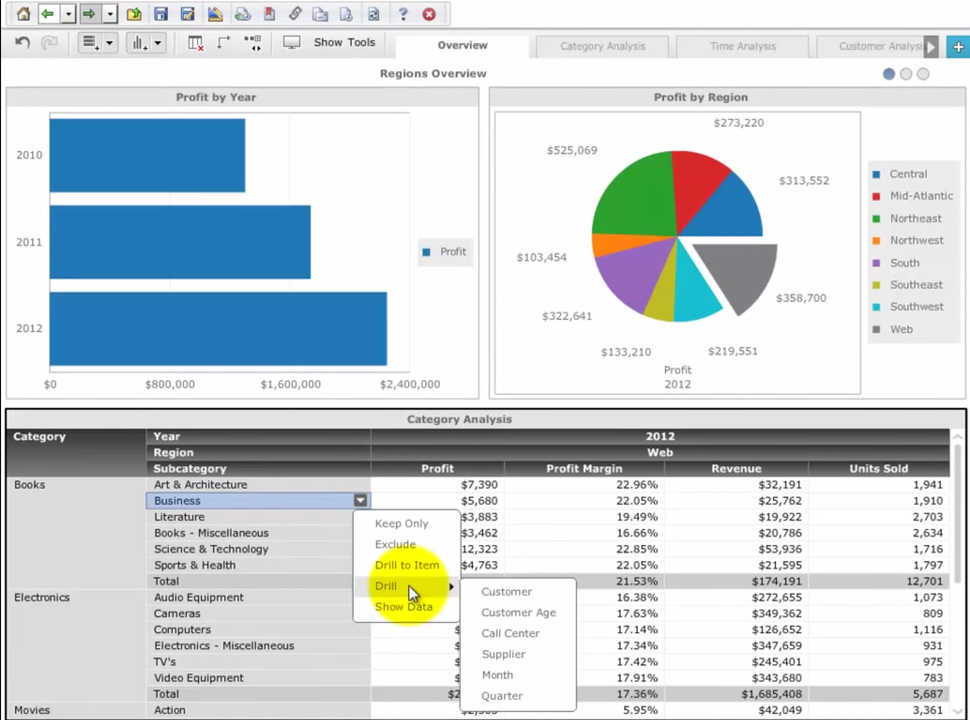 MicroStrategy is an enterprise analytics software that helps small businesses make better decisions and improve their workflow. It offers a multi-functional dashboard, big data solutions, and advanced analytics. With this business intelligence tool, you can easily visualize your data and access location-based analytics.
Top Features
Predictive analysis
Big data solutions
Multi-functional dashboard
Location-based analytics
What's interesting about this tool: MicroStrategy supports both data mining and visualization.
Pricing: Available on request
6. Zoho Analytics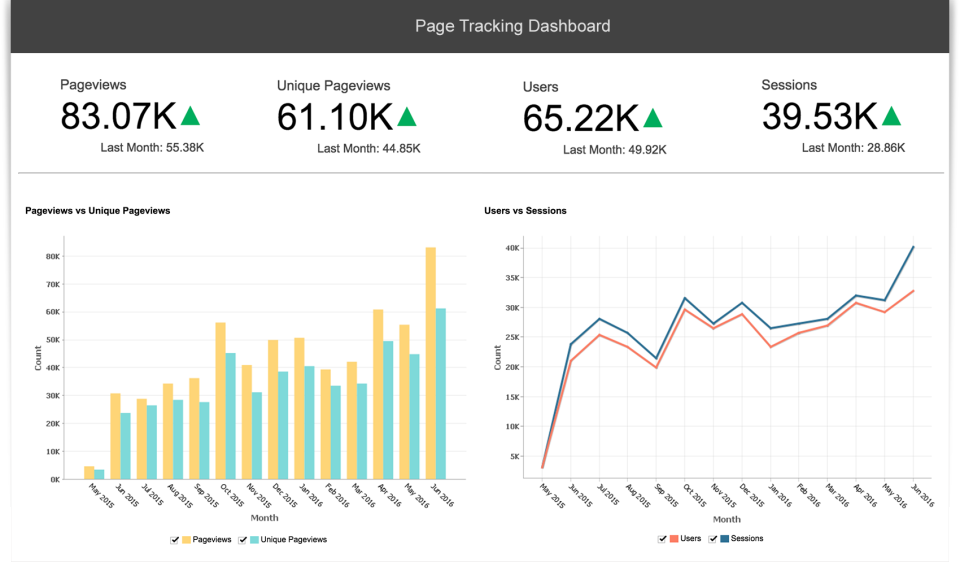 Zoho is a well-known name in the world of web-based business tools, with Zoho Office being a household name. Zoho Analytics has a similarly visually attractive dashboard and supports the collection of data from multiple sources. Users can easily blend the data via a simple online interface and export the results to multiple ecosystems, including Zoho, of course, but also Google Drive, DropBox, and Quickbooks, to name but a few.
Top Features
Multiple visualization options
Unified analytics system
Easy integration with multiple tools and databases
Easy to use
What's interesting about this tool: Zoho Analytics does an excellent job at creating interactive dashboards where data is represented visually. One of the best business intelligence tools for Mac users.
Pricing: Free trial available, paid plans from $22 month + $8 for every additional user
Read on: Supercharging Scoro with Machine Learning
7. Halo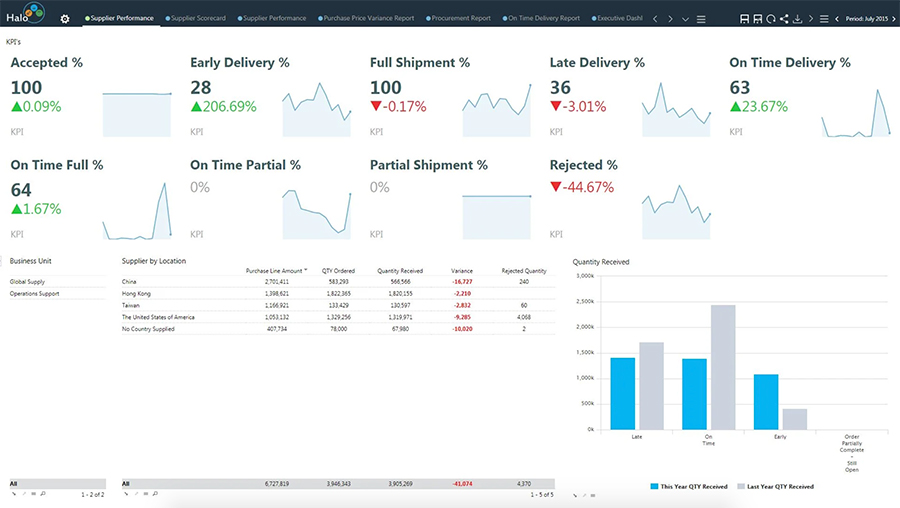 Halo is a business intelligence tool that allows you to combine automated data processes with manual data manipulation for custom results. It offers automated data integration, supply chain analytics, and visualization in a single solution, making it a suitable option for supply-chain management.
Top Features
Intuitive interface
Collaborative mode for sharing and archiving discussions
Customizable self-service dashboard
Customer and supplier management
What's interesting about this tool: Halo has a highly intuitive interface and allows multiple users to collaborate in real time.
Pricing: Halo operates on a quote-based plan, so prices available on request.
8. Oracle BI

Another great business intelligence solution, Oracle allows users to uncover new insight and make faster, more informed business decisions. The tool has various BI capabilities, including mining data, sending alerts, and more.
Top Features
Easy to use collaborative workplace
In-depth insights
Agile data discovery
Easy access to data analytics
What's interesting about this tool: Oracle uses the Common Enterprise Model for calculations and business analytics.
Pricing: Available on request
9. SeekTable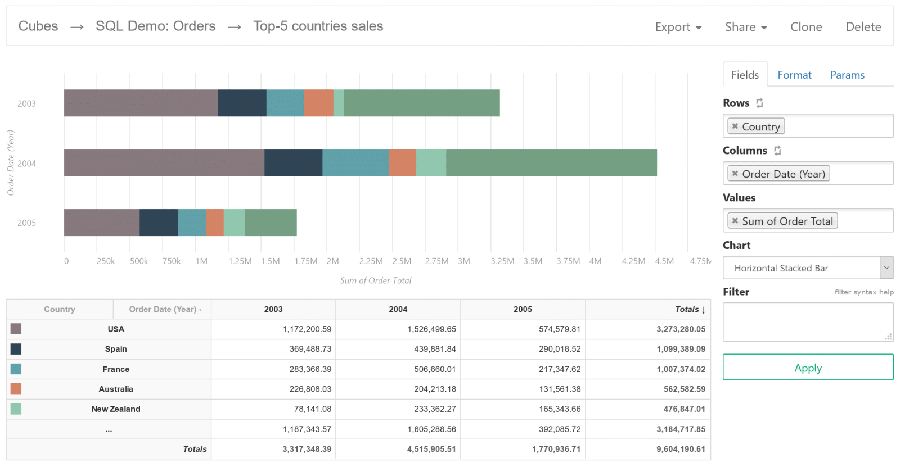 Ideal for start-ups and small companies, SeekTable allows users to leverage data-driven decisions and reap the benefits of a comprehensive tool. With this business intelligence tool, you can perform ad-hoc analysis of all your business data collected from multiple sources.
Top Features
Allows data restriction
Generates live reports
Interactive reports with sorting and filters
Calculates percentages and running totals
What's interesting about this tool: SeekTable offers data analytics and operational reporting while also allowing you to get quick access to user-friendly reports.
Pricing: Starting from $25 per month
Read on: How to Implement Business Intelligence
10. Tableau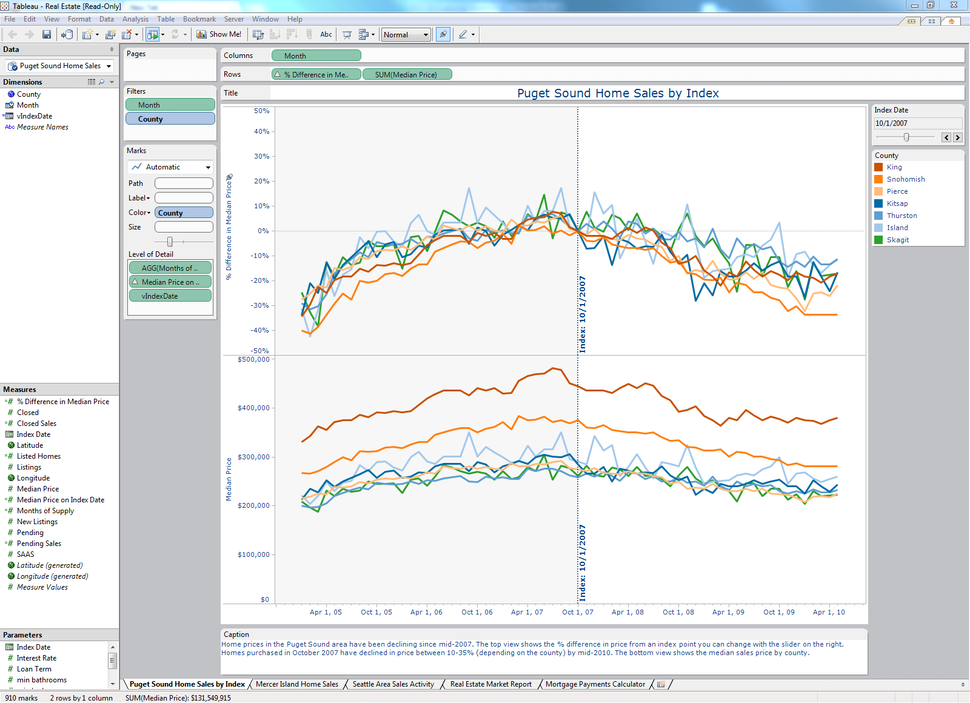 One of the most visually slick business intelligence tools, Tableau is a good option for small businesses that are interested in live visual analytics. This tool has a highly intuitive interface featuring drag-and-drop buttons that allow users to spot trends immediately.
Top Features
Supports mobile BI strategy
In-memory architecture for data visualization and exploration
Easy to integrate with Microsoft SharePoint
One-click reporting
What's interesting about this tool: Tableau is a business intelligence tool that's easy to use even without any previous training.
Pricing: Free trial available, paid plans from $70 per month
11. GROW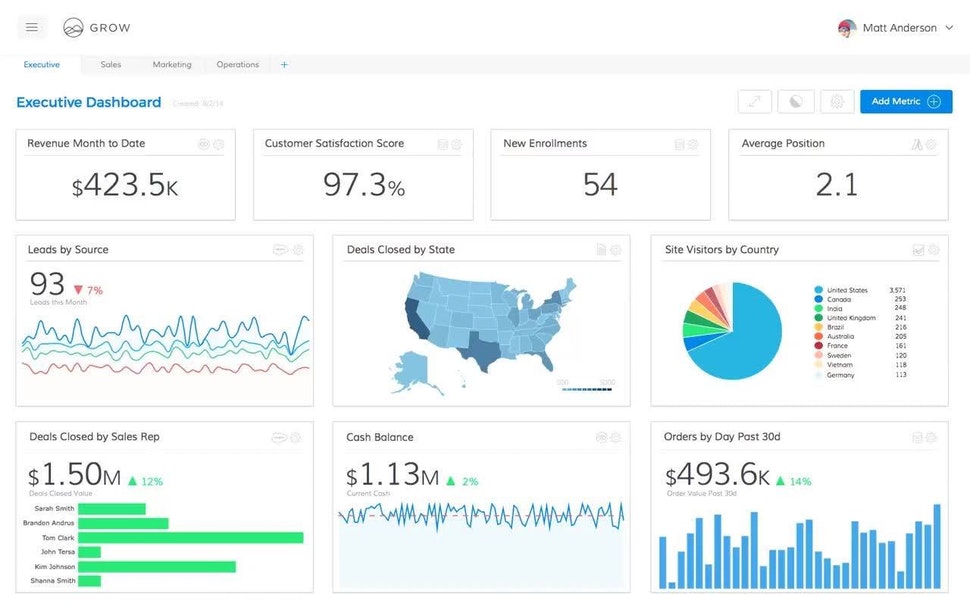 A cloud-based business intelligence tool that provides analytics and reporting solutions for small and mid-size businesses, GROW allows users to pull data from a wide range of sources. It connects with Dropbox, Salesforce, Twitter, Google Analytics, and hundreds of other sources.
Top Features
Allows data extraction from over 115 sources
Highly intuitive UI
Dashboards with various data visualization elements
What's interesting about this tool: With GROW, you can import all your advertising data from social media platforms such as Facebook, Twitter, LinkedIn and more to optimize your marketing budget.
Pricing: Free trial available, pricing for paid plans available on request
12. Datapine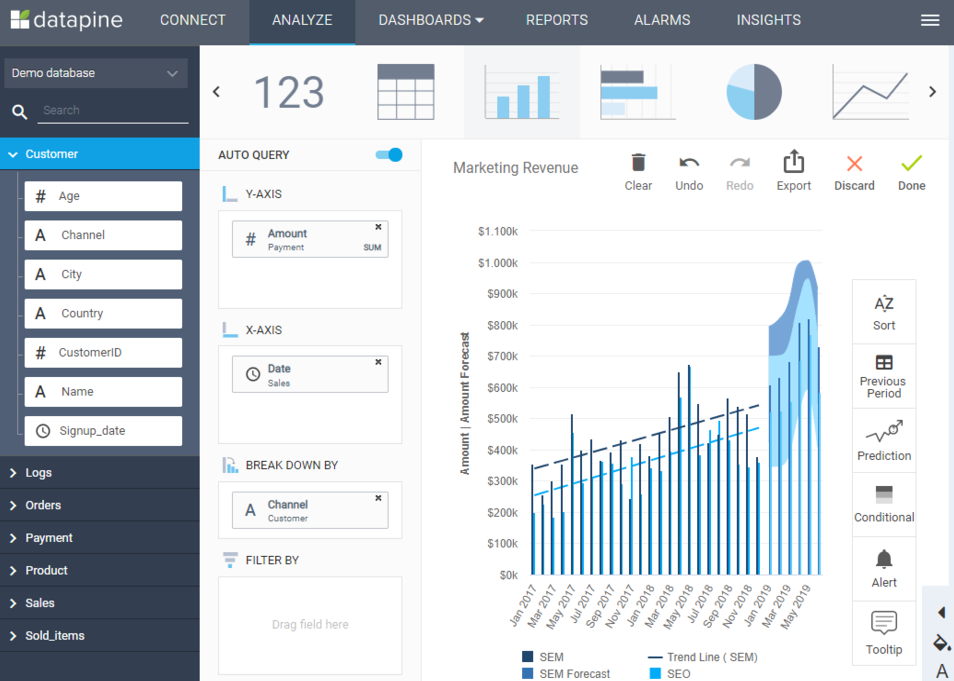 Datapine is an interactive BI SaaS tool enabling companies to make decisions based on data by visualizing any number of key metrics at any one time.
Top features:
Versatile filters
Multiple data visualization modes
Mobile optimization
Ad-hoc data source queries
What's unique about it: Datapine offers fast and efficient connections to multiple data sources, incorporating predictive analytics and insightful data alarms based on customizable triggers.
Pricing: Free 14-day trial, paid plans from $249 per month (1 user)
Everything about your business, one click away
About Scoro
Scoro is an all-in-one business management software. It enables companies to control and monitor their entire workflow from one place, so they can streamline work and eliminate routine tasks. The chart-topping scores from users also reinforce that Scoro provides the tools users need to ensure every business runs as smoothly and efficiently as possible.
To find out more about Scoro, take a tour of the platform with a 14-day free trial.