Work management
The Unexpected Benefits of Team Management Software
THE BEST team management software enhances collaboration and helps to coordinate everyone's work. It's also a tool for managing everyone's tasks, scheduling work and meetings, and collecting data about completed activities.
Depending on the size of your team and the nature of your work, you need multiple software features to enhance the teamwork and store important data on your projects and events.
Keep reading to learn how to build stronger teams by using team management software. We'll look into the core features of the best project and team software and explain how these tools guarantee successful team collaboration and give project managers and business leaders a complete overview of their team's work.
We're going to cover the following topics:
Agile task management
Task reporting
Calendar and scheduling
Collaboration and team communication
Project management
Reporting and analysis
+
Additional features that make teamwork super manageable
1. Agile task management
Without comprehensive task management software, your team loses valuable time because of low work efficiency.
Moreover, you have no means to oversee your completed work for assessing your team's performance or billing customers for completed work (an important feature for agencies).
To-do lists
Most team management software solutions include an interactive task list where you can add all your upcoming tasks and be reminded of upcoming deadlines. You can prioritize tasks and have your to-do list right under your eyes every day when going to work.
Delegating tasks
As a team manager, you want to assign and delegate tasks to your team members. Task management tools let you do that at a moment's notice, also notifying the other party that they've been assigned a new task.

Shared tasks
Some task management tools enable creating shared tasks. This means that when a team member inserts a new task to their to-do list, they can also assign it to colleagues. The task will pop up on everyone's task list, and they can work on it together. Shared to-do lists and tasks enhance team collaboration by reminding everyone of their responsibilities.
Read more: Management Software For Maximizing Team Productivity
Time Tracker
Use a time tracker to measure the time spent on your activities to know where your team's time is mainly focused. While some team software includes a time tracker, there are others that need to be integrated with time tracking software such as Toggl.
By measuring the time worked, you'll get thorough task reports showing the activity types that you've spent the most time on, giving you a complete overview of your team's work. When working in an agency, tracking billable time is even more important for your team.
Read on: Top Team Collaboration Mistakes, And How You Can Avoid Them
Let's see how task management in team software works.
Sarah creates a new task
She sets the deadline and priority level (high importance)
Sarah assigns the task to herself and Michael as they need to work on it together
Michael receives a notification about the new task, and it appears on his to-do list as well
Sarah and Michael finish the task. They make a time entry to show how much time they spent doing it and mark it done. If they've been using a time tracker, the time and completed task will automatically appear in their work reports.
The completed task disappears from their task list, and they can now see it in their work reports. (see part 2 to learn more about work reports)
If your team management software also includes customer and project management features, you can link tasks with a customer profile or a project. This means that you can see and manage related tasks in the project view or measure the time worked for a specific customer.
2. Task reporting
You don't just want to mark your completed tasks done and have them disappear, right? If a to-do list is all your team needs, you can buy a simple app from the App Store.
The best work management software gives you effective tools and detailed reports for achieving complete control over your team's work.
Summary of your team's work
Not only does a task management tool outline all your upcoming tasks, but it also gives an overview of your completed work. To know how much time was spent on a certain activity type (such as sales, marketing or accounting), you're going to need detailed task reports.
Task reports
A comprehensive task report shows you how every team member has spent their time and what assignments have been completed. You'll also see how much time you've spent working for a customer or on a project. If you're billing the client on an hourly basis, task reporting is a must-have for your team.
Detailed reporting for more insight
All reports are based on data. The more detailed is the information you collect about your teamwork, the more insight you'll have. When looking for team management software, choose one that enables collecting a large variety of data such as completed tasks, time spent, past events and related project and customer data.
To collect all the necessary information,  your team needs to fill in the information about their work as accurately as possible. While it may be difficult to persuade everyone to adapt to the new software and start using it to its full potential, there are many techniques for convincing your team. Read the guide to generating high user acceptance for new software.
3. Shared calendar and event scheduling
The best team management solutions always include a shared calendar. You can use a team calendar to schedule team meetings and other collective events. Also, team members can schedule meetings with their customers and business partners.
There are multiple benefits of having a calendar that's part of your team management software.
Scheduling meetings
For example, all the time spent on meetings and events can also be saved to the system for accurate work reporting. Furthermore, you'll always know when your team members are away from the office, making it easier to schedule meetings for a time that's suitable for everyone.
Booking resources
In some offices, there are only a few meeting rooms that are often over-booked. If you want to enable booking the meeting rooms in advance, look for team management software with a calendar that enables booking various resources, including rooms in your office.
Automated meeting scheduling
For teams working with customers, another important calendar feature is the automated scheduling tool. Instead of lengthy email correspondence with the customer you need to meet with, you can find a mutually suitable meeting time in a few clicks.
Whenever you want to propose several meeting times to a customer, you can simply select multiple time slots from your calendar. Your meeting invitation with proposed times will be automatically forwarded to the customer who can then choose a suitable time among the ones you've suggested. After confirming the meeting time, you both receive a confirmation email, and the event will be added to both of your calendars.
Now that you're aware of all the possible calendar features make sure to inquire about these. Also, check that the software integrates with popular calendar apps such as Google Calendar and iCal so that your team members can continue using their favorite calendar tools.
INFOGRAPHIC: Why Your Teamwork Isn't Working
4. Collaboration and team communication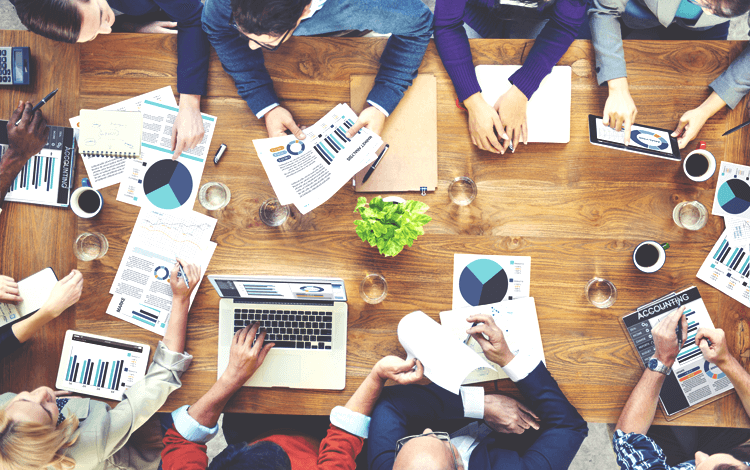 Messaging tool
Some team management software includes a built-in messaging app. While it's nice to have everything in one system, it might be worth considering a more powerful team messaging tool to complement your team software.
Try finding a better tool for team messaging than Slack. It's completely impossible, right? Don't consider the messaging app to be a must-have when looking for team management software. You can always find more comprehensive and agile communication channels for your team.
Every team collaboration and the messaging tool should at least facilitate communicating with your teammates and enable sharing links and files.
File sharing
Moreover, you can enhance your team collaboration by making important files and project information accessible in a few clicks. Avoid using Excel spreadsheets when it comes to storing your data. Instead, use a comprehensive system to manage all your tasks, projects, customers and budgets.
By managing every important aspect of your business in one system, you ensure that all your data is quickly accessible. Having all important information in one place is a great way to enhance collaboration as everyone has access to the data they need for their work.
Some team management software enables setting access rights to make parts of your data (like budget and expenses) accessible to only certain team members.
Team Dashboard
If possible, choose a team management solution that enables creating team dashboards that all team members have access to. Add graphs, charts, visual metrics and key performance indicators (KPIs) to the dashboard to have an instant overview of your team's and projects' performance.
A team dashboard can serve as a project KPI report and is the perfect tool to use during meetings. You can present your tracked metrics and compare real-time results to the planned schedule. All team members can see the projects' progress and consider new ways to make the teamwork more efficient.
Furthermore, viewing the KPI dashboard provides a quick overview of whether the team is reaching their goals, leading to more informed decision-making.
5. Project management and task scheduling
Successful team management is all about planning, controlling and evaluating your team's work.
Companies frequently consist of multiple project teams. As a project manager, you want to have a complete overview of everyone's upcoming events and tasks or attended events. Moreover, you need tools for evaluating your team and project performance.
The best team management software has many features similar to online project management software.
We already mentioned the basics of task and time management in parts 1 and 2. Now it's time to have a look at more comprehensive work scheduling tools.
Project planning & work scheduling
To oversee your team's work schedule, you need a project planning feature. The planning tool enables you to outline all your team's scheduled work hour by hour, and you can assign new tasks for vacant time slots.
Here's how project planning software can enhance your team's work planning and management:
Time slot view gives an overview of how many hours and tasks have been booked for each team member, showing the unscheduled time slots
You'll get insight to whom assign new tasks in the next step of a project
A quick overview of everyone's tasks and unscheduled time helps to set realistic deadlines and to avoid overbooking people
Whenever an urgent task needs to be prioritized, you can move other tasks ahead and make room for these high-priority ones
If one team member finishes their task ahead of the planned schedule, you can assign them further responsibilities if necessary.
You'll end up with a more organized and productive team
Project deadlines
The easiest way to track your goals and milestones with team management software is to set deadlines for your tasks and projects. Also, you can break a large task into small steps so that it's easier to keep track of its progress and add a deadline for every step of a lengthy project.
6. Reporting and a real-time overview of your team's work
To have a sufficient overview of your team's work and progress, you need two software features – reporting and KPI dashboard.
Task reports
The best team management software includes reporting tools that collect your previously inserted work data and let you create task reports. These reports give you an overview of all the completed work and your team member's performance.
As you have already gathered a large set of data to your team management tool, you can create new reports anytime and apply customizable categories and settings to organize the data on your graphs and charts.
Some team management tools also give you reports on your team's budget and expenses. Read part 7 to learn more about budgeting with team software.
KPI dashboard
The quickest way to keep track of your team performance is to create a team manager's dashboard. A well-designed online dashboard showcases important metrics and graphs for an instant overview of your teamwork's progress.
You can use a separate tool to create KPI dashboards or search for team management software that includes this helpful feature.
See this guide to learn everything about creating KPI reports.
Now that we've covered all the essential features of efficient team management software let's have a look at some additional tool that empowers teamwork even further.
Additional features that make teamwork super manageable
7. Resource management
Although time is your team's most valuable resource, there are other resources that need to be managed.
A great team management tool includes tools for office space and device management. The team leader can outline all the scheduled and planned resources and quickly calculate the cost of their use. Team members can schedule and book meeting rooms and materials necessary for their work.
Resource management helps to avoid the over-assignment of office rooms or possible conflicts for lacking resources. You'll instantly notice when a resource is over-used and will be able to limit its use or set new guidelines for its exploitation.
Later, you can include all the used resources to your team reports for a complete overview of the team budget and past expenses. When billing a customer for completed work, you can also add the cost of used resources for automated invoicing.
8. Accurate budget and expense tracking
As a team manager, you need to manage project budgets and ensure that expenses don't exceed the budget. For efficient expense management, an Excel spreadsheet is not an option.
The basis of accurate and detailed budgeting is accurate data. That's why you need your team to insert all the information about completed work and used resources.
Comprehensive team software with features for managing all your business processes ensures that all your data is stored in one place. When managing large teams, you can save hours by avoiding importing the data from one tool to another.
Budgeting and expense tracking
Budgeting software gives you weekly and monthly reports on your expenses, expenditures, and totals. You'll be able to oversee all the expenses, notice when a project goes over budget and plan for the future.
Financial data on an interactive dashboard
For an instant overview of team or project budget performance, create financial analysis reports and add these to an online dashboard for quick access. To share your financials dashboard with some team members, give them access rights to chosen financial data.
As mentioned before, it's incredibly useful to have the dashboard feature included in the team management software. All the data will be automatically updated, and you get a real-time overview of every important metric and graph.
Integrations with accounting software
Some team management software such as Scoro enables integrations with accounting software. You can have all your financial data linked to projects and customer profiles and get more accurate budget reports, without the need of manually exporting and importing your data.
9. Automated invoicing
If you're running an agency, you also need to be aware of your team's actual and billable hours, sent invoices and incoming payments. Sometimes, creative project management software includes time billing and budgeting tools that help to invoice customers more efficiently.
Read about time billing software and learn how to find the right one for your team.
Let's have a quick overview of what you can do with time billing or invoicing software:
Track both the actual and billable time spent on tasks
Use this data to compile invoices
Standardize all invoices by using customizable PDF templates
Schedule weekly or monthly invoices to have these automatically compiled and forwarded to your customers
Automate email reminders for overdue bills and spend less time emailing your clients
Have a complete overview of sent, paid and overdue invoices
Get more accurate budget reports with forecasts based on due and scheduled invoices
Having your billing process integrated with team management software creates a quick data exchange between these tools and you don't need to enter any data manually. All your team's completed work is processed according to preset hourly rates and the billable sum is automatically calculated and forwarded to customers as an invoice.
10. Integrations
Team management software is all about empowering collaboration. Integrating multiple software solutions creates a real-time data flow and helps to avoid time-consuming double data entry.
By using professional services automation (PSA) and software integrations, all your business departments have access to the necessary information. As a result, there's less need to ask other project teams or departments for specific data.
The best team management software can be integrated with project management, time billing, accounting and customer relationship management software. It's even better if you can find one software solution that covers all these features – you'll have all the information in one system without the need of setting up integrations.
If you'd like to integrate your currently used tools with the team management software, ensure that the software provider offers all the required help to integrate your tools.
Comprehensive software solutions and additional integrations help you build stronger teams as you have all your important data gathered in one place. This way, everyone has access to all the information they need for efficient work.
As you can see, there are many software features that help to enhance collaboration and build stronger teams. The best team software includes all the tools required for efficient task and resource management, event scheduling, team communication, storing files, customer management, budgeting and invoicing.
By collecting all your work data, you get more insight into your teamwork's progress. Moreover, you get detailed reports on multiple facets of your business, leading to more informed decision-making.
When searching for team management software that's suitable for your team, follow the guide to finding new software and consider all the important aspects before making your decision.
Everything about your business, one click away