How Control Hub Software Helps Businesses to Thrive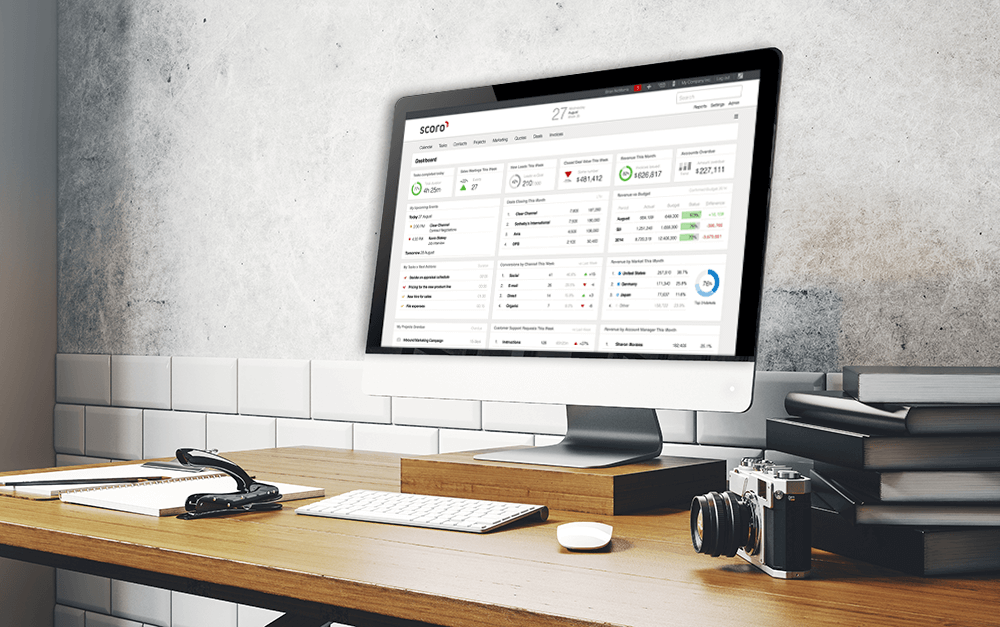 Control hub is a software solution that encompasses all core business processes of an organization in one system. It works as an information collector and reporter for companies of all sizes. The closest solutions to control hub are business automation and business suite software.
By managing all business processes from sales to accounting in one control hub, you'll gather all the data into one interactive system that's accessible anytime and anywhere.
Bet you're still managing some of these tasks on an error-prone Excel spreadsheet or with a poorly performing online tool: (you shouldn't)

development & project management
time management & calendar
sales and CRM
time tracking and work reporting
budget, invoice, and expense management
accounting and financial reporting
product and warehouse management
operations and logistics management
Instead of managing every business with a separate tool or on a spreadsheet, use a control hub to manage all business processes and build an information network of all your company's operating departments. As a result, the company-wide information exchange becomes incredibly quick and almost invisible.
As you manage everything from sales to expenses in one system, your data is collected into the very same system as well. The idea of documenting and storing all business data in one system is to get thorough reporting on the company's performance.
You'll get a complete overview of your firm's performance and can notice the reasons behind success or failure. All your data is accessible in one place, and you can share it with multiple business departments.
Let's have a closer look at the core features and benefits of business control hub that becomes an exceptionally powerful tool in the hands of any business executive.
1. All business data is accessible in one place
The most remarkable benefit of an integrated business solution such as control hub software, is its ability to track, manage and gather all the company's data.
Imagine every bit of information about your company's sales, finances, products and orders, resources, projects, events and tasks accessible in one centralized database. You would always have a perfect overview of your company's performance and access relevant business data without the struggle of finding it.
The business hub provides tools for implementing all important business processes and executive procedures. It includes tools for CRM, team management, expense management, time billing, project management, executive level management and much more. Your team can work in one system and integrate other tools they like to use for automated data flow.
For example, a company can use the control hub for task, and project management while integrating the system with its accounting and CRM (customer relationship management) software. The control hub collects data from other tools and establishes a quick information exchange between business departments.
As all the important data is collected into the company's control hub, nobody stays in the dark or is required to ask their colleagues for information. Your business becomes more transparent while user access rights help to control who has access to specific information.
2. Efficient connections between all business operations
Another benefit of managing all business operations with one system is its ability to build links between various data. Giving you a complete understanding of how certain activities influence your budget or sales results.
For example, link your marketing and customer relationship management and assess data about lead sources while looking at your client list. Or link your completed tasks to projects for efficient invoicing for billable work and project costs.
A business control hub builds links between multiple business processes, leading to detailed reporting, automated billing and high sales results.

Whenever you're making a new data entry to the control hub, it presents you optional fields to link the data entry to projects, users, clients, resources, etc. You don't always have to enter the data manually; some information can be gathered automatically with the help of pre-designed integrations. Also, the information on a client profile is frequently updated to reflect the progress of sales process.
Read more about the benefits of business automation.
By creating links between multiple activities and data, you'll have a complete understanding of how one activity connects to others. Moreover, you can access information more quickly by leveraging an automated information network.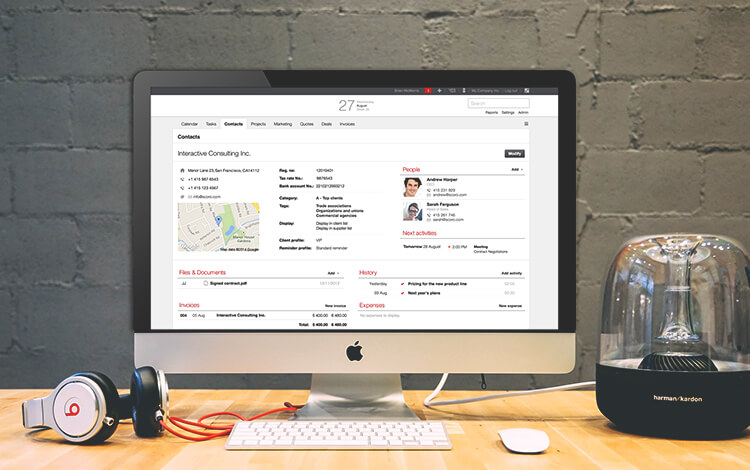 3. Unique reporting capabilities
The benefits of managing all your business processes and important data in one system do not end here. Control hub software combines your data into thorough reports and insightful KPIs.
All your information can be transformed into visual reports, charts and graphs that you can customize to your liking, including the exact data you need. As a result, you'll have a complete overview of your company's work, sales or financial performance.
For example, view sales reports, including the number of new leads and paying customers, the average customer lifetime value, conversion rate and expected income/expenses related to recent acquisitions. See the list ofsales KPIs that every executive can monitor.
Or how about a report on your company's budget? Business control hub can synchronize data with accounting software and link it to project costs or time spent on meetings. In addition to traditional financial reports, you can compare these with sales or marketing results to see what causes decline or growth in your earnings.
By keeping track of everyone's workflow and tracking time spent on tasks, you get thorough team reports, showing how much time was spent on certain activities. Tag all activities with categories to see how much time is spent on marketing, sales, HR, accounting, management, etc.
Of course, there's the possibility to analyze only one business process at a time. But building connections and examining the links between multiple processes creates a whole new awareness of your company's performance.
With control hub software, you get insanely thorough reporting on every business process and are able to see the reasons behind success and failure.
4. Know everything in a few clicks
A business control hub lets you visualize all the data, KPIs and reports on multiple dashboards, making all important metrics and information accessible at a click of a button.
The leading all-in-one business solutions let you create a countless number of highly customizable metrics for KPI reports. These metrics can be added to the control hub's manager dashboard. By clicking on metrics and widgets, the user will be directed to pages with more information.
By adding metrics, graphs, calendar events and lists of tasks, quotes, invoices etc. to the dashboard, you can customize it to show exactly the information you'd like monitor. You can create a sales dashboard with customer acquisition metrics. Or use an executive dashboard that reflects on your company's long-term growth.
For example, your dashboard could include project KPIs, new leads, budget, current orders and the work completed by business departments. But you can also add widgets showing your scheduled meetings, task list and recent contacts.
Read more about KPIs and building an informative KPI tracking dashboard.
As the system manages all the company data, it updates the metrics and widgets on your dashboard in real time, providing the latest information. You're able to access information quickly and notice when something needs closer attention.
An extremely customizable executive dashboard gives a quick overview of your company's performance and makes important data accessible on a click of a button.
Every team member can create their personal KPI dashboard, showing exactly the information that they need to be informed and work efficiently. Managers use executive dashboards to get a quick overview of their department's performance and make informed decisions.
5. No boundaries on what and how you can track

The best business management software set no restrictions on the nature of data collected. It completely depends on a company's needs and preferences to decide what information to collect and which tools to integrate.
Some businesses continuously deliver projects to customers and bill them on a timely basis. In this case, it's important to track time spent on project tasks and manage invoices. The control hub acts as time billing software and lets you compile invoices in a few clicks as all your customer and work data is already in the system.
A B2B company might want to track and manage their leads and create a sales pipeline. Business control hub provides tools for efficient pipeline management and prospecting.

You can create detailed client profiles that are linked with your calendar, marketing tools, inbox, and budgeting. This way, you have a complete overview of who's been contacted and when, where they stand in your sales funnel and what's the expected revenue.
Business control hub lets you add additional categories and information fields to tasks, projects, customers, invoices, etc. to mark particular information that's essential for your company. For example, a list of clients can be filtered by language, lead source, size or place in the sales funnel.
It's up to you to choose which information to collect and how to analyze it. Detailed data can be easily filtered so that you can create reports based on the exact information you need. You can filter and bookmark views and add these to your dashboard for quick access.
The general idea behind the Business Control Hub concept is to keep track of all information and processes you need to manage. It unites business departments to a well-connected network of information, giving a complete overview of your business performance.
The Verdict:

Having all the information accessible in one centralized control hub will enhance the way you work and will make a huge difference in our daily business management.
Instead of using multiple tools for sales, marketing, accounting and project management, bring these to your control hub. Or integrate your currently used tools to synchronize all relevant information and access it in one system with a remarkable reporting capacity.
Where can I get a business control hub?

As previously mentioned, Business Control Hub is a relatively new concept. There aren't many all-inclusive business management solution providers in the market. You can always buy an expensive business suite that includes tools for managing every single business process. If that's too expensive for your company, try Scoro – the control hub for businesses of all sizes.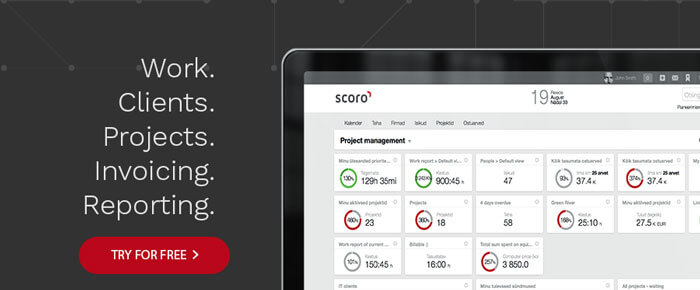 Like this?
Get the best tips, hacks, and tricks delivered to your inbox once a week.
This seems to be an invalid email address
One more thing! You will soon receive a subscription confirmation email. Please open it and confirm.