Work management
8 Alternative Agile Development Tools to Jira
Since its release nearly two decades ago, Jira has always been a firm favorite among software companies. Developed by Atlassian, the agile project management tool is currently used by over 70,000 teams worldwide. It has definitely made its mark and helped shape the entire development sector over the years.
However, in recent times Jira has become increasingly unpopular with the teams who were once all too happy to sing its praises from the rooftops. Here, we'll look at why that change has come about and what other agile development tools are out there.
Why Jira isn't for every team
Software teams have started struggling with Jira for several reasons. For starters, teams don't just want to use a tool that is simply functional – they want a project management tool that is speedy and efficient whilst also being developer-friendly.
Sadly, businesses have started to feel that Jira often fails on both counts – with people finding its interface too confusing and difficult to grasp and requiring a great deal of configuration in advance of actually using it in the first place.
Many balk at its price tag, as well as the limited functionality of its more affordable subscription plans. Others have voiced concern over the lack of support it provides for multiple assignees.
Further, beyond its task board layout, it also leaves many users without an easy way to collaborate and communicate within the program itself. What's more, regardless of the scope of the dev project you're managing in Jira, there are no easy ways to visualize progress, all of which could leave your team up the creek without a paddle.
But never fear – there are plenty of alternative agile development tools on the market for you to choose from that allow for easier collaboration across your team, track features, and, most importantly, prioritize your development work. Read on for our list of the best Jira alternatives.
1. Scoro
Scoro is a work management software that enables you to stay on top of every aspect of your business, all in one place. It offers a range of features that Jira doesn't – such as help with work management, budgeting, quoting, and time planning – making it suitable for every team in your business, not just your developers.
With Scoro, you also get a 360-degree overview of any project via a single dashboard, covering everything from invoices and expenses to leaving comments and uploading files for other teams. You can also receive real-time financial reports on sales, orders, and quotes, giving you a complete overview of your workflow over a longer period.
Top features:
Projects with sub-tasks and deadlines
Real-time KPI dashboard
Shared team calendar & meeting scheduling
Contact management
Time tracking and billing for work
Quoting and invoicing
See our Features page for Scoro's full capabilities!
Pricing: Free 14-day trial, paid plans from $26 user/month
Everything about your business, one click away
2. Backlog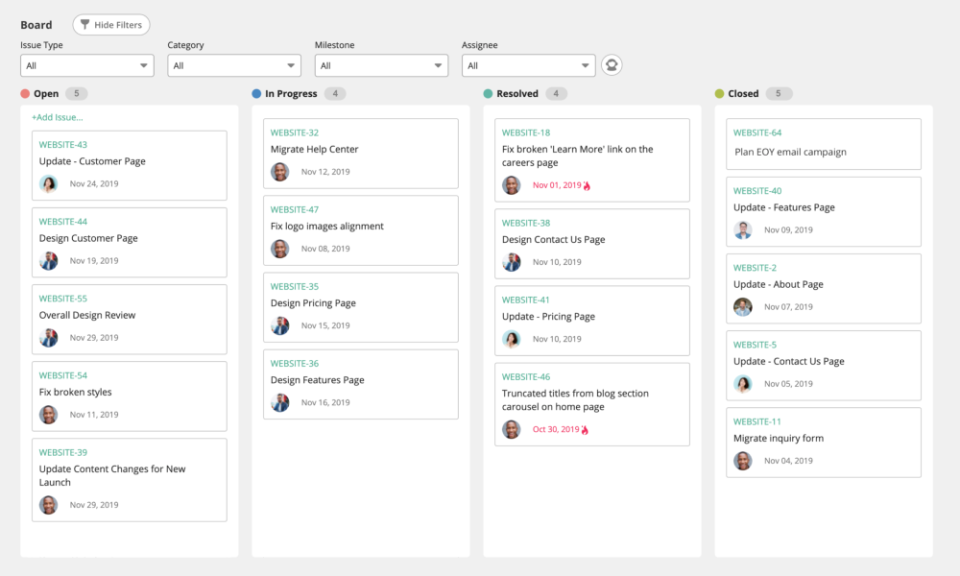 Intuitive and easy to use, Backlog is another all-in-one agile project management tool built for developers who work across several teams and enhancing the overall collaboration experience.
It boasts a few features that are nowhere to be found in Jira, such as integrated Wiki, Git, and SVN capabilities.
Top features:
Agile methodologies
Bug-tracking
Discussions & forums
Cost-to-completion tracking
Pricing: Free trial available, paid plans from $35 per month
3. Zepel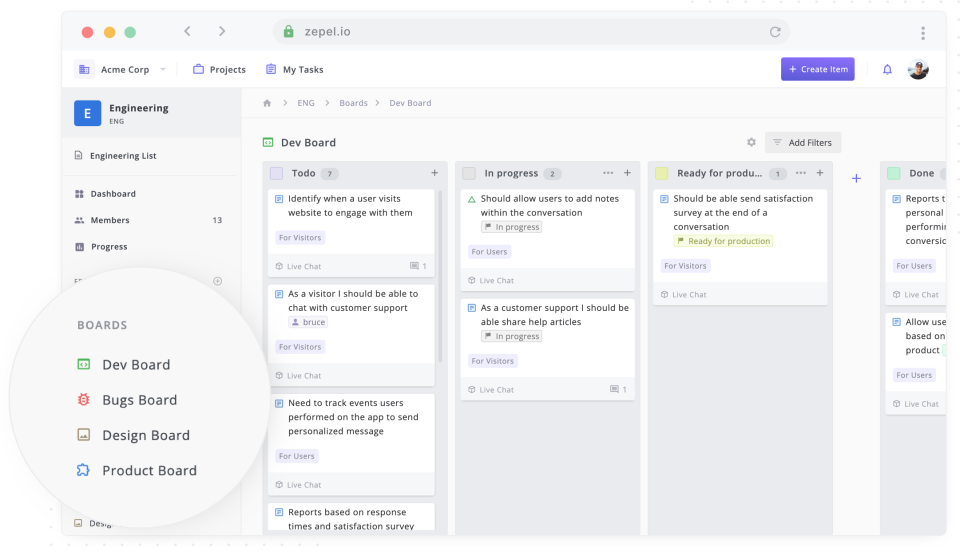 Zepel is considered one of the simplest agile project management tools for software users and product teams, providing everyone with a clear and concise snapshot of what is happening at every stage of a project.
One of the most important aspects to consider when comparing an agile software tool to Jira is which project management methodologies it can cater for. Luckily, Zepel is flexible enough to support both Kanban and Scrum, as well as integrations with GitLab, Bitbucket, and GitHub.
Top features: 
Backlog management
Kanban board
Retrospectives management
Supports scrum
Pricing: Free trial available, paid plan from $5 user/month
4. Wrike
Like Jira, Wrike lets users plan projects and manage resources similarly – right down to its slightly tricky interface. However, once you get the hang of it, Wrike proves an efficient, agile development tool.
Some of its key features include file sharing, notification management, deadline planning, and shareable dashboards – all of which are lacking in Jira.
Top features:
Project management
Auto-assigning tasks
Performance tracking and reporting
Real-time communication
Pricing: Free trial available, professional plans start at $9.80 month/person
Check out this list of Wrike alternatives!
5. Trello

Like Jira and Zepel, Trello is owned by Atlassian and is one of the most user-friendly software tools used by development teams for agile software and project management.
Using Kanban boards as its visual template, it's best suited for smaller teams who are looking to track, plan, and debug their projects in one place.
Top features:
Drag and drop functionality
Checklists with a progress meter
Real-time sync
Quick overview of front and back of cards
Pricing: Business plans from $9.99/month
6. Pivotal Tracker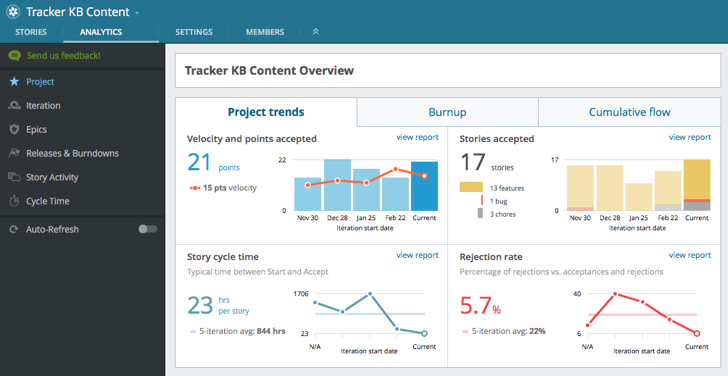 Pivotal Tracker is another great agile project management tool ideal for real-time collaboration with its shared, prioritized backlog feature.  Tracker enables your teams to bring the right products to market faster, and continue to deliver as the world evolves.
Top features: 
Backlog management
Kanban board
Status tracking
Workflow management
Pricing: Free trial available, paid Plans from $7 per month
7. Monday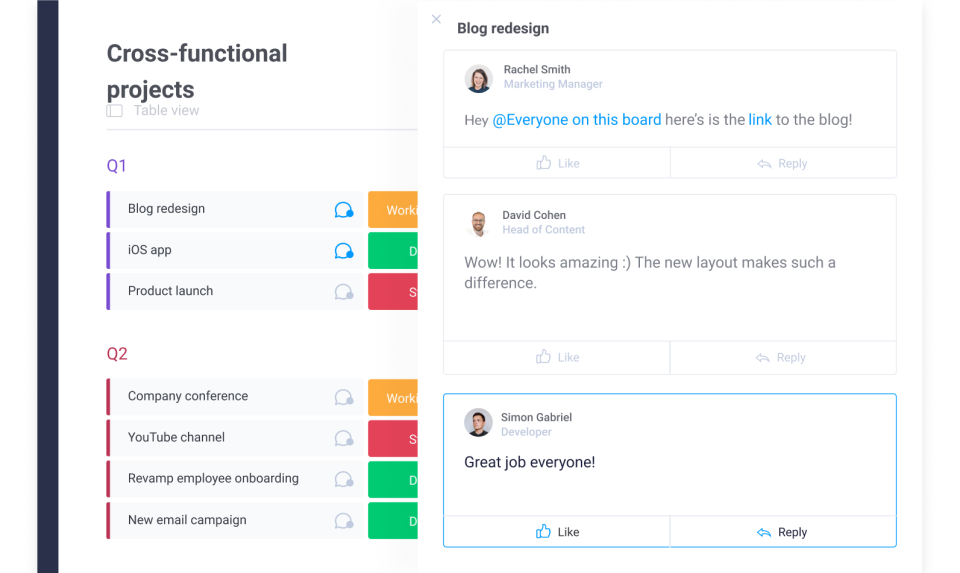 Monday is very similar to Jira and is also widely used by developers and non-technical teams alike. Its intuitive interface has made it an especially simple scrum tool for organizations to adopt, with automation and templates available for those who want to get going immediately.
With a greater array of features on offer – and, much like Scoro, the ability to integrate your existing Jira tasks and functionalities – it could provide a solid way to bridge the gap as you wean yourself off Jira.
Top features:
Integrates with Gmail, Google Drive, Slack, Trello and more
Customizable task board
Motivational tool
Due date tracking
Pricing: from $17/month for two users
Check out this list of Monday.com alternatives!
8. Proofhub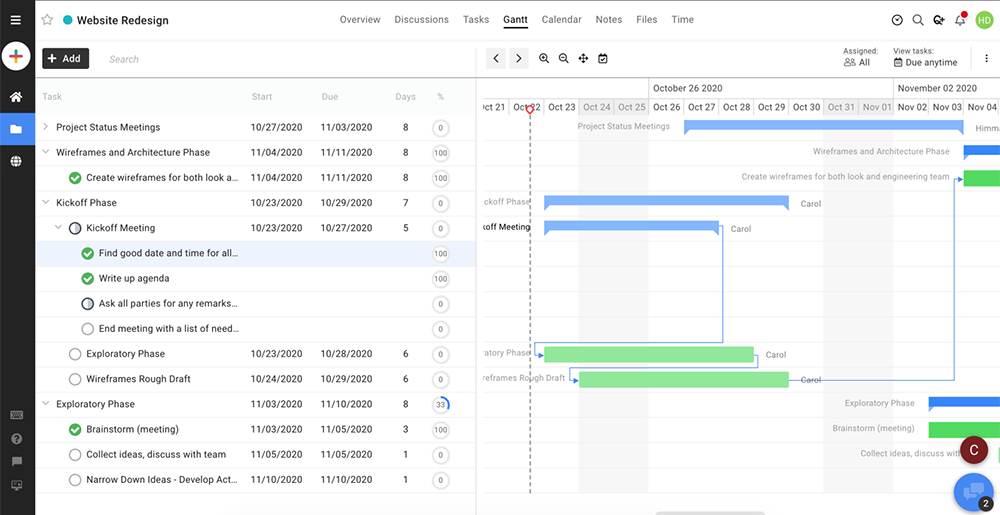 Proofhub is a good alternative for teams of all sizes looking for a better way to collaborate and communicate in real time. It offers flexible task management with simple to-do lists, kanban boards, Gantt chart and, agile workflows.
Like many other tools on this list, Proofhub also has an easy-to-use interface with almost no learning curve. Further, similarly to Scoro, it integrates with various third-party apps, such as Google Drive, Dropbox and others.
Top features:
To-do lists and notes
Tasks, sub-tasks, and add comments
Defined deadlines
Reminders and events in the calendar
Pricing: Free 14-day trial, paid plans from $45 per month
---
If you're looking for an agile development tool or contemplating a move away from Jira, think about the software we've listed above. If the benefits of Scoro have you interested, start your free 14-day trial today!