Work management
24 Best Asana Alternatives for Work Management
Asana is an easy-to-use tool with a simple layout that combines elements of project management, file storage, and collaboration. No need to waste time shuffling between meetings, email, chat, and spreadsheets to manage all of your team works. However, for teams looking for an end-to-end solution, Asana might not be the best solution. Why? Because Asana's primary focus is on task and project management.
In case you want to manage all aspects of your business in one place, there are some great alternatives to consider. To make the decision process more comfortable for you, we have gathered together 24 of our best picks. Check out their top features, pricing, and find a solution that fits all your business needs!
---
Every Asana alternative listed here:
? Has a set of unique features that stand out from other tools
? Is a trustworthy provider, with regular updates and high security
? Is relatively easy to use with reasonably short setup time
---
1. SCORO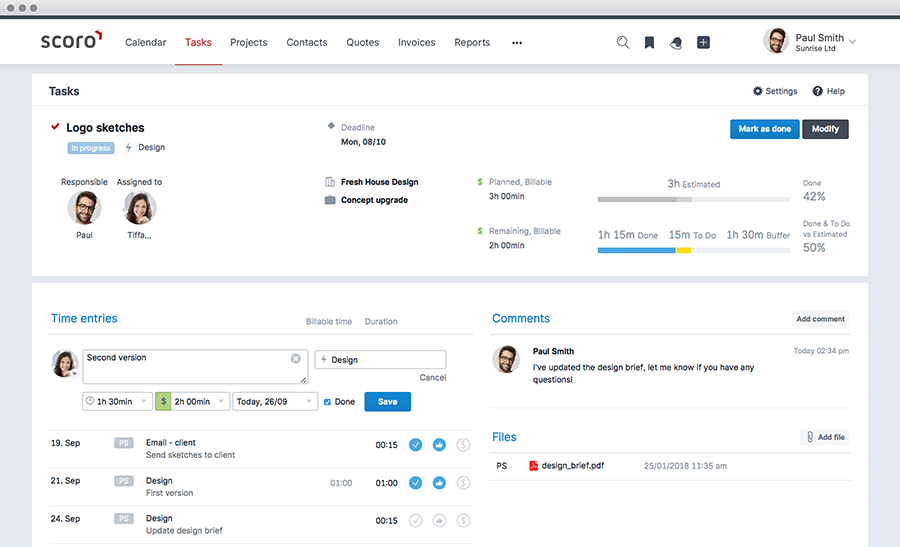 Scoro is a comprehensive solution that combines all the features you might need to manage your business: projects & tasks, contact management, quotes, team collaboration, billing, and reporting.
Top features:
Get a complete overview of any project on one page, including time spent and billed, planned tasks and meetings, invoices and expenses, comments and files.
Assign and delegate tasks within the team.
See everyone's schedule in a shared team calendar and know what they're working on.
Create a company-wide contact base and manage them in a pipeline view for effective communication and billing.
Compile and send quotes and invoices – and automate overdue reminders.
Track your company's performance and important KPIs on a beautiful dashboard with real-time data.
What's special about this tool: Scoro helps to streamline your entire work progress, so you don't need to use a lot of different tools for every task. All your important information is stored in one central place, and you'll get a complete overview of every aspect of your business.
Pricing: From $26 user/month
Try Scoro for free for 14 days »
2. PROOFHUB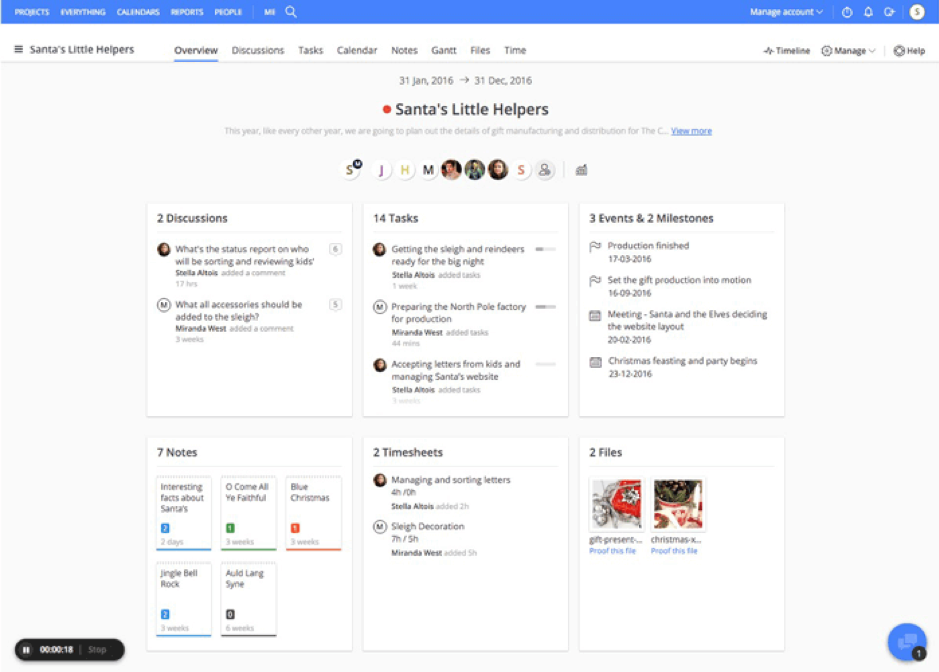 ProofHub is a SaaS-based work management software that offers a replacement for conventional emailing and a bunch of other tools, integrating multiple project management features under one roof.
Top features:
Assigned user roles
Online team discussions and chats
Reporting and tracking project history
Secure file storage
Task delegation and assignments
What's special about this tool: ProofHub has a well-designed user interface that helps the team to collaborate more efficiently.
Pricing: From $45/month (up to 40 projects) to $150/month (unlimited projects)
3. MAVENLINK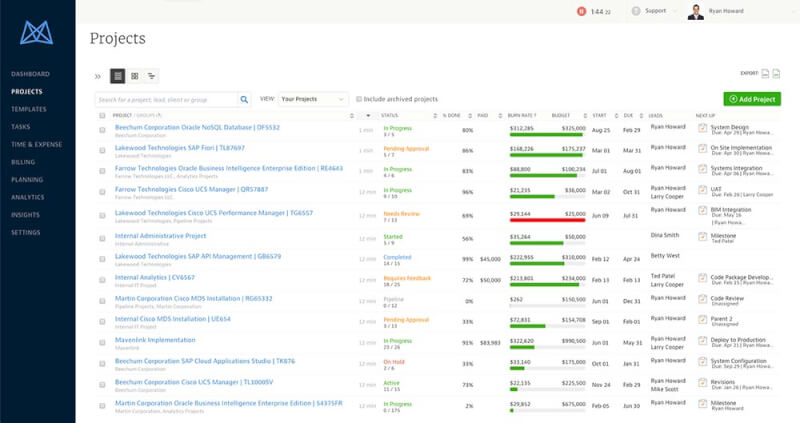 Mavenlink is a work management software that unites your project management, time tracking, resource planning and project financials in one place.
Top features:
Customizable templates
Project and task management
Resource planning
Time & expense tracking
What's special about this tool: Create project templates that you can reuse after a successful project.
Pricing: From $39 month/user for teams
Check out this Mavenlink alternative!
4. PAYMO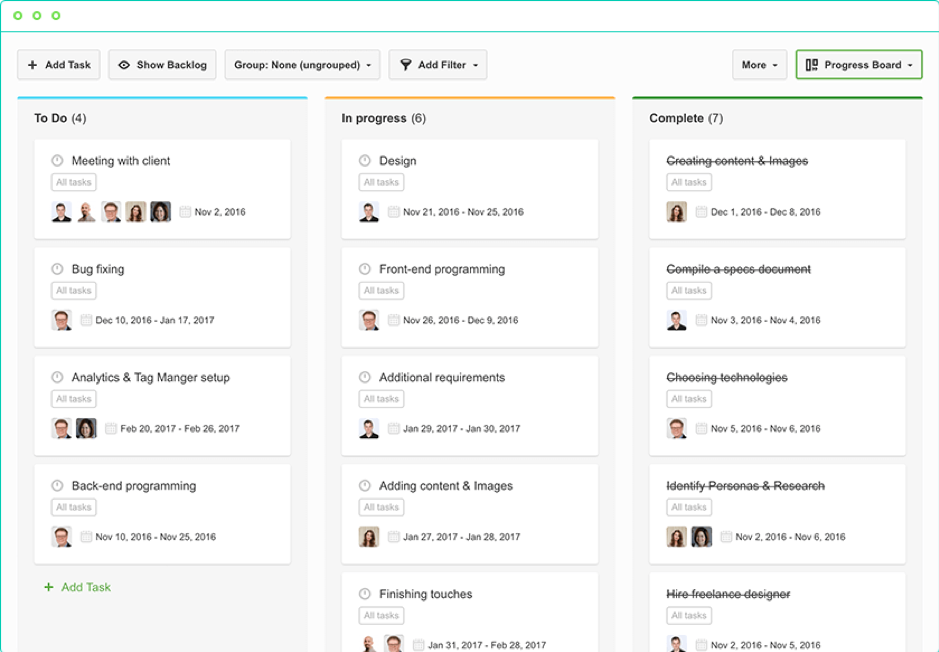 Paymo offers a simple yet powerful tool bringing together project management, work reporting, and time billing.
Top features:
Billing customers for completed tasks
Dashboard to see your team's performance
Integrated project accounting
Tracking the time spent on tasks and projects
Thorough work reports 
What's special about this tool: With Paymo Plus, you can automate your time tracking completely. All you need to do is download the desktop app, let it track your PC usage, and at the end of each day, categorize all your time entries.
Pricing: Free and paid plans from $9.56 user/month
5. SMARTSHEET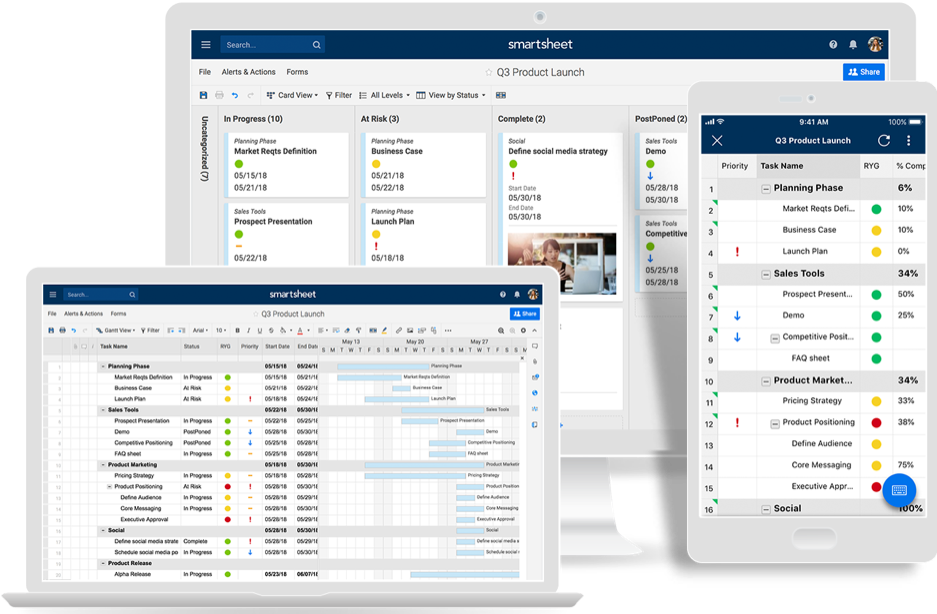 Smartsheet is an excellent work platform for teams to manage and automate collaborative work.
Top features:
Budget tracking
In-app notifications and email alerts
Project plans and schedule
Resource management
Strategic planning
What's special about this tool: Smartsheet is trusted by a majority of Fortune 500 companies.
Pricing: From $14 month/user for individual plans, from $25 month/user for business
Check out these 28 Smartsheet alternatives!
6. WORKETC

WORKetc has integrated CRM, projects, billing, help desk, reporting, and collaboration into one cloud-based software solution.
Top features:
Automatically capture and invoice all revenue activities
Link timesheets, documents, contacts and more to your projects
Manage complex project budgets
Use live support, web forms, and email to capture support tickets
What's special about this tool: By integrating support cases directly inside all areas of WORKetc, you can ensure the customer is always looked after.
Pricing: From $49 user/month (first 3 users from $195/month)
Check out this WORKetc alternative!
7. PODIO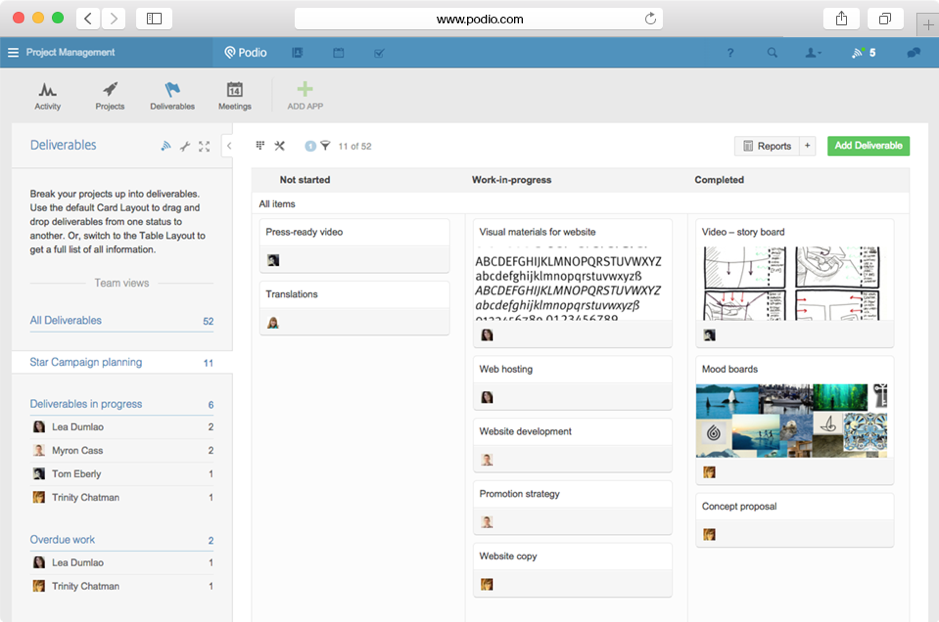 Podio is a flexible and highly customizable online hub for work and team communication.
Top features:
Assign tasks, attach files and discuss details within the solution
Automate the sales pipelines, project budget tracking, and more
Get an overview of the company with visual dashboards
Share encrypted & large files
What's special about this tool: Podio's workflow feature enables you to add if-this-then-that logic to Podio apps. For example, instruct your app to create a task or comment, when an item is created. 
Pricing: Free for up to 5 employees, $19.20 user/month for the full suite
Check out this Podio alternative!
8. ZOHO WORKPLACE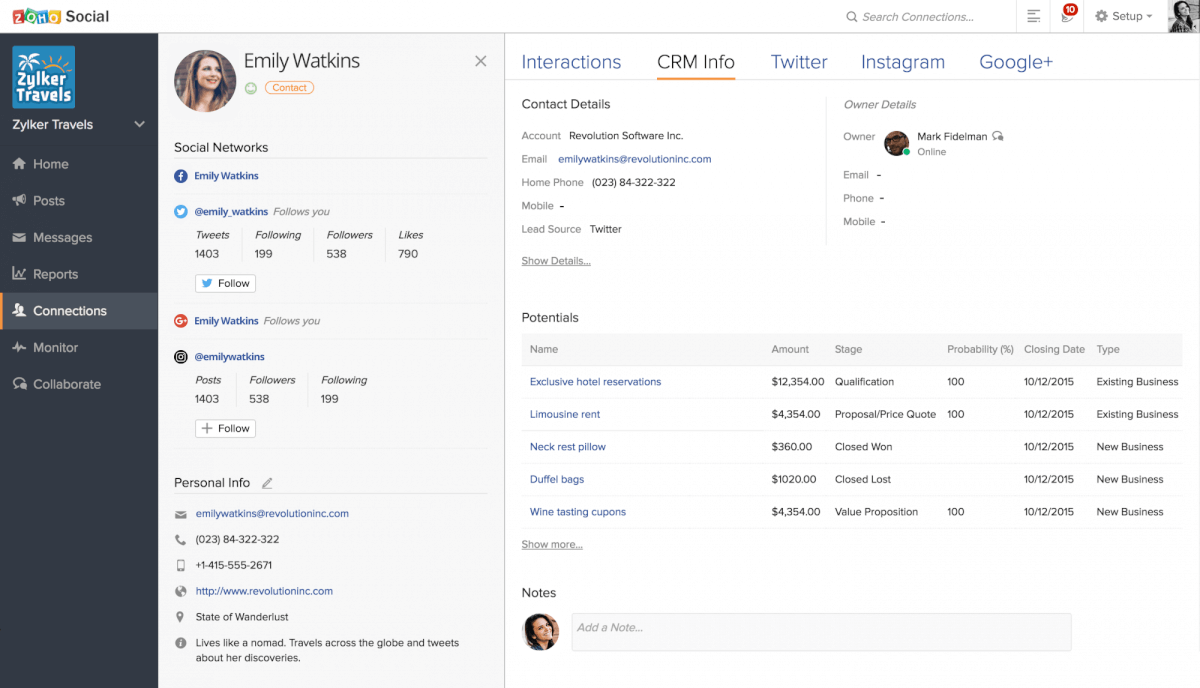 Zoho Workplace offers you all the tools to create, communicate, and collaborate with your teams in one integrated suite of apps.
Top features:
Get the best of both email and social right in your inbox.
Manage files in the cloud from your phone or tablet.
One place to create and save all your work, upload from mail or your desktop, and share.
What's special about this tool: Zoho can be integrated with other Zoho bundles such as CRM, Finance, and Recruit to manage almost every aspect of your agency in one system.
Pricing: From $3 user/month
Check out this Zoho Alternative!
9. CELOXIS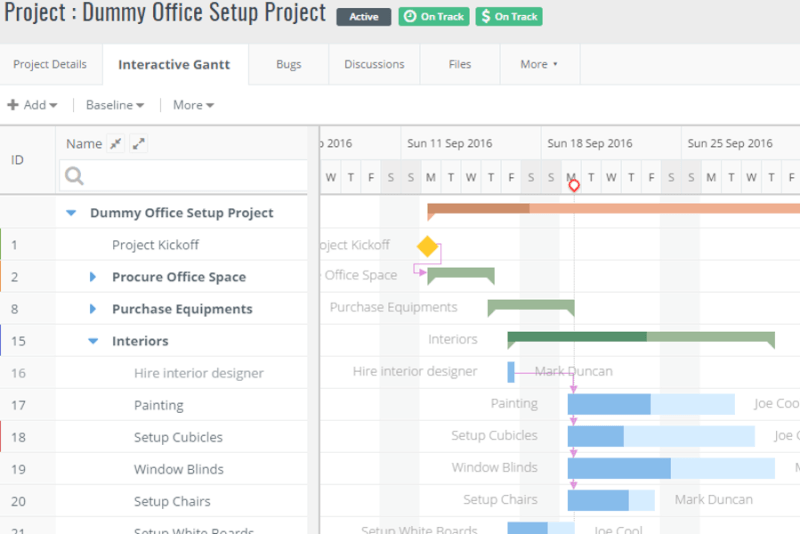 Celoxis offers comprehensive project management and collaboration solution for enterprises.
Top features:
Advanced scheduling
Financial management
Gantt charts
Project tracking
Reporting analytics
What's special about this tool: Both SaaS and On-Premise deployment options are offered by Celoxis.
Pricing: From $22.5 user/month for cloud solution, $450/user for on-premise solution
Everything about your business, one click away
10. BITRIX24
Bitrix24 offers a complete suite of social collaboration, communication and management tools for your team, to enhance internal information exchange and communications.
Top features:
Customer relationship management
Employee workload management
Gantt charts
Social intranet for internal communication
Telephone integration
What's special about this tool: Bitrix24 has a broad set of features, from traditional project management to integrated telephone and HR system, or internal email.
Pricing: Free plan, paid plans with more storage from $39/month
Check out this Bitrix24 Alternative! 
11. ADVANTAGE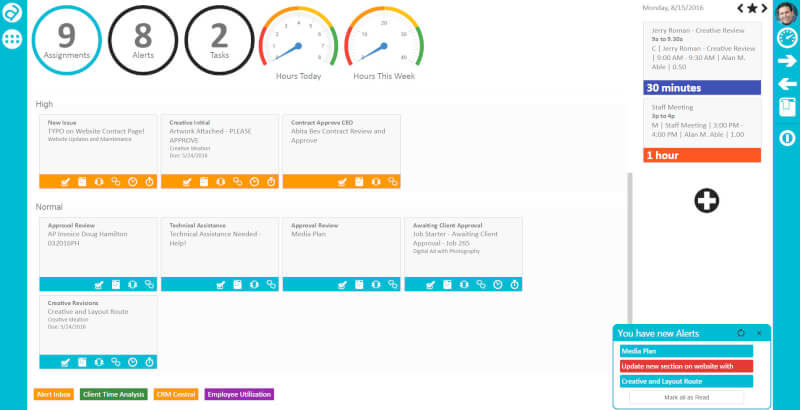 Advantage is used for accounting, project management and media and helps clients maximize their productivity, efficiency and profitability.
Top features:
Automate and expedite work
Manage time, tasks, expenses and media
Manage prospect and client activities
Get thorough reports and forecasts
What's special about this tool: Advantage is most suitable for ad agencies, in-house creative teams, and PR and marketing firms of all size.
Pricing: Upon request
Read more: Creative Consultancy Saves 24+ Hours Per Person Each Month with Scoro
12. PROWORKFLOW

ProWorkflow makes it a breeze to collaborate, track tasks and time and communicate with your team.
Top features:
Allocate tasks
Dashboard for an overview of your workload
Manage invoices and quotes
Share files
View workload across teams
What's special about this tool: Convenient mobile application lets your track time, communicate, and complete tasks on the move.
Pricing: From $20 month/user for unlimited projects
Check out this ProWorkflow alternative!
13. TEAMWORK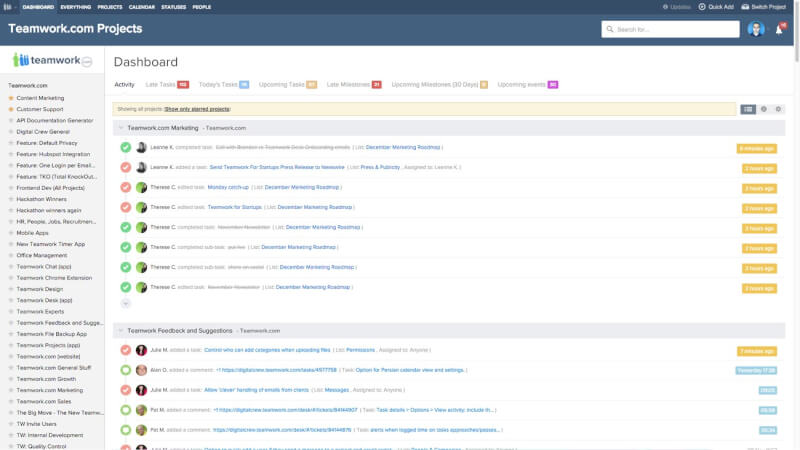 Teamwork product suite enhances team collaboration and helps different teams to organize their work and tasks to get things done more efficiently.
Top features:
Project planning on Gantt charts
Time tracking and reporting
Milestone management
Comprehensive user permissions
Reporting
What's special about this tool: With Teamwork, you can choose to use their full product suite or just one part of their suite, whether projects, spaces, chat and more.
Pricing: From $49/month
Check out this list of Teamwork alternatives!
14. AIRTABLE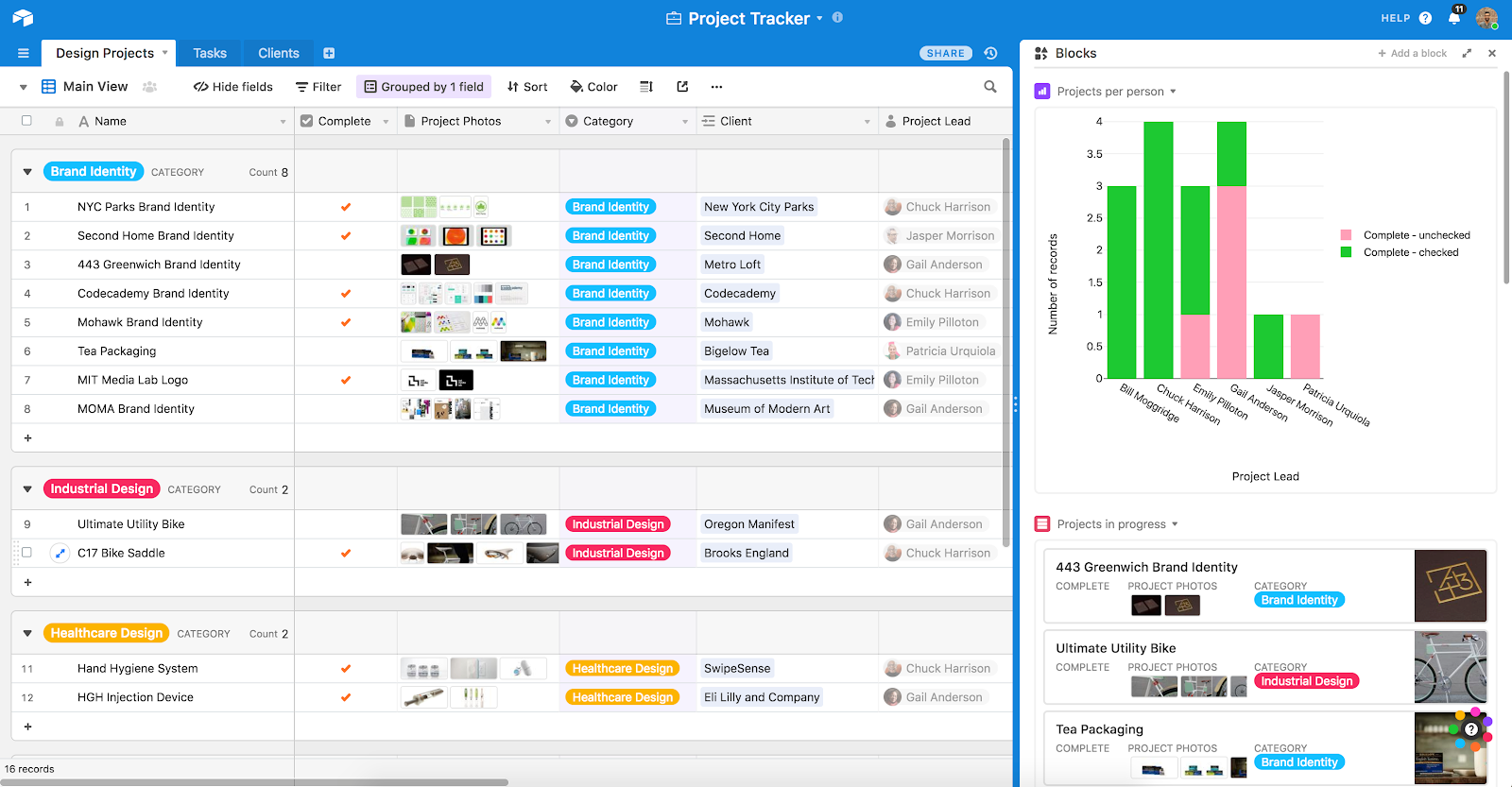 Airtable is a modern database with a spreadsheet-like interface that is used by teams to organize work their way.
Top features:
Airtable Blocks give you a creative palette of app-like functionality that you can mix and match to create the perfect workflow for your team.
Get started fast with templates built by industry experts.
Mobile and desktop apps for real-time collaboration and commenting – changes are instantly synced across everyone's devices.
Powerful filtering, sorting, and grouping give you the freedom to arrange work your way.
What's special about this tool: Airtable fields can handle any content you throw at them. Add attachments, long text notes, checkboxes, links to records in other tables – even barcodes.
Pricing: Free and paid plans from $10 month/user
Check out this Airtable alternative!
15. TEAMLEADER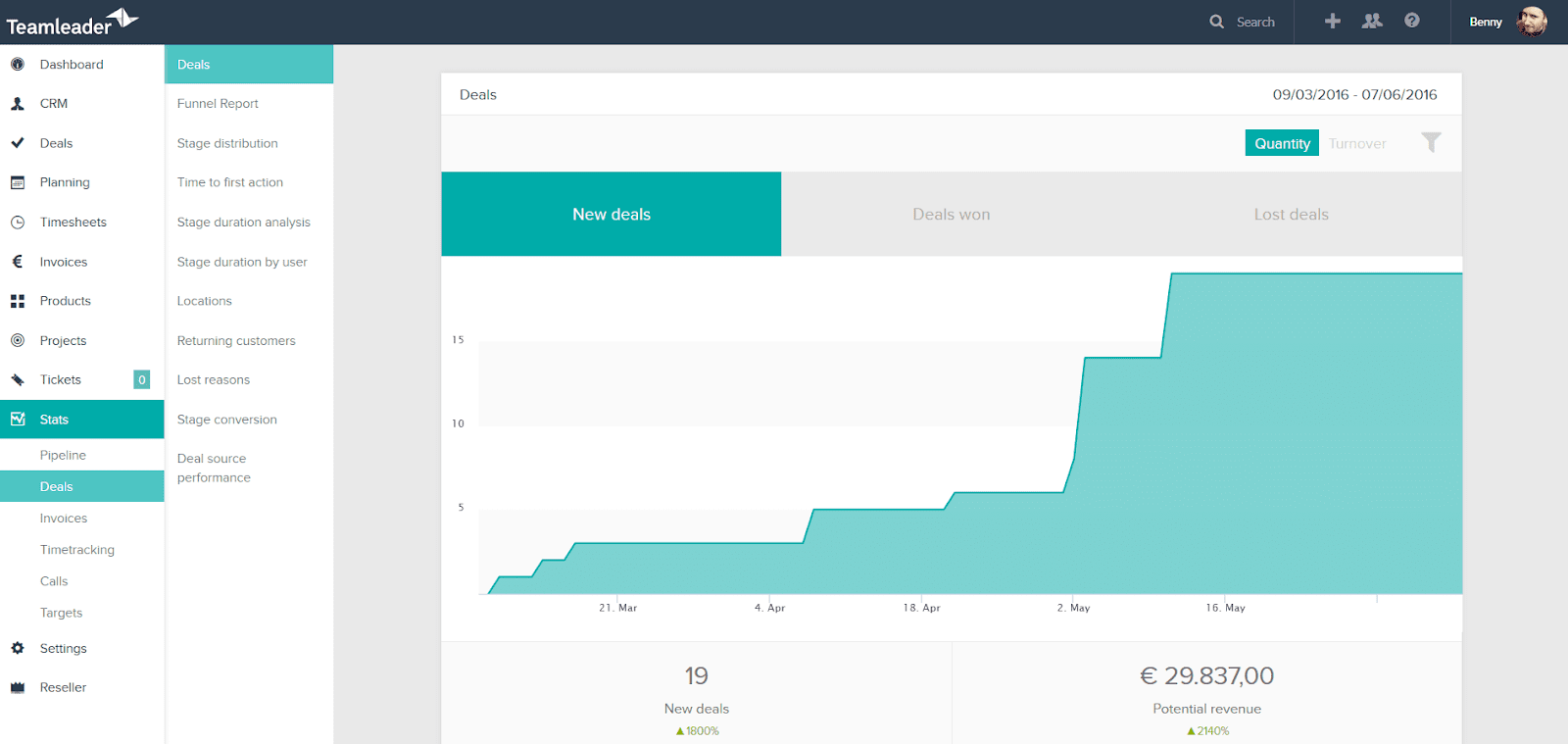 Teamleader is a one-stop-shop for CRM, invoicing, and project management.
Top features:
Manage all contacts from one place and have a clear overview.
Schedule and track meetings, tasks and events.
Send invoices automatically and effortlessly, and keep track of their status.
Rapidly handle customer questions and deliver an outstanding customer experience.
Manage projects at the click of a mouse and collaborate as a team.
What's special about this tool: Make and record calls directly from the CRM using just your internet connection: easy and hands-free.
Pricing: 29$ month/user
Check out this Teamleader alternative!
16. FREEDCAMP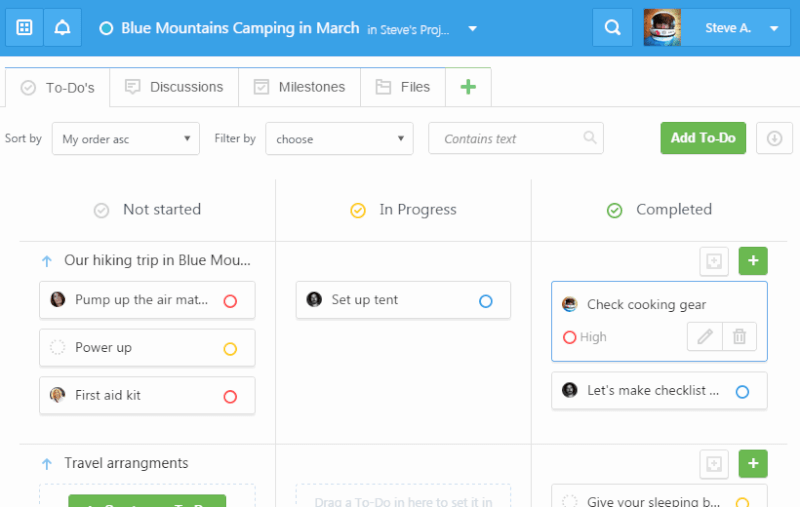 Freedcamp will help you, whether you are leading a work project, organizing a camping trip or even a wedding. It is easy to use, whether working from home or at the office.
Top features:
Task lists & status management
Shared team calendar
Project templates
Issue tracker
What's special about this tool: Like sticky notes? You're in luck! Freedcamp uses a Kanban board with sticky notes to manage tasks.
Pricing: Free plan, paid add-ons
Everything about your business, one click away
17. CLICKUP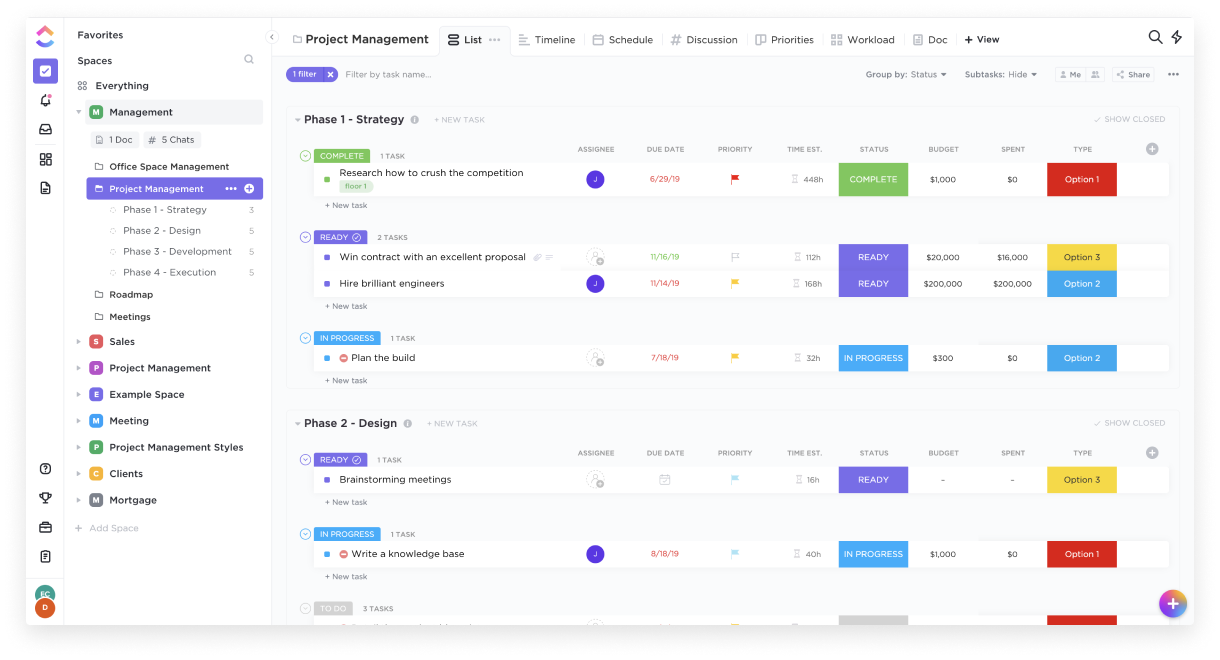 ClickUp is a productivity platform that offers more than just a task manager. Fully customizable features make it a must-have for agile teams that want to keep everything from design to development in one intuitive place.
Top features:
Assign comments, and nothing will fall through the cracks.
The elegant hierarchy will keep projects simple as they grow.
Task tray will allow you to minimize tasks instead of opening multiple tabs.
Tools like 'Smart Search' and 'Smart Estimates' make you more productive over time.
What's special about this tool: Whether you're a manager, developer or anyone getting things done, with ClickUp you can choose between three different ways to view tasks.
Pricing: Free for up to 100 MB, Premium for $5 user/month
Check out this list of ClickUp alternatives.
18. ACTIVECOLLAB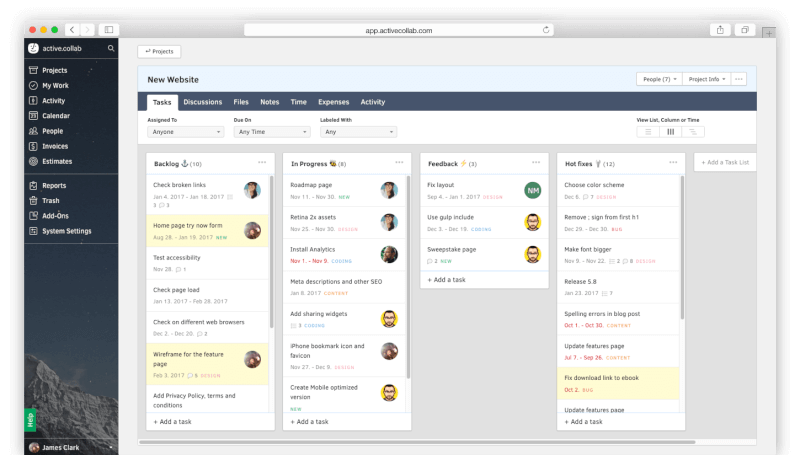 ActiveCollab helps your team stay organized when communicating through email is just not enough anymore.
Top features:
A shared team calendar for collaboration
Creating tasks with multiple users and deadlines
Gantt-like timeline for planning
Kanban cards
Time tracking and invoicing
What's interesting about this tool: ActiveCollab is especially great for collaboration, with functions like collaborative text editing and @mentions for communication.
Pricing: From $6.25 month/user
20. INSIGHTLY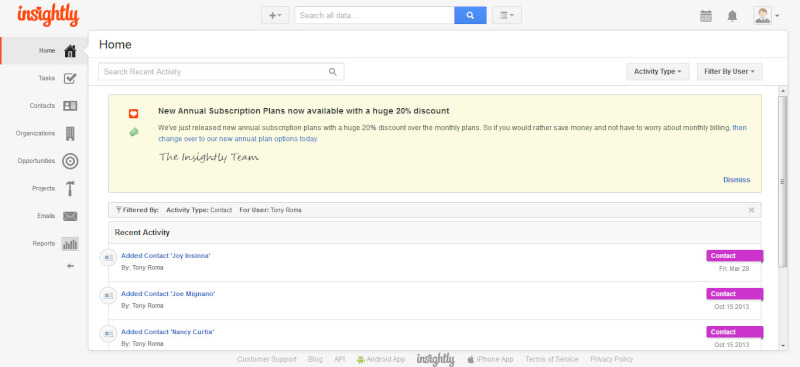 Insightly is a powerful CRM with a project and business management feature set.
Top features:
Look at your business any way you want with task dashboard, activity sets and reports.
Manage leads, contacts, organizations, partners, vendors and suppliers.
Track project activity and performance against milestones.
What's special about this tool: Insightly CRM is tailored for any level of experience – from first time CRM users to sales experts.
Pricing: From $29 month/user
21. FAVRO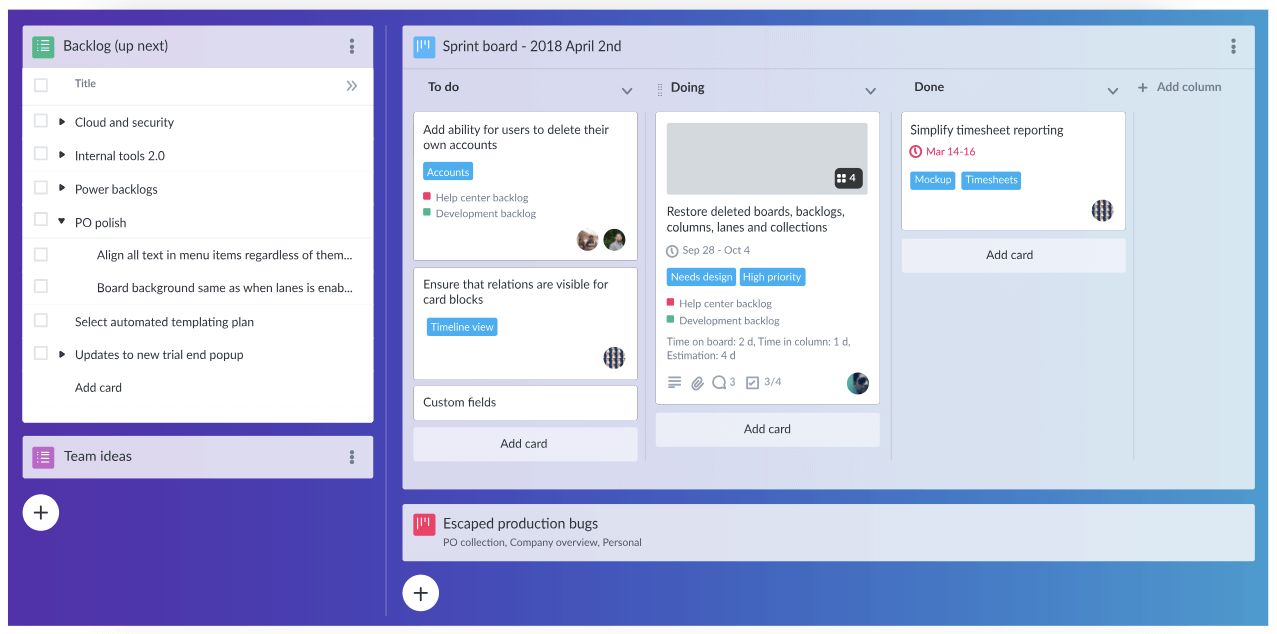 Favro is the project management and collaboration tool for organizational flow. It helps organizations do what they excel at – making products and services that change the game.
Top features:
Plan projects of any size with ease by using multi-select and drag/drop. Track progress at each level with aggregated summaries.
Favro comes with built-in support for Kanban or Scrum and is heavily customizable. Everyone is free to plan and track progress the way they want to reach their goals.
A decentralized design means the app scales from a single team in a founder's garage to large companies with hundreds of teams.
What's special about this tool: Favro lets you build compelling reports that aggregate data from many teams and projects, allowing you to improve the way you work continuously.
Pricing: From $34 month for 5 users
22. CLARIZEN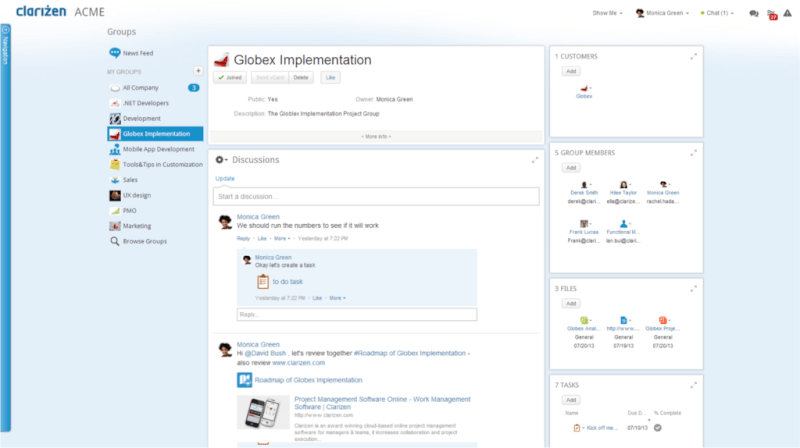 Clarizen helps businesses move forward and solve challenges far beyond traditional project or work management.
Top features:
Automated and repeatable processes, alerts and workflows
Budget tracking & expense management
Social collaboration
Unlimited number of projects
What's special about this tool: Clarizen offers configurable workflows that enable business agility.
Pricing: From $45 month/user
23. STUDIOCLOUD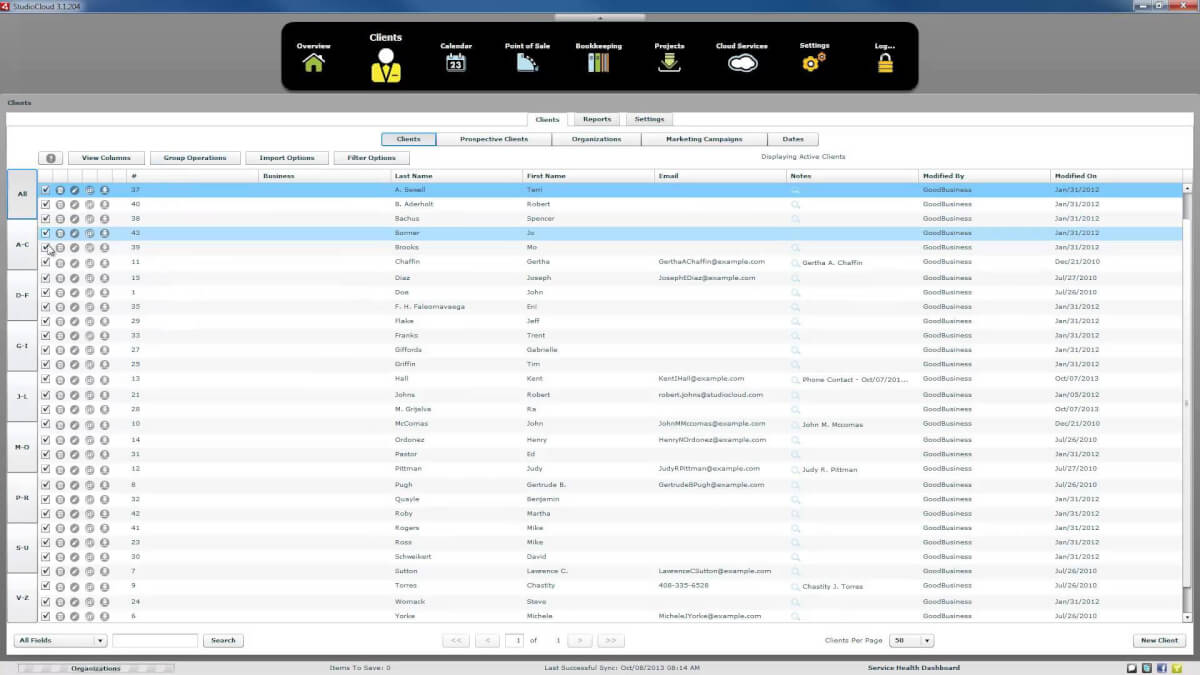 StudioCloud all-in-one solution gives you all the features you need to manage your business successfully.
Top features:
Create pipelines, deadlines, and tasks for projects, orders, etc.
Manage clients, leads, organizations, partners, and vendors.
Send automated, personalized email reminders and payment requests.
Schedule events, appointments, employees, locations, and more.
What's special about this tool: StudioCloud provides mobility by syncing all of your data between the cloud, your desktop, and all of your internet enabled devices.
Pricing: 65$/month for teams of 3+
24. ODOO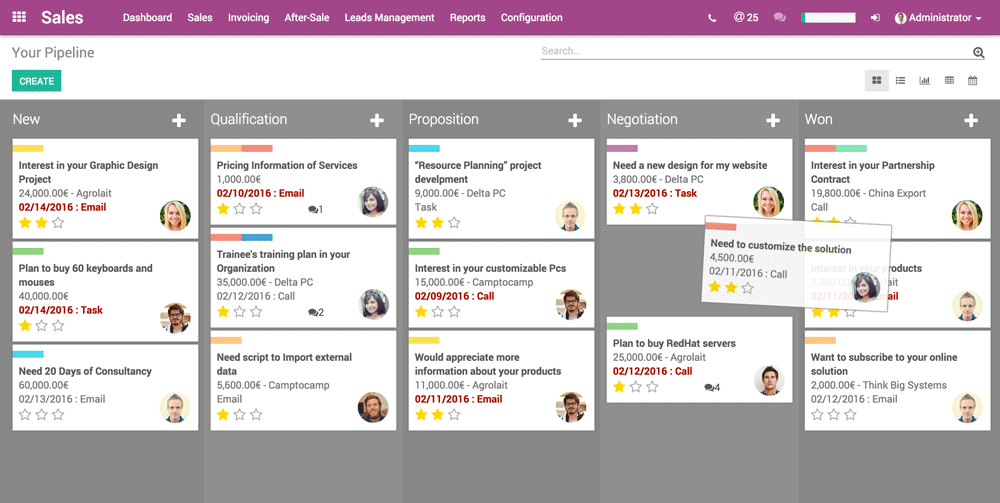 Odoo is a suite of open source business apps that cover all your company needs.
Top features:
Automate activities based on your sales scripts.
Design custom dashboards to get a picture of your business at a glance.
Get accurate forecasts.
Send messages in real-time to enhance collaboration.
What's interesting about this tool: Turn sales and purchase orders into invoices in one click and track them through their payment with a sales add-on.
Pricing: From $20 user/month
Read more: list of Odoo alternatives for work management.
---
FURTHER READING